Temporary return to normality in a refugee camp
Tens of thousands of Syrian refugees live in Zaatari in Jordan. Small jobs, for example in waste separation, now give them an income.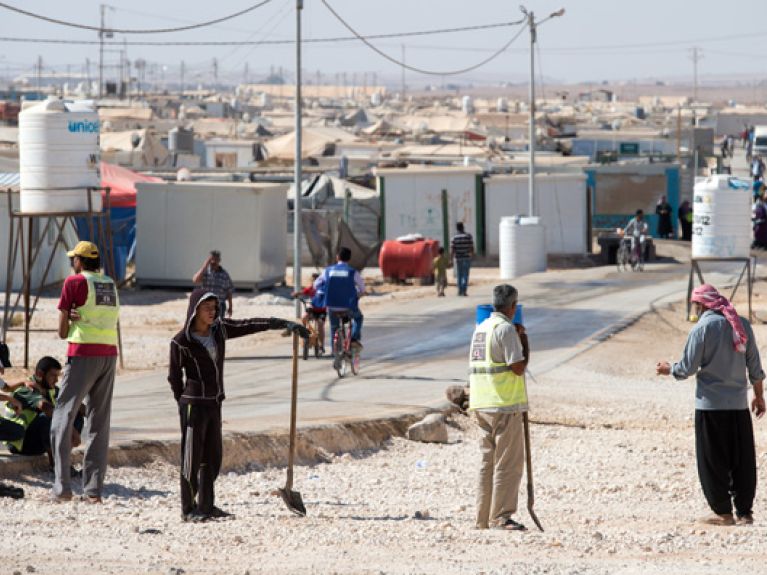 Mountains of metal are piled high on the left, next to them lie countless white plastic bottles and there are stacks of cardboard boxes opposite: enormous amounts of waste accrue every day in Zaatari. Some 80,000 people live in Jordan's largest refugee camp, roughly 15 kilometres from the border with their Syrian homeland. At one time their number even reached 120,000, explains Jida Kamhawi of the aid organisation Oxfam. The Jordanian woman supports a recycling project in Zaatari that enables roughly 800 women and men to earn a small income. The Deutsche Gesellschaft für Internationale Zusammenarbeit (GIZ) is coordinating the project on behalf of the Federal Ministry for Economic Cooperation and Development (BMZ).
Cash for Work is the name of the general employment initiative, which was set up during the Syria Conference in London in February 2015. It aims to combat the causes of migration and give people from Syria a chance to earn a little money. The BMZ is providing 200 million euros for this purpose – in Iraq, Jordan, Lebanon and Turkey.
Working for the local minimum wage
As a result, jobs for 39,000 people will have been created by the end of 2016 – in waste disposal and recycling, in the construction of housing, schools and roads and in teaching. The workers receive the local minimum wage. It has been possible to teach approximately 300,000 children and 10,000 people are receiving vocational training. It is planned to build or renovate 1,700 housing units and several dozen schools and health stations.  
All of this is urgently needed, also in Zaatari. Some time ago the camp developed into a medium-sized town, covering the area of 750 soccer pitches. It already includes kindergartens, play areas and sports grounds for 16,000 children. Several refugees have opened small shops, food stalls and workshops. They are not allowed to work outside the camp. Therefore, work opportunities inside are all the more important.
At the same time, the refugee camp has a waste problem. "Thirty tonnes of waste accumulate every day," says Jida Kamhawi. Accordingly, the refugees' work in the recycling project also helps the environment and creates infrastructure. Residents collect the waste and bring it to the camp's recycling centre in carts. There it is sorted and shredded by other project participants, and the cardboard boxes are pressed into bundles. Other refugees sell the raw materials outside the camp. "We currently receive roughly 270 dinars for one tonne of plastic waste," says Kamhawi. That's roughly 340 euros.
An end to crippling inactivity
The revenues are shared among the workers – a welcome supplement to the equivalent of 26 euros per month that each refugee in Zaatari receives from aid organisations. Those who are able to participate in the recycling project earn an additional one to two dinars an hour. For the workers concerned it is a start – and at the same time the end of crippling inactivity that has often lasted many months. Furthermore, their efforts also help to make life in Zaatari more tolerable for everyone and to deal with the large amounts of waste that will continue to accrue in the future.
After all, many of the refugees still hope to return to their homeland. Migration to Europe is not an option for them, they say. They want to go back to Syria as soon as peace returns. Until then, work in the camp provides them with an income – and something like normality in what is an otherwise gruelling state of uncertainty.