The Language of Music
The "Bridges" project brings musicians who are refugees together with German musicians in a joint orchestra.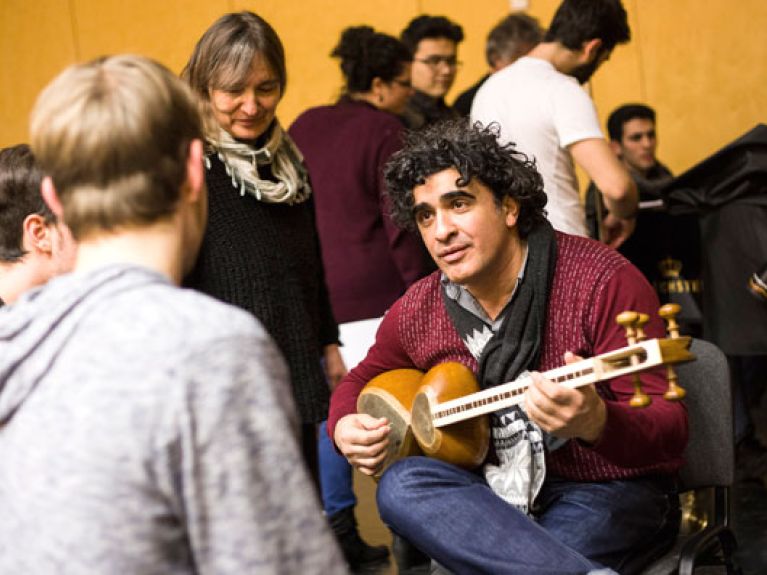 Mohanad Almosli had to sell his Flamenco guitar to pay the passage to flee to Germany; he got USD 1,000 for it. In Syria, Almosli was a renowned guitarist and composer, but fled his home country in 2015. The guitar he bought in Germany on arrival is by no means as refined as his old one. But the sounds he coaxes out of it are entrancing. The Syrian seems to enter a different sphere when he plays and says that music helps him work through the violence and ordeal of his escape.
Almosli plays in the "Bridges – Musik verbindet" orchestra. The members are refugees, mainly from the Middle East, and Germans with or without a migrant background. In April 2016 the orchestra had its first major performance: in the Hessen Radio Broadcasting Hall in Frankfurt. Two Frankfurt music students initiated the project in 2015, when hundreds of thousands of people from regions in conflict fled to Germany. Like many others, the two young women wanted to support the refugees. "What could be better suited for nonverbal communication than music?" asks Julia Kitzinger, one of the duo. She and her fellow student Isabella Kohls spread the idea by distributing flyers and using the media.
More than 100 players
The response was massive: 40 musicians from all manner of countries met for the first rehearsal, and members of the Hessen Radio Symphony Orchestra also took part. Today, "Bridges" is twice that size, with 80 musicians, not to mention 20 singers and 15 volunteers. What was intended to be a one-off performance became more. The musicians play specially composed and arranged pieces – on instruments from the Arab world and classical orchestra instruments. Alongside the main orchestra, eight different ensembles have been set up.
For example, the "Hope" ensemble: It plays pieces from Afghanistan and Iran with European influences. One member is Afghan Ustad Ghulam Hussain, who comes from a family of musicians and is considered one of the best players of the Afghan national instrument, the rubab. He has played this string instrument at major international festivals. Mirweis Neda, born in Germany as the son of Afghan parents, plays the tabla, a percussion instrument. Pejman Jamilpanah, who plays a tar (a long-necked, waisted lute), and sings, can look back on a successful career in Iran as a musician, composer and music producer. Johanna-Leonore Dahlhoff is a classical flautist and the "Bridges" project manager. Guitarist Dennis Merz is the final member of the ensemble.
The musicians often also meet in private. Friendships have evolved. Today, "Bridges" has also received a City of Frankfurt prize. Lord Mayor Peter Feldmann comments: "I support the project because it brings together musicians of different origins, skin colours, cultures and religions and shows impressively how integration can be successfully achieved with the power of music."
© www.deutschland.de