"We could set an example"
The Chemnitz Hospital treated Corona patients from Italy. A chief physician reports on how he experienced these emotional weeks.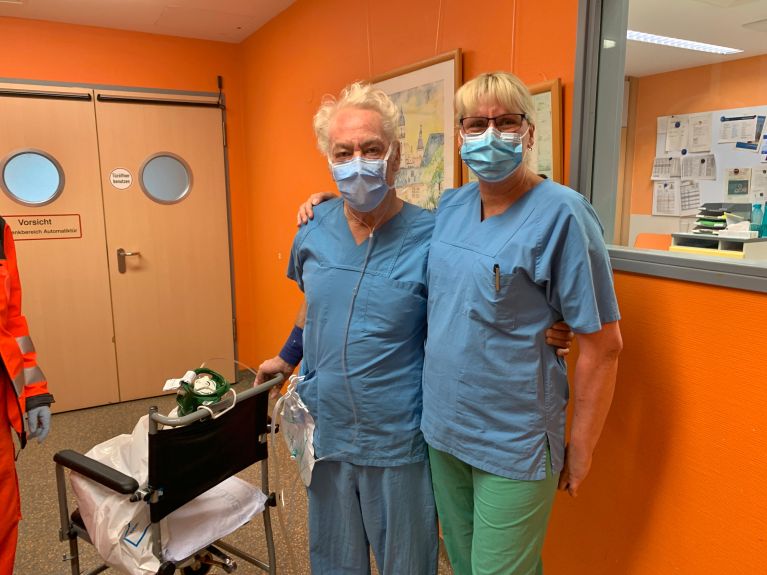 "I remember very well the weekend in March when we took the two Italian Covid-19 patients into our hospital. I was telephoning so much to help organize the transport from South Tyrol that my fingers were sore! Bringing two critically ill and artificially ventilated intensive care patients to Chemnitz, first with a plane and then with an intensive care transport vehicle, was a logistical challenge. We also didn't know exactly how well the two men could handle the transport and what condition they would arrive in.
We're a hospital with the highest level of care and could have given artificial respiration to up to 80 Covid-19 patients at the same time in a four-stage plan. We never ventilated more than eight Covid-19 patients at the same time. So our managing director unhesitatingly said "yes" to the Chemnitz Hospital treating two of the eight Covid-19 patients whose admission the Free State of Saxony had agreed upon with Italy. Fortunately, we already had the first acid test with the ventilation of Covid-19 patients behind us and hygiene measures were in place. Before the Italians arrived, we checked our safety procedures, readied our equipment, and waited. It was rather exciting.
The patients weren't conscious, were being artificially ventilated, but were stable. They had pneumonia from Covid-19, which had led to lung failure. But their condition quickly improved. And when they finally woke up, it was a very liberating feeling. The patients had been entrusted to us by a friendly country – of course we wanted to do a good job! Colleagues from all over Germany were watching our work.
We thought about how we would communicate with the two when they woke up. But the first patient who came to turned out to be a South Tyrolean – German was his mother tongue. He later helped us communicate in Italian with the second patient when he woke up.
Taking in two patients may sound like a small drop in a very large bucket. But if you remember the exceptional situation in Italy in March and that Germany has since taken in more than 250 patients from other EU countries, every single case and every person counts! We received support on all sides and felt a wave of sympathy for Italy.
Our two Italian patients became very dear to us and our caregivers – this is normal if you look after patients for so long and pull them out of a deep crisis. But in this case we all felt that we had especially taken them into our hearts. They were all alone away from home and couldn't receive visitors. When they were discharged after three weeks, it was a very emotional and almost family moment.
I'm glad we were able to help the patients – not only for the hospital's public image, but also as a signal for Saxony and all of Germany. In a small way, we were able to show that the peoples of Europe stand together."
---
Transcript: Sarah Kanning
You would like to receive regular information about Germany? Subscribe here: