Especially memorable
Angela Merkel is standing down after 16 years as German chancellor. Here are a few of her best quotes.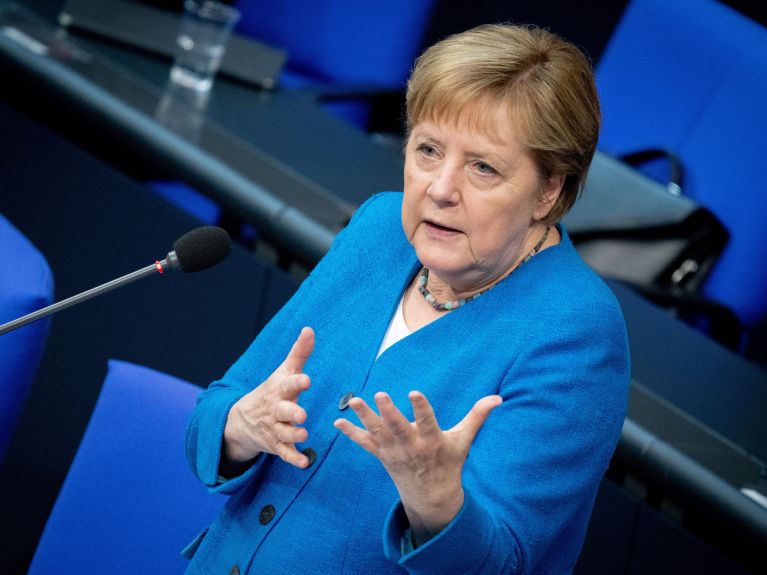 Angela Merkel is generally seen as a very level-headed politician. The following quotes from her years as German chancellor reflect her serious side, but are often coupled with her subtle sense of humour.
"If we have too many contacts now, before Christmas, only to discover it was our last Christmas with the grandparents, then we will have made a grave mistake. We should avoid this."
Angela Merkel on 9 December 2020 in an emotional speech in front of the Bundestag concerning the Covid-19 pandemic.
"We have managed so many things – we can do this!"
Comment on 31 August 2015 in the federal press conference concerning her decision to keep the border open for thousands of refugees who were trapped in Hungary at that time.
"I have a certain camel-like quality. I have a certain storage capacity. But then I have to recharge again."
During a panel discussion in May 2013 in answer to the question whether she really only needed four hours sleep.
"If I always got miffed by every little thing, I wouldn't last three days as chancellor."
November 2012 at an event marking the start of the 14th German-Russian Intergovernmental Consultations in Moscow. The Russian President Vladimir Putin had earlier expressed his annoyance about critical journalists.
"Fukushima changed my attitude towards nuclear energy."
Stated on 9 June 2011 in a government declaration on the federal government's decision to phase out nuclear energy in Germany.
"If the euro fails, Europe fails."
In a government declaration on 19 May 2010 about the plans to stabilize the European currency.
"There's no point in banging your head against a brick wall. The wall always wins in the end."
Comment in November 2007 on a Deutsche Bahn wage dispute.
"The women's national football team are now world champions, and I see no reason why men can't do the same as women."
In her New Year's Speech at the start of the 2006 World Cup year.
You would like to receive regular information about Germany? Subscribe here: