Seven Facts about Germany and Kenya
Germany and Kenya are celebrating 60 years of diplomatic relations, and their partnership is a close one. Here's a summary of the seven key facts about their partnership.
The two capitals of Berlin and Nairobi are almost 6,400 kilometres apart. In global terms, they aren't very far apart geographically, and the two countries share a close relationship as partners, not least since Federal Chancellor Olaf Scholz described the East African country as a "climate champion" in May 2023.
1. What differences are there between Kenya and Germany in terms of their geography and populations?
Kenya covers an area of 580,000 square kilometres, making it around 1.6 times as big as Germany. Yet it has a much smaller population, with only 54 million people compared to Germany's 84 million. In Germany there are an average of 235 people per square kilometre, but in Kenya there are only 93. Given the size of the country, it's not surprising that Kenya's landscape is much more varied and diverse than in Germany, ranging from high mountains to savannas and from deserts to the hot tropical costal region. Kenya's highest mountain, Mount Kenya, is much taller than the Zugspitze, at a height of 5,199m. Germany's highest point is only 2.962m above sea level. What's more, Germany lies in only one climatic region, Kenya straddles two.
2. What are the average ages in Germany and Kenya?
Three-quarters of Kenyans are under the age of 30. The average age in Kenya is 20, so people there are less than half the age of people in Germany, where the average age is almost 48.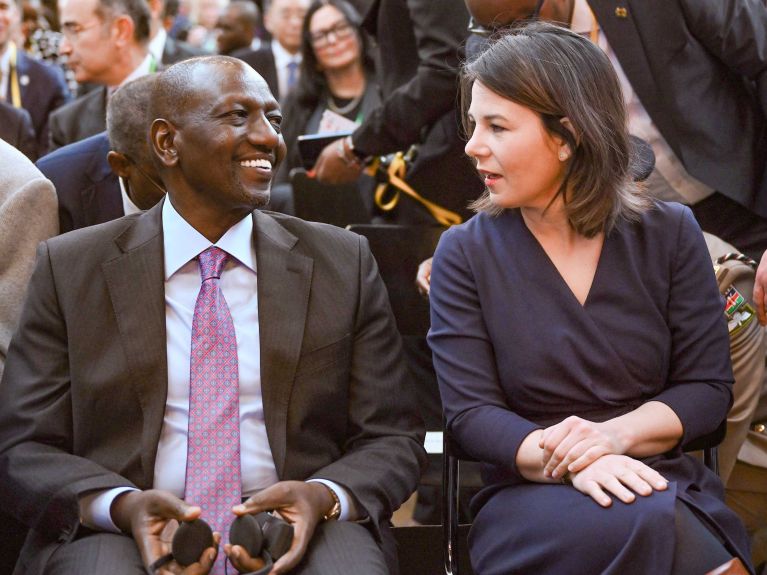 3. What are bilateral relations like between Germany and Kenya?
Germany was the first country to officially recognise Kenya after it gained independence in 1963. In addition to longstanding trading connections, Germany and Kenya are linked by a shared focus on expanding renewable energy. That partnership has grown even closer under Germany's current federal government. Two high-level bilateral visits have taken place in 2023. In March 2023, the Kenyan President William Ruto came to Berlin, where his visit focused on the energy transition. In May, Federal Chancellor Olaf Scholz made a return visit to Kenya.
4. What makes Kenya an important partner in East Africa for Germany?
East Africa bears the scars of many crises, not least since the outbreak of war in Sudan in April 2023. In Ethiopia, Kenya's southern neighbour, the government and rebels in the northern province of Tigray agreed a ceasefire in November 2022 after two years of war, but other conflicts are still smouldering in the multi-ethnic state. Kenya's eastern neighbour Somalia has been a flashpoint for over 30 years, and Kenya's northern neighbour South Sudan violence and conflicts have been going on for years. This makes Germany's partnership with Kenya all the more important, as Kenya serves as a stabilising anchor and driver of economic growth in the region. Over 100 German businesses have offices in Kenya, and many export from there to other East African countries.
5. How much migration is there between Germany and Kenya?
Every year, many Germans go to live and work in Kenya, mostly on short and medium-contracts to work as "expats" for businesses, international government agencies and NGOs. In 2022, 200 Germans officially emigrated to Kenya, while 262 migrated back. Between 2012 and 2021, 2,303 Germans emigrated to Kenya, while 2.772 returned to Germany, so the numbers are fairly stable.
Kenyans mainly come to Germany to study. Federal Chancellor Scholz wants to boost efforts to encourage skilled professionals from Kenya to relocate to Germany in order to alleviate Germany's shortage of well-qualified workers. Living and working in Germany could be particularly interesting to Kenyan specialists in IT and the digital economy. However, Germany is also taking care not to recruit skilled workers who are needed in Kenya.
6. How do Germany and Kenya cooperate on development?
Kenya is an import partner for Germany's development partnerships, with particularly close collaboration on the issues of climate change and promoting youth employment. In late 2022 Germany and Kenya agreed a climate and development partnership which further enhances their cooperation around fighting global warming. The partnership aims to reduce carbon emissions, accelerated climate-friendly growth and adapt agriculture to climate change. Germany's development partnership is also helping Kenya fight corruption and take in refugees. At present, the bilateral governmental development partnership is worth over €1 billion.
7. How are Germany and Kenya dealing with colonial history?
The International Inventories Programme (IIP) is an international project which includes research, a database and exhibitions. German museums are involved in the project, which is cataloguing Kenyan works of art which have been held in museums and collections outside Kenya since the colonial period. Thus far, the project has documented over 32.501 cultural objects. The IIP wants to make it possible for people in Kenya to access objects such as ritual shields, musical instruments, jewellery and everyday items. The project is a collaboration between the Kenyan artists' collectives The Nest and Shift, the National Museum in Nairobi, the Weltkulturen Museum in Frankfurt am Main and the Goethe-Institut.