60 Years of the Paris Accords
The Paris Accords signed on 23 October 1954 marked a turning point in post-1945 German history that had far-reaching consequences.
21.10.2014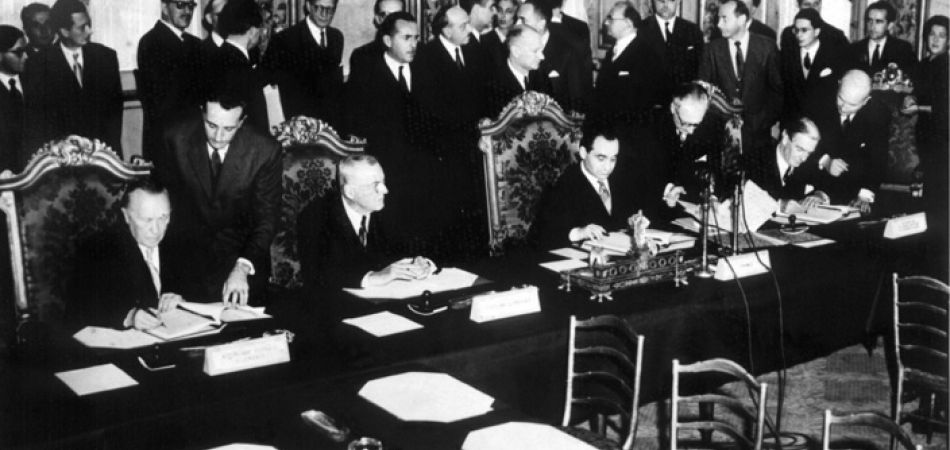 When the Paris Accords were signed in 1954, German Chancellor Konrad Adenauer (of the Christian Democratic Union party) succeeded in persuading the three Western Allied forces to end the occupation statute that had applied to the Federal Republic of Germany up until that point. Relations between the western part of Germany and the three occupying powers – the USA, the United Kingdom and France – were redefined in four individual treaties. They entered into force in May 1955, ten years after the Second World War had come to an end in Europe and supreme authority in Germany had been assumed by the four main victorious powers.
Although this accorded the Federal Republic greater authority, its sovereignty remained restricted by rights reserved by the Allied forces until the Two Plus Four Agreement came into effect in 1991. The 1954 agreements made it possible for the Federal Republic of Germany to join the North Atlantic Treaty Organization (NATO) and the Western European Union (WEU). Furthermore, a Franco-German agreement redefined the status of Saarland on the German-French border.
"Today marks the end of the era of occupation for the Federal Republic of Germany", said Federal Chancellor Adenauer in a speech before the German Bundestag, which ratified the treaties on 27 February 1955. "With deep satisfaction, the Federal Government can claim that we are a free and independent state." Adenauer was certain that alignment with the West and membership of NATO was the correct foreign policy path for the Federal Republic to follow.
Critics saw this as cementing Germany's division
Opposition politicians took a different view at the time. SDP (Social Democratic Party of Germany) chairman Erich Ollenhauer accused Adenauer of cementing Germany's division with the Paris Accords. "For the German people, the rescindment of the former right of occupation within the scope of the Basic Law offers no cause for celebration. Germany remains split. We can only talk of German sovereignty when German is reunified in freedom", said Ollenhauer. It was not until 1990, more than 35 years later, that the divided Germany was reunified.
www.konrad-adenauer.de/stichworte/aussenpolitik/pariser-vertrage-1955/
www.bpb.de/apuz/29086/pariser-vertraege-besiegelung-deutscher-zweistaatlichkeit?p=all