Cobblestones for Holocaust Victims
Plaques installed by the artist Gunter Demnig commemorate the victims of Nazi persecution.
26.11.2019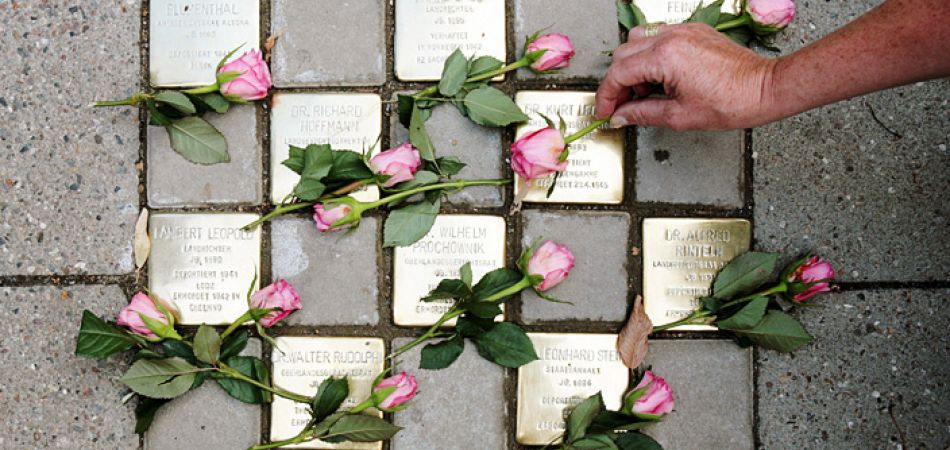 According to the Talmud, one of the most important texts in Judaism, "a person is only forgotten when his or her name is forgotten". For 20 years, the German artist Gunter Demnig has been working to keep memories alive by placing "Stolpersteine", special commemorative plaques on cobblestones, in front of buildings in which Nazi victims are known to have last lived by choice – Jews, Sinti and Roma, homosexuals, the politically persecuted, Jehovah's Witnesses and euthanasia victims. The small stones contain inscriptions which generally begin with the words: "Here lived". This is followed by the victim's first name, surname, year of birth, year and place of deportation, as well as information about what became of the person in question. The small rectangular brass plaques are a real success: Stolpersteine at more than 1,100 sites commemorate those who were banished or murdered under Nazi rule – throughout Germany and now in 16 other European countries too, including Belgium, France, Croatia, Norway, Poland, the Czech Republic and Hungary. Gunter Demnig regards his project as "the world's largest decentralized artwork". It has long been the case that there are so many stones that he can no longer produce them on his own, with the result that he has sought support from Berlin sculptor Michael Friedrich. In 2019, the 75,000th "Stolperstein" was laid.
Giving victims back their names
The project is called "Stolpersteine" (which literally means stumbling stones or blocks) and aims to give victims back their names and to show that they were neighbours. Many people are deeply moved when they see the stones because they suddenly make the victims and their dramatic fates appear so close. Some people instinctively step carefully over the small stones so as not to trample on them directly. Demnig has won numerous prizes for the project, including the Order of Merit of the Federal Republic of Germany. There are critics, however, such as Charlotte Knobloch, the former president of the Central Council of Jews in Germany. She complains that the cobblestones in the pavement result in Jewish victims being kicked yet again. For this reason, there are (as yet) no Stolpersteine on public property in Munich. Gunter Demnig counters this criticism of his project by saying: "Anyone who bends over to read the inscription on the stones bows before the victims."
International Holocaust Remembrance Day on 27 January 
© www.deutschland.de