Talking about Europe
Over 120 members of the public discussed the future of Europe with Federal Foreign Minister Sigmar Gabriel and experts from the Federal Foreign Office in Berlin.
13.03.2017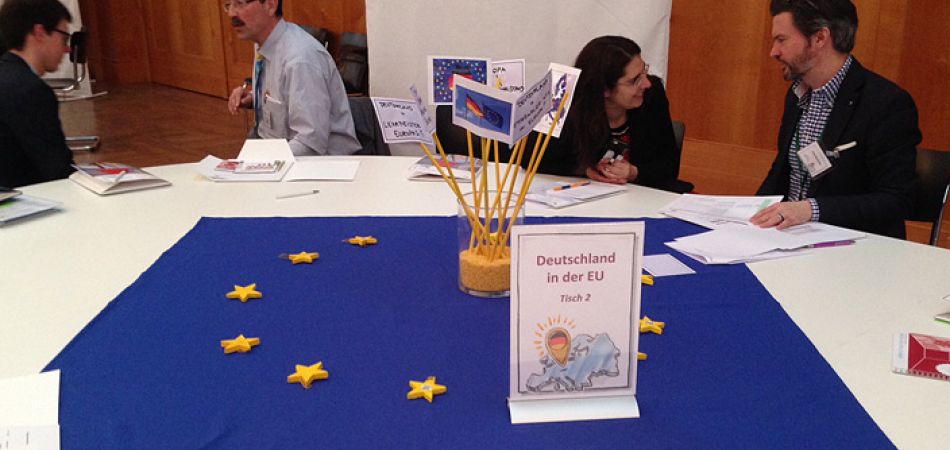 For several weeks now, Verena Boehm has had a regular appointment every Sunday. Together with her husband, the 49-year-old alternative practitioner travels from the small town of Butzbach, where she lives, to nearby Frankfurt am Main. There, with some 2,000 other supporters, she demonstrates for a united and democratic Europe. The new initiative called Pulse of Europe is responding in this way to the Brexit vote and increasing nationalism in Europe. The initiative now regularly assembles supporters of Europe in many German cities. Verena Boehm says that what drives her here personally is concern about her children's future. "There's a lot at stake for them." 
Next Sunday, Boehm will once again take to the street in Frankfurt. Today, however, for the first time she is sitting in the Weltsaal at the Federal Office in Berlin, together with over 120 other men and women. Self-employed people like Boehm are here, as well as employees and the unemployed. Several participants still go to school or are studying at university, while others have already retired. They live in different regions of Germany and have different cultural backgrounds, but they all have one thing in common: they want to talk about Europe. That's why they applied to participate in a foreign policy workshop with the public. The gathering in Berlin ends a Federal Foreign Office series of meetings that asked the question "What kind of Europe do we want?", which was organised in collaboration with Stiftung Mercator. At over 30 events in different towns and cities, experts discussed the role of Germany in Europe with members of the public.
"Europe is much too often viewed with a cost-benefit analysis"
The participants sit at ten large, round tables in the Weltsaal at the Federal Foreign Office – there is a constructive work atmosphere. Verena Boehm had ended up at Table 2, together with ten other guests. A sign on the table announces the subject for the day: European and national identities. It soon becomes apparent that the participants' views are as divided on the question of European identity as they are united in their belief in Europe and concern for its future. Most base their close connection with Europe on the well-known advantages: the freedom of travel, the common currency, the internationality of Germany cities. "Isn't that too little?" interrupts a young man. "If I only think Europe is good because it gives me something, then that is not an identity. Europe is much too often viewed with a cost-benefit analysis."
In between, the chairwoman from the Stiftung Mercator carries out a survey among the participants, who are asked to hold up their green or red voting cards. "Do you believe that there will still be a united Europe in ten years?" The vote in the hall is split, with a slight positive preference. At Table 2 the opinions are divided too – also about where the causes of the crisis of Europe lie and how the community can again become a model for success. Rüdiger Krause, a pensioner, believes Europe has grown too fast. "But growing more slowly is no solution either," says Nade Abazova, a PhD student of biology. "If we really want to be the United States of Europe, we need more impetus. We are not acting fast enough, above all on foreign policy questions."
"Not be pushed into a spiral of escalation"
The participants also have the opportunity to gain direct insights into German European and foreign policy in discussion with Federal Foreign Minister Sigmar Gabriel. "Nowhere in the world can people live as freely and with as much democracy as in Europe," Gabriel emphasises. He explains that European cooperation was the 20th century's greatest project for civilisation, and it has helped to overcome animosities and conflicts in Europe. "That's something worth caring about." That is why the EU must undertake everything to find a way out of its crisis.
The workshop participants are also able to find out more from Foreign Minister Gabriel about the difficulties that German and European foreign policy currently has to face. Having just returned from his first official visit to Moscow, the Foreign Minister answers questions about the relationship with Russia. "Ukraine is naturally an important topic in discussions. At the same time, however, I know that we cannot achieve anything in Syria without Russia." Gabriel explains that you need to have clear foreign policy positions and yet constantly seek dialogue. This also applies to the relationship with Turkey. "Your neighbour remains your neighbour even if he doesn't behave as you would like." Europe must not let itself to be pushed into a "spiral of escalation", but must adopt its own position on influential countries such as Russia, China and the United States. "That will be the greatest task of the coming years." And: "Our children and grand-children will only be heard in the world if Europe speaks with one voice," emphasises the minister.
© www.deutschland.de