Working across two countries
Maria Tandeck is 27 and regularly commutes between Germany and Poland for work. "This way of life works well for me," says the committed European.
21.03.2017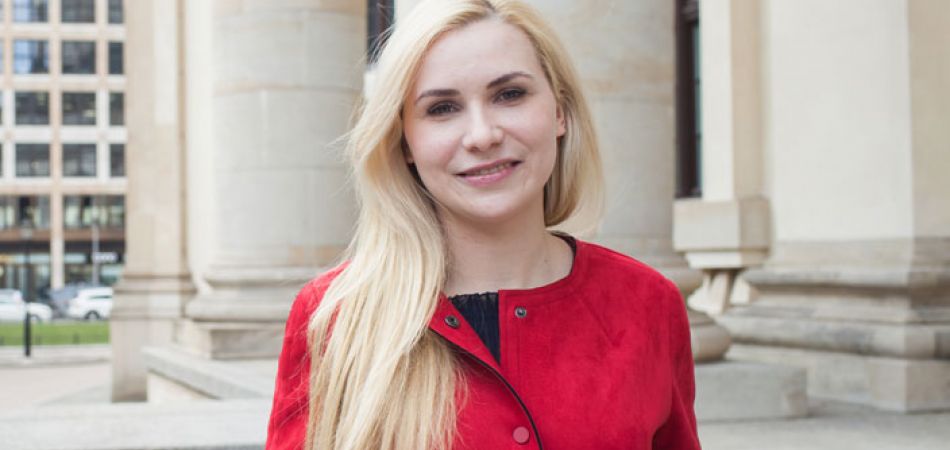 "When I was studying law at the European University Viadrina, I used to cross the German-Polish border nearly every day: the lectures were in Frankfurt an der Oder as well as in the neighbouring Polish town of Słubice.  Everyday life at the Viadrina is Europe on a smaller scale.  Even today I often travel between both countries: I work in Poznań, Wrocław and Berlin.  I work for a Polish company coordinating projects on further professional training, which receive financial support from the European Social Fund.  As a lawyer I deal with our applications for public funds.    
Right now I'm in Berlin taking care of a group of 65 unemployed Polish young people who are here doing a two-month internship.  When it's about integrating people into the job market, European countries can learn a lot from each other.  In professional training there are huge opportunities for European integration. 
"Hardly any obstacles in my daily life"
The way of life as a German-Polish employee works well for me I find.  I like being mobile, I've had an Erasmus grant to live in Wales, done an internship at the European Parliament in Brussels and travelled a lot.  After seven years studying and working in Germany I wanted to be closer to home in Poland but I didn't want to leave Berlin.  The job across both countries is a good solution for me.  There are hardly any obstacles in my daily life.  I travel here and there without any problems and I don't have any bureaucratic difficulties either.  
My current situation allows me to promote Europe to as many people as possible.  I've always done this – I'm a committed European and every day I can see what we have achieved.  But not everyone has had the same positive experience of Europe.  Accompanying young unemployed people in my job just enforces this even more.  I can understand that young people are disappointed when they can't find any work after finishing their studies.  They quickly get caught up in the populist messages.  I like to tell them that it's their responsibility to get to know Europe better.  And that it'll all be worth it in the end. 
It's obvious to me that Europe isn't in an easy situation at the moment.  But I'm staying optimistic.  When I'm in Berlin on a Sunday, I go to the 'Pulse of Europe' gatherings.  These pro-Europe initiatives, which we're seeing more and more of, are very important."
Transcript: Helen Sibum