The most important public holiday
German reunification is celebrated every year on 3 October. Discover five facts about the Federal Republic's most important public holiday.
25.09.2021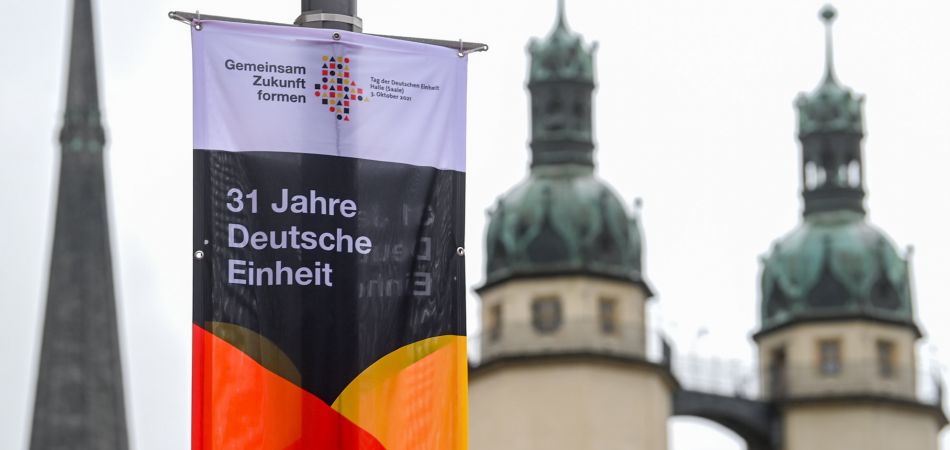 1. 3 October is Germany's most important public holiday.
Why 3 October? Following the decision of the People's Chamber, the accession of the GDR to the jurisdiction of the Basic Law in accordance with Article 23 of the Basic Law came into effect on 29 September 1990. One week later, the official accession of the GDR to the Federal Republic of Germany was complete. Since that time, 3 October has been the Day of German Unity.
2. Halle is the host of the central celebration in 2021.
Each year a different city and state are responsible for the celebrations for the Day of German Unity on the basis of a new concept. This year the 31st Day of Unity is hosted by Halle and Saxony-Anhalt. The motto is "Shaping the Future Together".
3. East German economy is vigorously catching up
The economic output of East Germany increased from 43% of the West German level in 1990 to 79.1% of the West German level in 2019. In 2001 the unemployment rate was 17.3% in East Germany and 7.2% in the old German states. By 2019 the figures were 6.4% in the East and 4.7% in the West.
4. There are still differences in how young people see the world
Differences between East and West still exist when it comes to young people between the ages of 15 and 24 who never experienced a divided Germany. They worry about different things, for example. Climate change concerns 62% of the young people surveyed in the West, but only 56% in the East. Violence and crime, on the other hand, is considered a greater threat in East Germany (61%) than in West Germany (53%). In East Germany 40% of this age group are worried that Islam could gain influence, while the total in West Germany is 29%.
5. Different level of satisfaction with democracy
According to the 2020 Annual Report of the Federal Government on the state of German unification, 91% of people in the West consider democracy the best form of government, whereas only 78% believe that in the East.
You would like to receive regular information about Germany? Subscribe here: