Guardian of the Basic Law
The Federal Constitutional Court will soon be 70 years old. It guards the foundations of German democracy unreservedly.
26.09.2021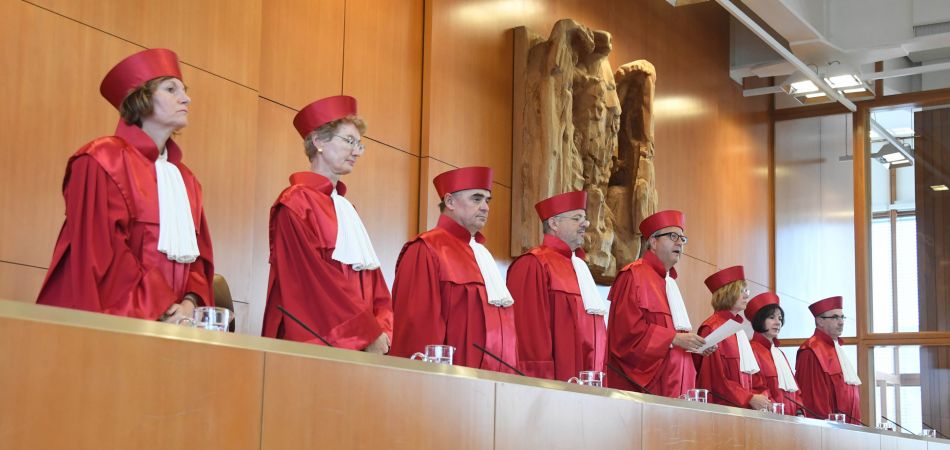 The Federal Constitutional Court is not only an institution, but also a symbol. It is the manifestation of the intention to subordinate all government powers in the Federal Republic of Germany to fundamental rights and thereby grant the constitution priority over everything else. Now 70 years old, the Federal Constitutional Court is an independent authority anchored in the German constitution, the Basic Law. No law, regulation or ordinance is allowed to violate the Basic Law. Overseeing this is the job of the Federal Constitutional Court.
The Federal Constitutional Court is not allowed to take action of its own accord. All citizens can appeal to the court if they believe that government action violates their fundamental rights. Of the 240,251 constitutional complaints submitted between 1951 and 2020, 5,372 were successful.
16 judges watch over the constitution
During the early years of the Federal Republic the court still had to contend with frequent, unambiguous and public criticism from political circles. Historically, German politicians were not used to such extensive and powerful supervision. Today, the court enjoys unequivocal recognition, and its decisions are accepted. Criticism of its rulings remains discreet and objective. The court's judgements over the decades have been as diverse as the Basic Law is open, specifically formulated as it is so that it can always address the needs of the day. Its duty is explicitly not to interpret the Basic Law according to a historical view of the time it was drafted, but to find modern and forward-looking interpretations.
The 16 constitutional judges are appointed for twelve years – one half of them by the Bundestag and the other half by the Bundesrat. The maximum age is 68 years. They work in two Senates, each of which has three chambers. The judges wear scarlet robes that were designed as a reflection of the costumes worn by judges in Florence during the 15th century. They can only be put on with help from another person, not by a judge alone.
You would like to receive regular information about Germany? Subscribe here: