Germany in the United Nations
Germany is seeking a non-permanent seat on the Security Council of the United Nations for 2019/2020.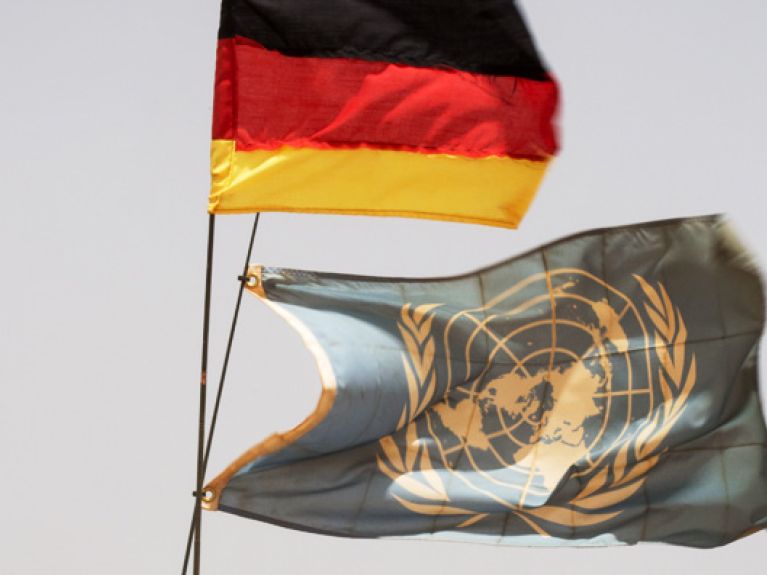 When Willy Brandt became the first German Federal Chancellor to speak before the General Assembly of the United Nations (UN) in 1973 it was a great moment for Germany: the Federal Republic – and, at the same time, the GDR – joined a world organisation that had emerged out of the ruins of the Second World War and as an answer to German aggression. Becoming a member was the most striking sign of a return to the international community. Visibly moved, Brandt said at that time: "In a world in which we are all increasingly dependent on each other, a policy for peace must not stop on our own doorstep." 
Today, over 40 years later, his words have lost none of their relevance. And they still describe very vividly why the United Nations is at the core of German foreign policy: because – despite some criticisms – it creates an international regulatory framework without which the world community would be catapulted back into the 19th century of national states. Since its accession Germany has upheld this framework on questions of war and peace. 
Engagement for human rights 
An integral component of Germany's commitment to the United Nations is its worldwide engagement for human rights. It is one of the fundamental pillars of German foreign policy. Special attention is paid here to the rights of women and children, as well as support for the human right to clean drinking water and sanitation. Furthermore, Germany is counted among the greatest partners of development – based on the conviction that peace and security can only be ensured on a lasting basis through development.
Accordingly, Germany makes substantial contributions to the United Nations – both financial and political. This is demonstrated by Germany's long-term effort for a reform of the Security Council, which no longer reflects the balance of power in the 21st century with its five permanent members – the United States, Russia, China, the United Kingdom and France – and their right of veto. However, because a reform is difficult and has not yet found the requisite support within the international community, Germany applies at regular intervals for a non-permanent seat in this important body: for the sixth time Germany is seeking a two-year term on the Security Council in 2019/2020. Alongside its permanent members, the Security Council always has ten non-permanent members, including three from Africa and two each from Asia, Latin America and Western Europe or the rest of the Western world and one member from Eastern Europe. 
Active in peace missions
Germany works untiringly for the United Nations. The country is the fourth largest contributor – after the USA, Japan and China. This fourth place is held by Germany not only with regard to the regular UN budget, but also with regard to peace missions. The Federal Government is contributing over 1.3 billion dollars to both budgets in 2016/2017. Furthermore, Germany has actively participated in peace missions for many years. Over 500 soldiers and over 30 police officers are currently serving under the blue UN flag. In addition, over 3,000 Germans are deployed on UN-mandated missions, for example, with NATO. 
Because the world has more and more crises to overcome, there has been a rise in the number of people suffering hardship. They frequently take flight as a result of conflicts and forced expulsions, as well as epidemics and natural disasters. Germany is spending almost 1.2 billion dollars on humanitarian assistance in 2016 alone and is the third largest donor in this area. In addition to this, Germany spends just under 17.8 billion euros on official development-related aid, which it uses to support projects and programmes all over the world – ranging from renewable energies to vaccination campaigns and education to forest conservation. The United Nations also has a presence in Germany – above all, at the UN Campus in Bonn, where 19 of the 28 UN facilities in Germany are based.
"Peace – Justice – Innovation – Partnership"
Above all, however, Germany is one of the world's most committed advocates of multilateralism and has therefore always been considered a dependable partner of the international community. Whether with regard to conflicts in the Middle East, as a supporter of Agenda 2030 or as a driver of international climate protection, Germany's foreign policy is embedded in a close network of international bodies, negotiations and treaties. That is why the Federal Government has very consciously linked the German candidature for a non-permanent seat with the slogan: "Peace – Justice – Innovation – Partnership". It aptly sums up the goals of German UN policy for the 21st century.
© www.deutschland.de