Learning from the past
Surprising parallels: political scientist Herfried Münkler compares the Thirty Years' War of 400 years ago with the current conflicts in the Middle East.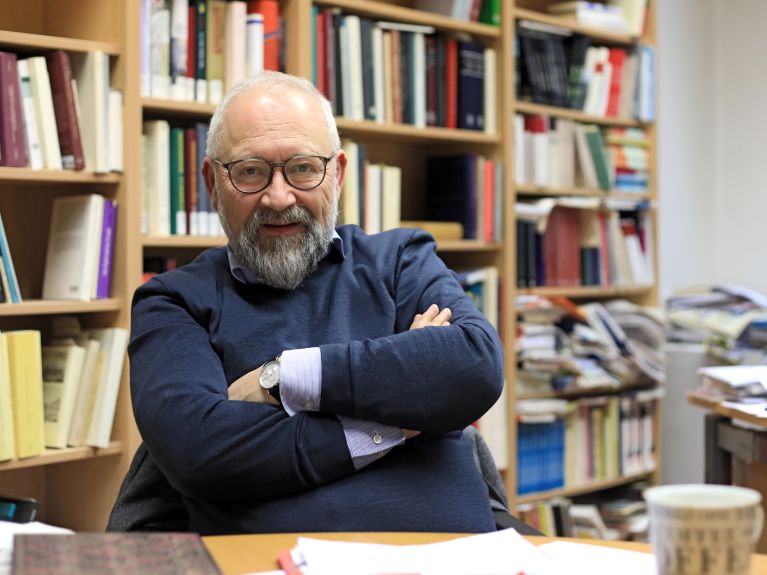 Great anger erupted at Prague Castle on 23 May 1618: Protestant nobles attacked the seat of the King of Bohemia and threw his representatives out of windows. They were outraged by the restriction of religious freedom and the suppression carried out by the Catholic rulers. What is known as the Defenestration of Prague 400 years ago is now regarded as the start of the Thirty Years' War. In his latest book 'The Thirty Years' War', the renowned political scientist Herfried Münkler describes parallels between the historical conflicts and the current situation in the Middle East.
Professor Münkler, can the Thirty Years' War really be compared with the current conflicts in the Middle East?
The wars in Syria and northern Iraq, in Yemen and in Libya are still regarded as separate entities. But in each of these wars the same actors are playing a role, ranging from the so-called Islamic State to the interventionist powers of Iran, Saudi Arabia and Turkey. If these conflicts are not ended soon, then at some point in the future people will refer to an interrelated war which started in various places, but then increasingly merged into a single war due to its own dynamics and the engagement of additional powers, such as Russia.
Which other analogies can you see?
The complexity of the shifting alliances and enmities – these were typical of the Thirty Years' War as well. Today's ally could easily become tomorrow's enemy. The current situation in the Middle East is similar. In both cases major regional powers were, and are, operating in the background. In the 17th century it was mainly Spain and France, today it is Turkey, Saudi Arabia and Iran.
What can we learn from the fact that it took 30 years of death and destruction before the historical powers finally managed to sit down together at the negotiating table?
They could have brought about the Peace of Westphalia a lot earlier, including the new distribution of power in Central Europe. But each of the warring parties thought they were on the road to victory and would win. Time and again these convictions mobilized new opponents without actually leading to any decisive strategic changes. Finally, it was their exhaustion, together with the devastation of vast areas of land and depopulation that made the warring parties negotiate the end of the war. This is not good news for the situation in the Middle East, because the point of exhaustion has not yet been reached there.
"Der Dreißigjährige Krieg – Europäische Katastrophe, deutsches Trauma"
Interview: Marco Seliger
© www.deutschland.de