Working for war victims in Somalia
Ilwad Elman shows young people in Somalia alternatives to a life as a soldier. For her work she is now to be awarded the Hessian Peace Prize.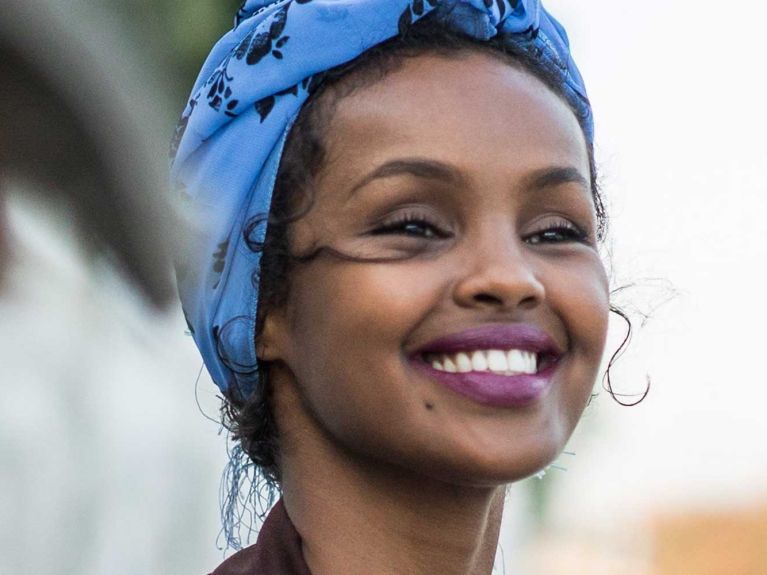 Ilwad Elman has never lost her optimism, though the 30-year-old Somalian has had good reason to often enough: in 1992 – at the age of just two – she had to flee her homeland to escape the civil war with her mother and two sisters. Her father remained there because he was unwilling to give up his work for child soldiers. Four years later he was murdered by warlords.
Ilwad Elman grew up in Canada but aged 19, decided to return to Somalia. "I found a purpose there, a goal", she told German magazine "Der Spiegel". Elman is a co-founder of "Sister Somalia" – opened in 2010, it was the first crisis centre providing support to rape victims in Somalia. Through her work she played a key role in the adoption of the first Somalian law relating to sexual offences.
"Drop the gun, pick up the pen"
In the meantime, the warlords had been gradually driven out by the radical Islamist Shabaab militia. Elman believed that education would make it less attractive for young people to join terrorist groups. She launched the education programme "Drop the gun, pick up the pen", which has enabled thousands of young people to return to civilian life. She spoke before the UN Security Council in 2015. In 2019 she lost another member of her family: her sister Almaas, likewise a peace activist, was killed in crossfire in the Somalian capital Mogadishu.
In October 2020 Ilwad Elman was honoured for her work by the German Africa Prize of the German Africa Foundation. She was awarded the Alternative Nobel Prize in 2022, and in March 2023 will receive another German award for her work: she will be presented with the Hessian Peace Prize of the Albert Osswald Foundation for the year 2022. The reason given for her selection was that at the age of just 33 she is one of the most important voices of the African peace movement, and that in her daily work for the weakest in society she is driven by the vision of a peaceful and just Somalia.
The statement continued by explaining that she had already done a lot at an early age to promote peace and human rights in her home country: Elman gives many young people, and especially girls and women in Somalia, the "hope of a more humane and peaceful life". Her great and unrelenting commitment to human rights in one of the world's most dangerous countries makes her a worthy winner of the award.