German-African ties
The first time a German city was twinned with a city in Africa was in 1963. We explain how this came about, and how things subsequently developed.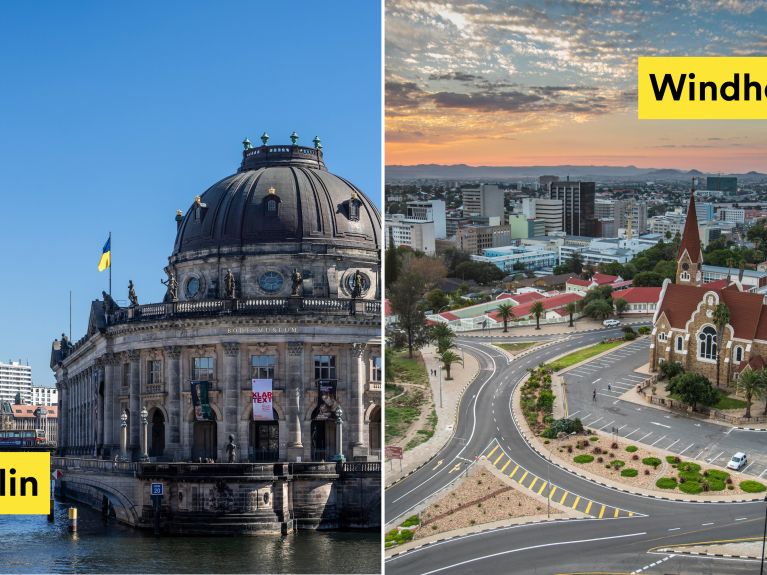 Eckernförde and Tanga get the ball rolling
The oldest German-African twinning agreement was established on 27 September 1963 between Eckernförde in the German state of Schleswig-Holstein and Tanga in Tanzania. The two towns have something in common that was apparently also the initial reason for twinning them: they are harbour towns. However, the town of Eckernförde has 20,000 inhabitants and is situated on the Baltic Sea, whereas Tanga, which has roughly 200,000 inhabitants more, lies on the Indian Ocean.
Rare twinning partners
German municipalities have official twinning agreements with more than 5,000 towns and cities all over the world. If friendships and project partnerships are factored into the equation, there are nearly 6,700 interlinked cities. The figures are based on a database compiled by the Council of European Municipalities and Regions (CEMR); as registration with the database is voluntary, however, the list is probably not complete. According to the database, most cities twinned with German partners are to be found in Europe. Agreements with municipalities on the African continent account for only around 1.5 percent – there are 63 in all.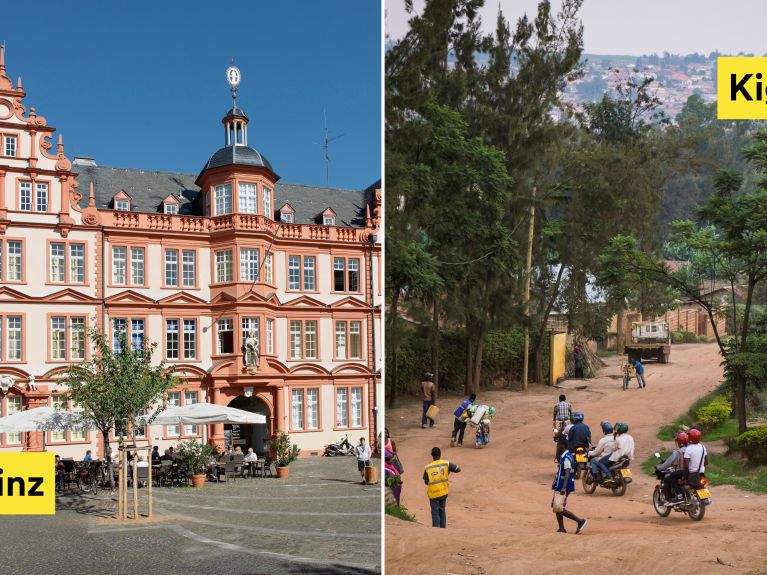 Burkina Faso has twinning agreements with the most German towns
Of all the countries in sub-Saharan Africa, Burkina Faso, where a military coup was staged in early 2022, has twinning agreements with the most German towns, namely ten. Five towns in Rwanda are twinned with German partners, all of them in Rhineland-Palatinate. This is because a regional partnership between this German state and the East African country has been in place for 40 years.
Capital friendships
Since the year 2000, Windhoek, the capital of Namibia, has been twinned with the German capital Berlin. "Berlin's partnership with Windhoek was established against the backdrop of Germany's special responsibility in view of the period of German colonial rule in the former colony of German South West Africa on the territory of what today is the Republic of Namibia", says Berlin's Senate Chancellery. The two cities could learn a lot from one another, especially in terms of the consequences of climate change or the creation of affordable housing. "The Windhoek-Berlin partnership is also part of the long-standing Namibia-German friendship", says Windhoek's Mayor Sade Shireen Gawanas. There is constant exchange between the cities. This example also confirms that it isn't a question of size when it comes to twinning cities: Windhoek has a population of around 400,000, while Berlin is home to some 3.8 million people.
Benefits of a successful partnership
Education, culture, infrastructure, natural conservation, health or sport: there are numerous areas in which exchanges can take place between twinned cities. They can also include reciprocal visits, though not necessarily only by dignitaries. In 2021, for example, three firefighters from Dar es Salaam in Tanzania came to its twin city of Hamburg to undergo further training. Another important role is played by civic engagement. There are many associations in Germany that support the people in their twinned cities.
Working together to mitigate climate change
Some twinned cities set up an additional climate partnership to ensure particular protection of the environment. Bremen for example has established two climate partnerships with its two African twin cities. Talking about the twinning agreements, Bremen Mayor Andreas Bovenschulte says: "Bremen has had friendly ties with Durban in South Africa and Windhoek in Namibia for over 20 years. What began as support for the liberation movements quickly evolved to become vibrant partnerships. We are also linked to Namibia by a regional partnership. We are constantly learning from one another thanks to our wide-ranging cooperation, be it in projects for climate change mitigation and adaptation within the framework of our climate partnerships, scientific collaboration, or in the areas of health, sport, youth and culture. As a cosmopolitan Hanseatic city, we have always believed in global exchange. Furthermore, it is to some extent also about global solidarity and friendship, and about working together for sustainable development."
Windhoek's Mayor Gawanas likewise values the partnership with Bremen, and says: "The exchange between the two cities continues the tradition of sharing knowledge and inspiring creativity through enlarging each other's horizons and working together on solutions. The success for the partnership is built on mutual trust and respect and a productive sister-city working relationship."
Partners at times of crisis
Political crises can prove a tough test for twin cities. For example, the partnership between Munich and the Zimbabwean capital Harare has already been put on ice two times. Time and again, there are reports of human rights violations in Zimbabwe. For the sake of the people there, however, Munich City Council is keen to keep the partnership up and running. In 2021, for instance, a Munich association raised funds to provide support for the inhabitants of Harare during the coronavirus pandemic.