Creating jobs, empowering women
The German government's new Africa Strategy is designed to help the young generation and achieve more gender equality.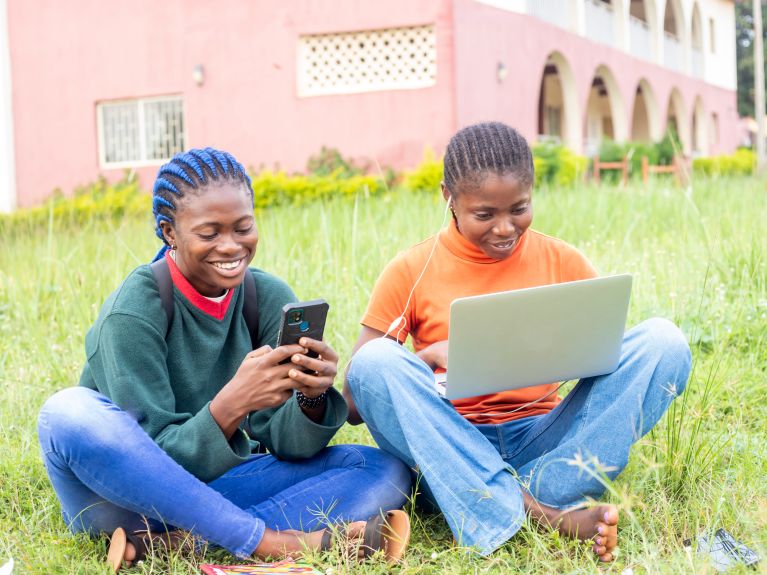 In future, the German government's Africa policy is to become more social, more environmental and more feminist. The Federal Ministry for Economic Cooperation and Development (BMZ) has now outlined its concrete objectives in a new Africa Strategy that Federal Development Minister Svenja Schulze jointly presented with Ahunna Eziakonwa, regional director for Africa at the United Nations Development Programme (UNDP), and Chido Mpemba, the African Union's special envoy for African youth. The strategy is entitled "Shaping the future with Africa".
Specifically, the strategy focuses in particular on transforming the economy in a social and ecological manner, creating good jobs for the rapidly growing young population and achieving gender equality.
"The biggest young generation of all times"
Federal Development Minister Schulze emphasised the central role played by the demographic transition in the continent's development: "Africa is growing and changing enormously. The way it develops will leave its stamp on the 21st century and thus also determine the future of Germany and Europe. We are talking in Africa about the biggest young generation of all times. About half of all the people in Africa are younger than 20." She went on to say that the prospects that this young generation has will play a part in determining how they can harness their power for good ends. It is therefore a question of using the opportunities connected with this biggest ever young generation for sustainable development. "In order for that to happen, an additional 25 million jobs will be needed in Africa – each year. These are jobs that will make the difference between no prospects, and frustration and instability on the one hand, or development, innovation and crisis management on the other. The Development Ministry cannot create these jobs itself. But we can work with Africa to create good foundations and conditions," said Schulze.
Creating good jobs
Together with its African partners, the German government wants to create the conditions needed for good jobs. According to the BMZ, one focus is on areas such as renewable energies, processing food locally, intra-African trade and better access to credit for women. Digitisation is also an important transformation lever, especially for the young generation.
The BMZ identifies six focus areas in its strategy. All are aimed at making policy more social, more environmental and more feminist – working together with African partner countries: 
Sustainable economic development, employment and prosperity
Overcoming poverty and hunger and building social protection
Health and pandemic prevention
Feminist development policy and gender equality
Rule of law, democracy, human rights and good governance
Peace and security
Federal Development Minister Svenja Schulze stressed the increasingly important role of multilateral cooperation: "We would be well advised to cultivate good neighbourly relations with Africa. In the new multipolar world order, Germany and Europe must act in good time in order to build their abilities to form solid alliances, networks and partnerships with other continents, too. We urgently need partners beyond Western countries. The way we deal with the African continent today will play a role in deciding how it deals with us tomorrow."