Courageous prizewinner
Ilwad Elman shows young people in Somalia alternatives to a life as a soldier. For her work she has received the German Africa Prize.
Bettina Rühl / 02.12.2020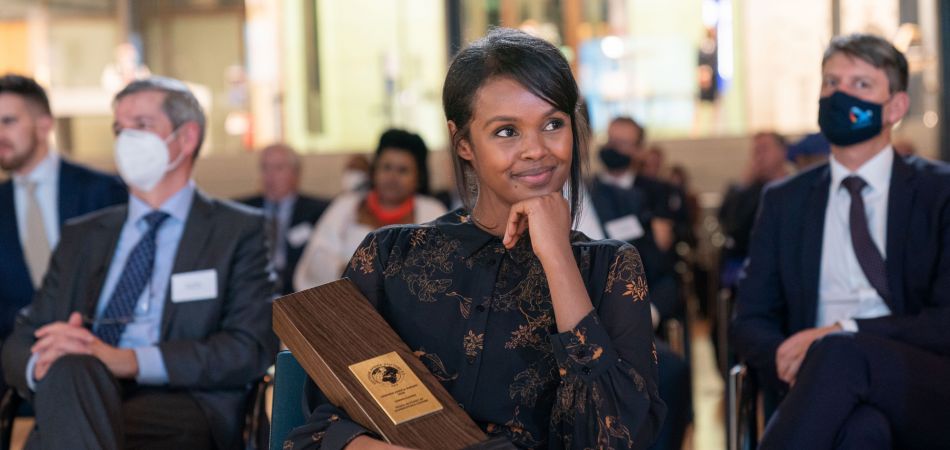 Ilwad Elman has never lost her optimism, though the 30-year-old Somalian has had good reason to often enough: in 1992 – at the age of just two – she had to flee her homeland to escape the civil war with her mother and two sisters. Her father remained there because he was unwilling to give up his work for child soldiers. Four years later he was murdered by warlords.
Ilwad Elman grew up in Canada but decided at the age of 19 to return to Somalia. "I found a purpose there, a goal", she told the magazine "Der Spiegel". In 2010, she and her mother established the first centre for victims of sexual violence in Somalia, the Elman Peace Centre.
"Drop the gun, pick up the pen"
In the meantime, the warlords had been gradually driven out by the radical Islamist Shabaab militia. Elman believed that education would make it less attractive for young people to join terrorist groups. She launched the education programme "Drop the gun, pick up the pen", which has enabled thousands of young people to return to civilian life. She spoke before the UN Security Council in 2015. In 2019 she lost another member of her family: her sister Almaas, likewise a peace activist, was killed in crossfire in the Somalian capital Mogadishu.
In October 2020 Ilwad Elman was honoured for her work by the German Africa Prize of the German Africa Foundation. "It's often women who, full of creativity and with great courage, are breaking new ground and changing societies", said Foreign Minister Heiko Maas at the award ceremony, adding that the Africa Prize is being awarded to a "very inspiring and profoundly human prizewinner".
You would like to receive regular information about Germany? Subscribe here: