Challenges for humanitarian aid
Bärbel Kofler, Federal Government Commissioner for Human Rights Policy and Humanitarian Aid, believes humanitarian aid faces massive challenges globally.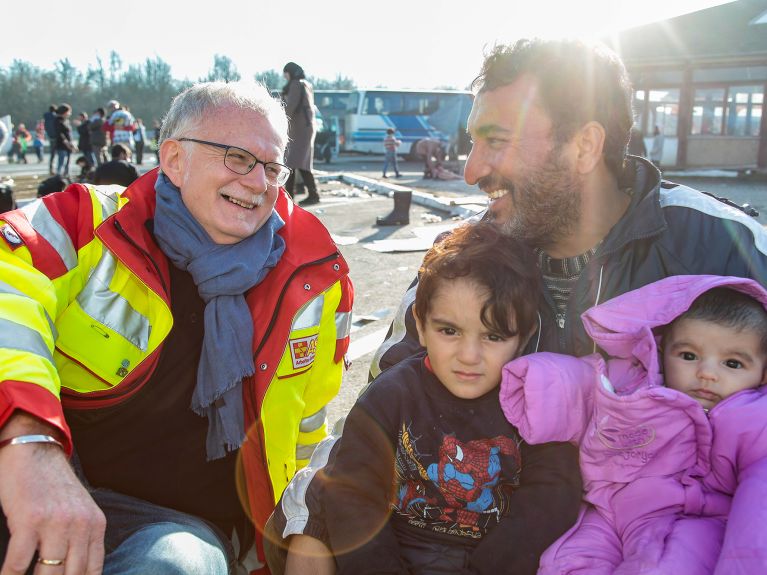 In recent years, the challenges to humanitarian aid have increased sharply. Crises go on for longer, and each year the need for aid grows. Moreover, given anthropogenic climate change the intensity and frequency of natural disasters is on the up, which poses additional challenges to the international community.
Climate change
Over 75 percent of natural disasters are already attributable to extreme weather conditions that are causing immeasurable suffering the world over. This will presumably increase still further in coming years. Particularly in the Global South, storms and floods are leaving people homeless, injured, or dead. An ever greater incidence of droughts spells more lost harvests and depleted water reserves. At the same time, there is a growing danger that people will be uprooted by the consequences of climate change and natural disasters.
Violation of humanitarian principles
Moreover, the "humanitarian space", namely the scope for humanitarian organisations and helpers, is being curtailed ever more by violations of humanitarian international law and humanitarian principles. Sanctions imposed and anti-terrorism regulations also can render humanitarian aid impossible in practice – or make it a criminal act.
Escape and expulsion
Another major challenge is the number of people who have had to flee their homes or have been expelled from them. At present there are over 70 million refugees and internally displaced persons, many of them in severe humanitarian distress. The Federal Government and the Federal Foreign Office, which is responsible for humanitarian aid, have recognised the challenge and with the backing of parliament have strengthened the support the country offers.
How Germany is responding to the challenges
The Federal Foreign Office continues to prioritise a strong partnership with humanitarian organisations. They and their highly qualified and dedicated staff, both international and increasingly local personnel, provide assistance on the ground, often under extremely difficult conditions and risking their own lives. Germany will provide funding for them in a manner that is best in line with the respective organisation's financing requirements. In other words, the funds are increasingly provided in the longer term and in a flexible way over several years. For international organisations to remain active, unconditional core contributions by Germany to their budgets are truly key. In 2019 Germany managed to double these core contributions to key humanitarian organisations.
The Federal Foreign Office is increasingly championing the preservation of the humanitarian space politically, too. This process was kicked off by the UN Security Council discussing the topics in question – chaired by Federal Foreign Minister Heiko Maas – on the very first day of the German presidency, on 1 April 2019.
The Federal Foreign Office will address the topics of the future with great energy, not only the humanitarian aid it itself provides, but will also give the entire humanitarian system a more prospective thrust and will more strongly explore the opportunities and risks of digitisation for humanitarian aid. From the humanitarian viewpoint, in crisis scenarios a far better interfacing of the different instruments and delivery mechanisms is required.
Optimising humanitarian aid is one thing. It is quite another is to more effectively prevent humanitarian needs arising in the first place: The international community must bring sustainable solutions to bear to end humanitarian crises more quickly. To this end, the relevant instruments, ranging from crisis prevention and humanitarian aid through to development assistance, must be more effectively interlocked, without in the process overlooking their respective mandates and objectives.