"It is essentially a question of human rights"
Women's global fight for self-determination – an interview with Beate Rudolf, director of the German Institute for Human Rights.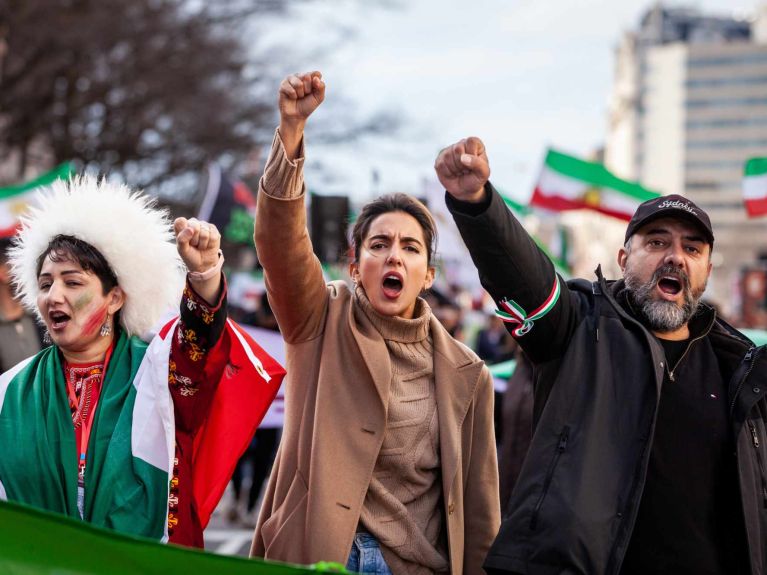 Ms Rudolf, women have recently become more visible in conflicts – is that your impression, too?
Yes, that is the case in Iran for example, where women initiated and continue to support the resistance against oppression. Men have joined the protest, which is an important sign that it is essentially a question of human rights. "Woman, life, freedom": this chant, which was frequently heard during the protests, means simply that there must be no gender discrimination and no arbitrary killings, and that people want to decide for themselves how to live their lives.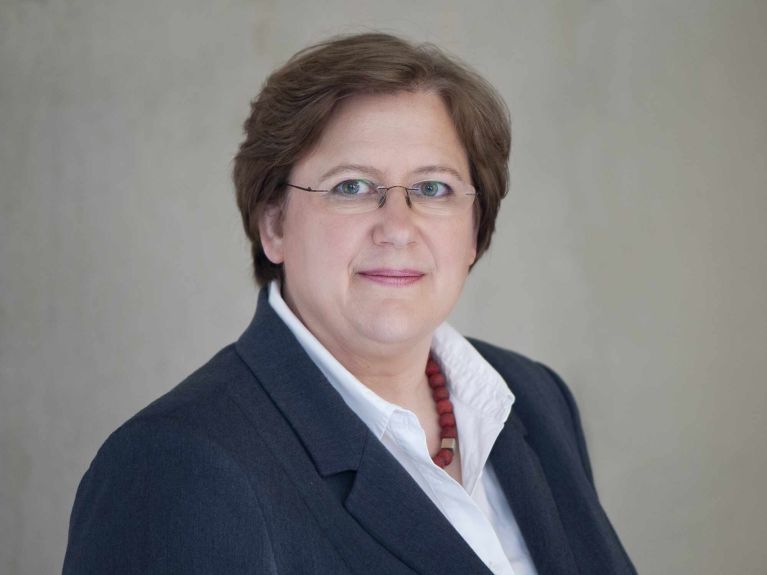 Where can other examples be found?
The situation is similar in Belarus. Women drove the mass protests forward and took on the leading role when their husbands were thrown into jail. For doing so, they are being persecuted, arbitrarily imprisoned, threatened and abused. The protests in Belarus are also about something that concerns the entire population: self-determination and respect for the results of the presidential elections.  
What is Germany doing for women's rights against this backdrop, and what role does feminist foreign policy play in this context?
In essence, feminist foreign policy is about pursuing a human rights policy that puts special emphasis on women. This includes punishing sexualised violence not only during conflicts but also afterwards. For women, conflicts do not end when peace is agreed. Violence is still present in society because violence has become "normal" for men who have been fighting. That is why peace negotiations and reconstruction programmes need a clear focus on women. And that is only possible if there is equal participation.  
Germany's new Africa Strategy also stipulates a feminist approach to development policy. Do foreign and development policy need to be even more closely interwoven with respect to women?
Yes, because the transition from a post-conflict society to a peaceful society in which development cooperation is still necessary happens only gradually. Women must be taken into account in this process as indispensable protagonists; this also applies to the economy and human rights, to trade policy and to climate policy. We know that women give a lot more consideration to their surroundings than to themselves in their actions. When it comes to viable solutions in development cooperation, women are important allies. The future needs women! 
How might women be involved?
Women must be empowered to help shape their society – at either the local or national level – and must have the chance to participate and contribute their viewpoints. The right of women to work must be prioritised, as women will only be able to determine how they live their lives if they can earn their own living. Education is also important as it helps women to play an active role in the economy and better support their children. In other words, there are many good reasons to focus on women in development policy and when critically analysing conflicts.  
Let us finish by taking a look at Germany: in 2022, an independent office for reporting gender-based violence was established at the Institute for Human Rights. What led to this?
Since 2018, the Council of Europe Convention on preventing and combating violence against women and domestic violence, known as the "Istanbul Convention", has also been in force in Germany. It obliges signatory states to combat violence against women and to protect and support those affected. The reporting office is intended to create a broad and robust data basis to allow the phenomenon of gender-based violence to be better recorded and compliance with the Convention monitored. One question in this context concerns the extent to which individual groups are especially affected by gender-based violence, such as women with disabilities, trans women or women with no residence status.  
What data will the office collect?
We need answers to the following questions: Is the Istanbul Convention being applied in practice? What steps have been taken at federal, state and municipal level, and are they effective? Do courts take domestic violence into account when deciding on custody or divorce rights? Do all women genuinely have access to women's refuges, even if they live in rural areas for example or have a disabled child? The results will be used by the office to draw up recommendations for policymakers and government so that effective programmes to combat gender-based violence can be created. After all, good policies need good data.  
Beate Rudolf has been the director of the German Institute for Human Rights since 2010. A lawyer, she also chaired the Global Alliance of National Human Rights Institutions (GANHRI) until 2019. 
You would like to receive regular information about Germany? Subscribe here: