"Civic participation is a marathon"
Pulse of Europe has been active since 2017. We talked to its co-founder Stephanie Hartung about Europe and the war in Ukraine.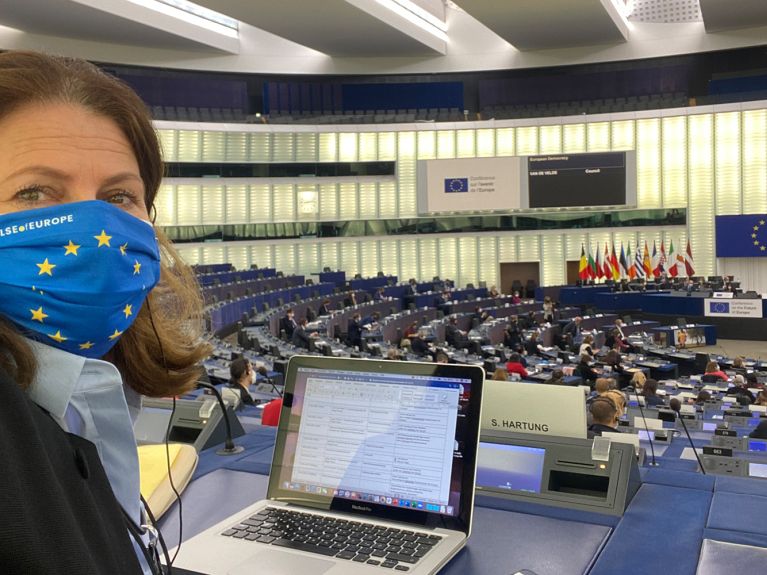 The citizens' initiative Pulse of Europe has been committed to a peaceful and democratic Europe for years. The initiative became known when in some cases tens of thousands of people would take to the streets every week after the movement was founded in 2017. It has now been organising demonstrations once again in response to the war in Ukraine. In the run-up to Europe Day on 9 May, co-founder Stephanie Hartung talks about the Ukraine war, the future of Europe and the role played by Pulse of Europe.
Ms Hartung, when it was launched in 2017, Pulse of Europe formulated ten statements. One of them is: "Peace itself is at stake". Now there is war in Europe. What is Pulse of Europe's response?
It affects us deeply. Though the conflict had been simmering for a long time, it was clear the day the first shot was fired that we had reached the point where we had to go out onto the streets again. We had reached the point where it was necessary to demonstrate solidarity and generate images to show that people are standing up together for a democratic Europe. We were immediately able to mobilise 5,000 people in Frankfurt alone. Many of our other Pulse of Europe cities also went spontaneously into action, like Aachen, Hildesheim, Karlsruhe and Munich, gathering large crowds for their demonstrations.
Activities at Pulse of Europe had quietened down. Why was this?
When we founded the movement in 2017 it was a very intuitive process. Initially we were a group of eight friends who were worried by the anti-European sentiment at the time: Brexit, the Trump administration in the US, the run-off election between Emmanuel Macron and Marine Le Pen in France, a repeat of which we have just experienced. We said to ourselves: "Something must be done." And half a year later we were a movement with over 120 local groups in 14 EU member states.
How did the major pro-Europe demonstrations at the time become your trademark?
We seized the moment, which was exactly the right thing to do in that situation. It was not about opposing something but about demonstrating for Europe, for the European idea. However, the kind of mass demos that we were initially staging on a weekly basis cannot be sustained over several years.
People are now taking to the streets again and demonstrating for Ukraine, as well as for a united Europe.
Yes, though the mood is of course quite different than in 2017. Today, people are being driven onto the streets by fear. Five years ago it was political concerns, but we would still head home after our demonstrations feeling good about ourselves and proud of our Europe. Now we are all full of concern when we look at the political situation.
Would you also say that Europe has been acting with greater unity than almost ever before in recent weeks?
Absolutely. But we shouldn't find that so reassuring. After all, it shouldn't take the threat of a third world war to trigger Europe into effective action at short notice. But of course this is what happens: extreme pressure from the outside strengthens an entity on the inside. Nonetheless, beneath this superficial internal strengthening there is a risk that the looming economic crisis in Europe will also play into the hands of the growing nationalist movements. I believe we need to keep a serious eye on both. As far as Europe is concerned, there is no reason whatsoever for us to rest on our laurels.
Pulse of Europe describes itself as a movement that pursues no partisan aims. Would you not have been able to achieve more as a political party?
We discussed this time and again and ultimately decided unequivocally against it. We believe in the idea of a citizens' initiative to strengthen civic participation – and we talk in this context of a marathon that requires staying power. Even when we reduced the number of demonstrations following our major campaign ahead of the 2019 European elections, we remained active. We continued to evolve and are now using other new formats, too.
For example?
We developed our "European HomeParliaments", for example. This is a series of debates that we have already run five times and that we use as a key means of advancing civic participation in Europe.
How do these "HomeParliaments" work and what is decided at them?
This format is all about taking European issues to the people and getting them to discuss them. To this end, we provide general topics, hosting materials, arguments and key questions. This allows us to create a private setting in which to debate the issues and also hold a vote – in groups of six to eight people, at home, at the football club, wherever.
And what do citizens change through their debates?
It is not about citizens presuming that they understand or could do things better, nor that they want to dictate to politicians how things should be done. Rather it is about being noticed and listened to – ideally all the time, of course. This is what we are committed to achieving. The information deficit in Europe is still far too large. We want to change this.
Pulse of Europe has been in existence for five years now, and the Ukraine war is posing new challenges for Europe. Looking ahead to the future, where do you see Pulse of Europe in five years' time?
As a civic action group, Pulse of Europe is one small building block, one small piece of the puzzle, in this huge project that is about ensuring a peaceful and democratic Europe. We have always said that our movement is not an end in itself. However, as compared with 2017, the year of our founding, the situation has become much more difficult. If in five years' time Europe is so firmly established that we no longer need any civil society engagement such as that pursued by Pulse of Europe, we can and will be happy to disband. But I fear that will not be the case.