Religions as partners of foreign policy
Important civil society actors: the Federal Foreign Office is seeking dialogue with representatives of religions from all over the world.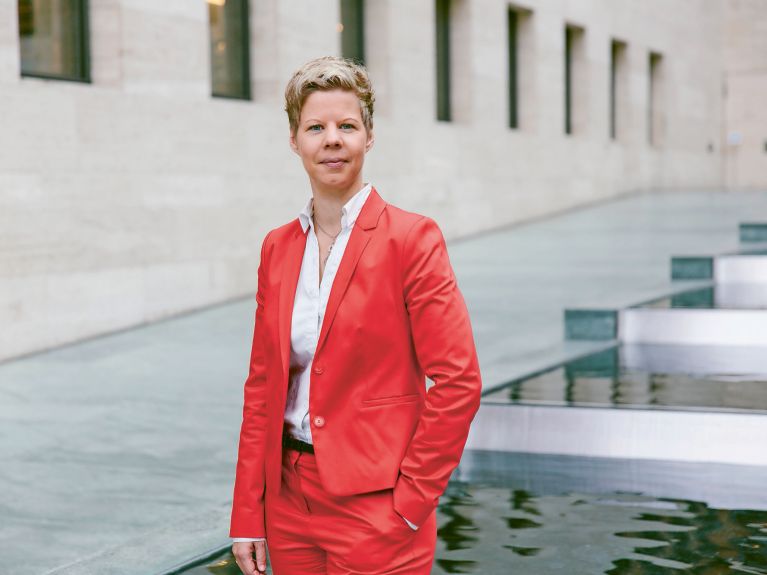 Ms Lechner, the Federal Foreign Office invited over 100 participants of different faiths to the first Conference on the Responsibility of Religions for Peace in May 2017. Why is German foreign policy interested in religion?
Foreign policy does not only take place between states; today, civil societies also play a major role in countries – and with them also faith communities. After all, over 80% of people worldwide belong to a religion. These are communities that exert a great deal of influence; very often they are politically ­active and socially involved. That's why faith ­communities abroad are important actors for us.
Is this a new development? 
There have been moves in this direction in the past – for example, support for the projects of religious actors abroad. This successful work was one reason why German foreign policy wanted to address the area more strategically. That was why the Task Force on the Responsibility of Religions for Peace was set up at the Federal Foreign Office in 2016. This has done nothing to change the fact that ­Germany is an ideologically neutral state and that the Federal Government does not interfere in religious matters. In the meantime, however, there is a trend towards saying that being ideologically neutral does not mean ignoring religions. Religions should be gained as partners where they are politic­ally active. Purely theological questions are not our subject, but when faith communities become political, they are of interest to us. Similar approaches exist in other countries. Under President Obama, for example, the US State Department also set up an Office of Religion and Global Affairs. Overall, however, this is still a rather new trend, which we have taken up early on.
However, the two concepts "religion and conflict" are heard together more often than "religion and peace". Or is this impression false? 
Both combinations exist. Religion is always am­bivalent. We know many cases in which religion is misused. When you examine conflicts more closely, you discover that the religious aspects are often not the main focus, but that there are many other factors. We say it is at least as important to focus on the positive engagement of religious actors, who are frequently active in peace work, for example, in ­education or in mediation. This approach – recognising the responsibility of religions for peace and moving it into the limelight – opens many doors. This was also shown by the great interest in the conference – almost everyone we invited came. The feedback from the religious representatives was also positive during the conference itself. They considered the conference a valuable initiative and emphasised many times that Germany can play an ­especially important role in this area.
Why Germany in particular?
People have a great deal of confidence in Germany. This can be observed not only with regard to ­foreign policy as a whole, but also in this area ­especially. People see that Germany itself has a good model for cooperation between the state and faith communities, a very cooperative relationship. The religious representatives are confident that Germany can transfer this approach.
What impressed you most during discussions? 
The positive basic mood. We invited 100 individ­uals from 50 countries – and were concerned about whether that would work or whether there would be conflicts here or there. But from the very first meeting onwards people approached one another very openly. I was also impressed by the diverse ­picture of religious representatives here at the Federal Foreign Office. There had never been anything like this before. We didn't only have Christians, Muslims and Jews, but deliberately also invited ­representatives of smaller religions.
Where will it go from here? How can German foreign policy support faith communities in fulfilling their responsibility for peace in everyday life? 
We are still in the process of evaluating the suggestions made at the conference. We very consciously did not have a fixed agenda, because we wanted to listen and learn from the participants. There was a common wish for further support for processes at the regional and local level. This could mean that we will create political spaces where people who otherwise do not meet will have an opportunity to exchange views, also across borders. A desire for further training for religious actors was also often expressed in the working groups. Here we would like to offer a first training course for the religious representatives from our network before the end of 2017 if possible. We are closely examining the ­results of each working group and in the process cooperating closely with German missions abroad. Together we are considering what can be realised in the countries and where our involvement is beneficial. 
Many working groups wanted to see a strengthening of the work of women. In many religions, however, women do not necessarily play the main role. . .
Only 15% of the conference participants were women. That was simply because we wanted to ­invite leading members of the clergy – and in almost all religions they are men. There was little we could do to change that. I therefore considered it a good sign that the role of women was repeatedly a topic of discussion in the working groups. We are giving this point further consideration.
Will the conference format itself be repeated? 
The outcome was so positive that we intend to continue using this approach. Perhaps not every year, but still every two years on a larger scale. In the intervening period we can work with a more regional focus.
Interview: Janet Schayan
Dr Silke Lechner is ­Deputy Head of the Task Force on the Responsi­bility of Religions for Peace at the Federal ­Foreign Office. ­Previously, the political scientist was Director of Studies of the German Protestant Church ­Assembly.