Tracking the spread of coronavirus in Germany
How many people are infected, what about the 7-day incidence? You can find answers to these and other questions here.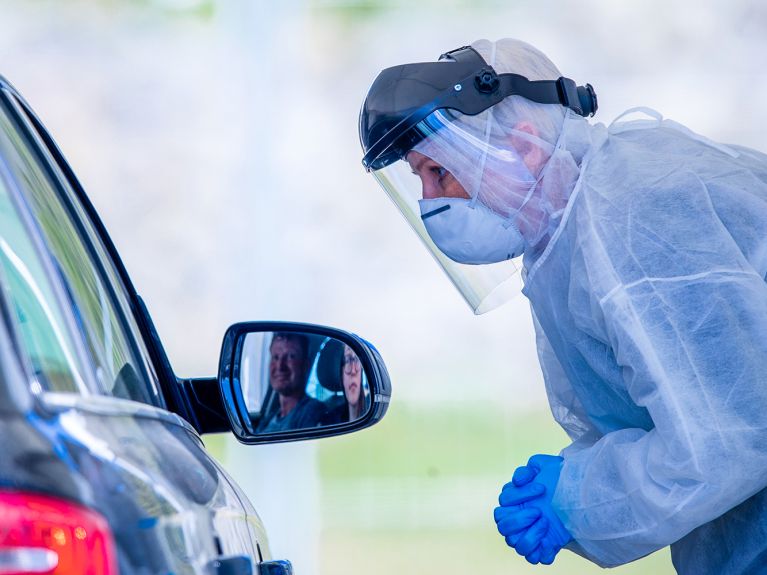 How many people have tested positive for coronavirus in Germany?
According to figures from the Robert Koch Institute (RKI), a further 52.528 people in Germany have contracted the virus SARS-CoV-2 in the past 24 hours. (As per: December 21).
What can be said about the current trend?
Germany-wide, the seven-day incidence currently stands at 250,7  (the number of new cases recorded per 100,000 people in seven days), though considerable regional fluctuations are possible. The hospitalisation rate due to Covid-19 is 10,0 (the number of new hospital admissions due to Covid-19 per 100,000 patients in seven days). Where can you find further information?
A current overview of infection numbers can be found on the website of the Robert Koch Institute. The RKI's situation reports can be found here. In addition, the Covid-19-Dashboard offers a detailed breakdown for Germany's individual administrative districts and federal states.
How does the global development look?
You can find those figures at the Johns Hopkins University website.
You can find out more about the German Federal Government's crisis measures here.
Source: bundesregierung.de
+++

+++
Want deutschland.de to keep you up-to-date with current events? Then follow us on Twitter!