"Local actors play a central role"
How is humanitarian assistance quickly delivered to those who need it? Maren Rahlf from Welthungerhilfe explains the localisation concept.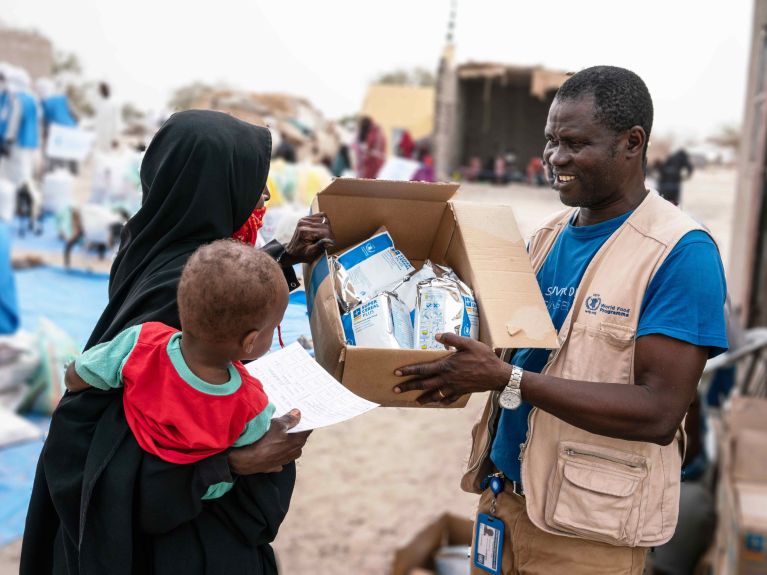 Since March 2020, Caritas Germany, Welthungerhilfe, Diakonie Katastrophenhilfe and Malteser International have been running a special programme aimed at strengthening local organisations in the area of humanitarian assistance. It is currently active in eight countries – Ethiopia, Bangladesh, the Democratic Republic of the Congo, Indonesia, Colombia, Myanmar, Pakistan and Somalia. In total, 38 local organisations are involved. Named Towards Greater Effectiveness and Timeliness in Humanitarian Emergency Response, or ToGETHER for short, the programme is supported by Germany's Federal Foreign Office.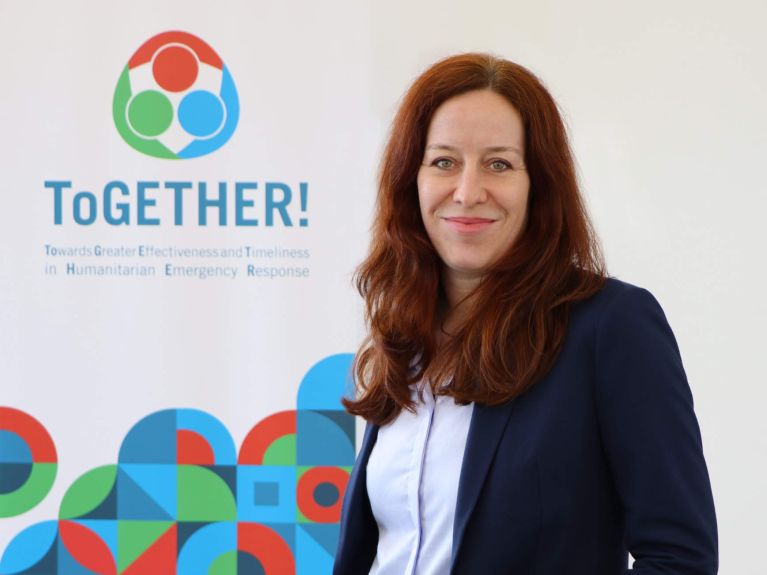 Ms Rahlf, you work for the German non-profit organisation Welthungerhilfe and coordinate the ToGETHER programme. Its aim is to localise humanitarian assistance in eight countries of the so-called Global South. What does this mean?
Many regions in the world are affected by drought, disastrous flooding, violent conflicts and other humanitarian catastrophes. Humanitarian aid missions conducted by international organisations support people in the regions in question. They often cooperate with local organisations. These actors play a central role: Because they are part of the affected population and best know the local context, they have a clear idea of what people need. And yet they are too rarely involved in decisions about humanitarian operations. We want to strengthen local organisations by giving them decision-making powers and by shifting power structures in their favour, thereby making humanitarian assistance quicker and more efficient. "Nothing about us without us" – that's the premise of the local stakeholders.  
What approach do you follow?
We are keen to strengthen civil society as a whole. We attempt for example to involve local stakeholders in the international discourse and to engage in lobbying together with them. In addition, we strengthen them in the areas of capacity building and exchange. Working together with us, they evaluate themselves and explore any areas where there is room for improvement or where infrastructure is lacking. It is also important for them to be able to meet the regulations and requirements of the international donors – one very practical example is the question of which accounting systems are recognised in Germany. Project financing naturally plays an important role for local organisations, though it also gives rise to specific power constellations that we wish to break through. Overall, it is less about expert knowledge of humanitarian assistance and more about administrative and infrastructural challenges. We run for example training seminars on topics such as project funding or funding applications.  
One particular component of the ToGETHER programme is flexible funding. What is the aim there?
Our local partners have set up steering committees in their respective countries. Within these bodies, they agree for instance on how to implement specific aid projects in the region in practice. They also take joint decisions about how the available budget can be used or allocated in a way that makes sense. That is something our partners appreciate a great deal. Individual local organisations can also submit applications in the steering committee and evaluate them in the group. This creates a very considerable learning effect - for the German project partners too. 
In what sense?
When acute crises occur, what is needed is quick and efficient action. The best way to achieve this is with contextual knowledge, i.e. expertise that only local organisations have. In many cases, this means they will come up with suitable solutions tailored to local circumstances much more quickly than international partners can. In return, local stakeholders value us international partners on account of our knowledge, for example when it comes to financing, resource mobilisation, the donor landscape, applications for funding or technical innovations.  
What feedback do you get from your local partners?
The feedback is very positive. Our partners feel that they are taken seriously, have genuine decision-making powers and work together with us on an equal footing. Nonetheless, there is scope for improvement, as the overall structure of the international system still remains very top-down. This is something we intend to keep tackling in future - for example by further raising the profile of local organisations and their accomplishments in the international community. It is also important for them to become even better networked among themselves. We bring our local partners from around the world together online, thereby fostering exchange between them. 
Read what the local partners of ToGETHER have to say about the programme. 
What Germany does to help – find out more here.