Baerbock calls for patience
What is the next step in the dialogue with Russia? At a meeting of EU foreign ministers, Annalena Baerbock calls for patience.
14.01.2022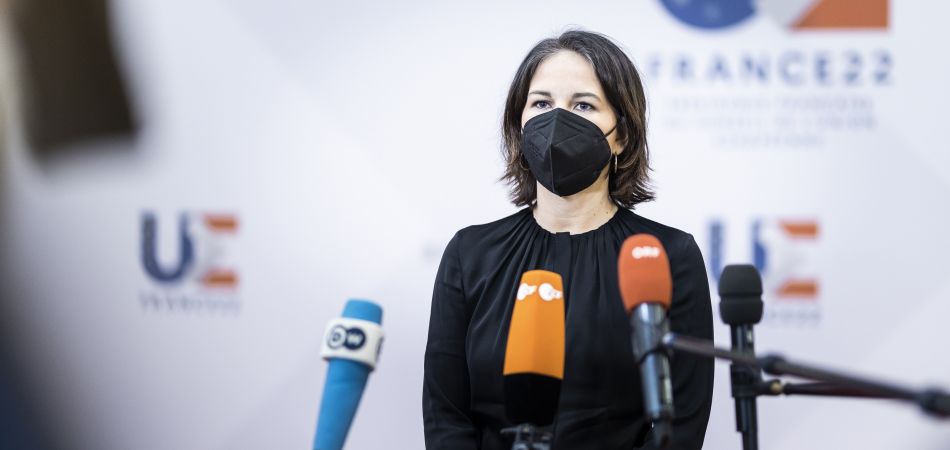 Brest (dpa) - German Foreign Minister Annalena Baerbock is calling for continued talks with Russia, despite the lack of results so far. "Even if there has been no real movement to date, it is important to finally return to the dialogue table," the Green politician said on Thursday on the sidelines of an EU meeting in Brest, France. "The important thing is for us to sit at the table, for talks to be held now. And to do so – even if it is hard – with a great deal of patience and perseverance."
Colleagues like Luxembourg's Jean Asselborn expressed similar sentiments in the port city in northwest France. "We are here (...) to prevent wars, to do everything to prevent wars from happening," said the EU's longest-serving foreign minister. No door should be slammed shut, he added. At the same time, however, representatives of countries such as Denmark, Sweden, Lithuania and Poland called for clear red lines to be drawn vis-à-vis Russia and its President Vladimir Putin. Putin must understand that his military threats are completely unacceptable, said Danish Foreign Minister Jeppe Kofod. He believes that the Kremlin leader is attempting to revive the darkest days of the Cold War.
Bogdan Aurescu from Romania advocated pushing ahead with EU sanctions preparations in case Russia attacks Ukraine. On the sidelines of the foreign ministers' meeting, the EU announced that economic sanctions already in place against Russia had been extended for another six months, in line with a decision taken by heads of state and government in December. They had been imposed after a Malaysian airliner carrying 298 people was downed over eastern Ukraine in July 2014. According to investigations, the plane was shot down by pro-Russian separatists.
Ukraine: Germany – a reliable partner
More about Germany's commitment to peace and security