Baerbock travels to Washington
Germany's Foreign Minister Annalena Baerbock will travel to Washington this Wednesday against the backdrop of the conflict between Russia and Ukraine. 
04.01.2022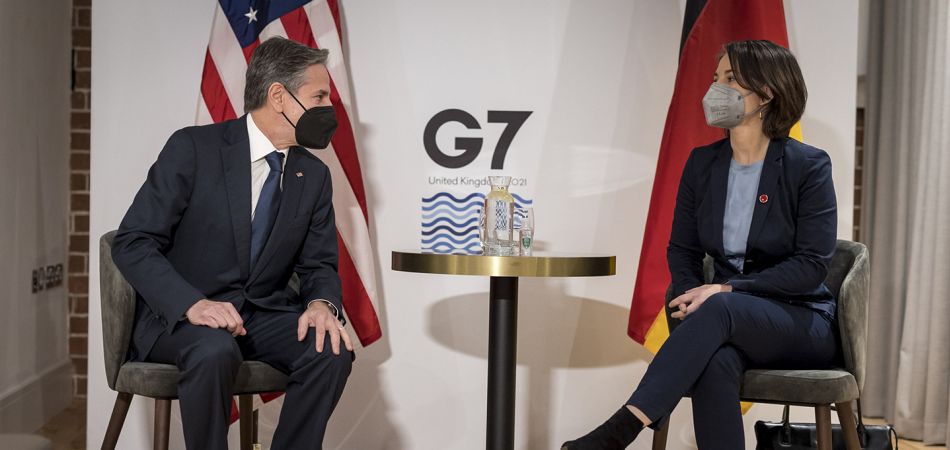 Berlin (dpa) - As a Federal Foreign Office spokesperson announced in Berlin on Monday, one of the people Baerbock will meet during her first ministerial visit to the USA will be her US counterpart Antony Blinken. This will already be the Green politician's second personal encounter with Blinken – Baerbock had met him at a G7 foreign ministers' meeting in Liverpool (photo) shortly after taking office in December.
The spokesperson said that Baerbock's trip to Washington at such an early stage in her term of office and so soon after Germany assumed the presidency of the Group of Seven (G7) leading democratic economies at the start of the new year underscores the importance the German government attaches to transatlantic relations. The talks will cover the entire range of bilateral relations, though with a particular focus on the situation surrounding the Ukrainian border.
For weeks the USA has been accusing Russia of building up troops in areas close to the border with Ukraine. It is feared that Russian troops could invade the ex-Soviet republic. Russia denies such plans. US talks with Russia are scheduled to take place in Geneva on 9 and 10 January.
More about Germany and the USA