Germany shows its colours
Following the UEFA ban on rainbow illumination at Munich's European Championship arena, other stadiums will be illuminated tonight. 
23.06.2021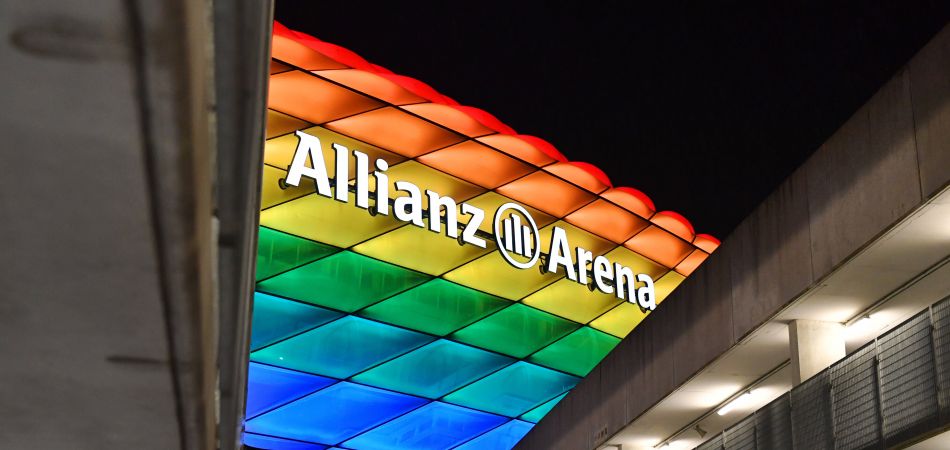 Berlin (dpa) - After the UEFA ban on illuminating Munich's European Championship arena in rainbow colours, other German stadium operators intend at least to send a clear signal in favour of tolerance and equality. During the European Championship match of the German national football team against Hungary this Wednesday (9 p.m.), the football stadiums in Berlin, Frankfurt, Düsseldorf, Cologne, Wolfsburg and Augsburg will display rainbow colours. Other Bundesliga clubs such as FSV Mainz 05, Borussia Dortmund, Borussia Mönchengladbach and VfL Bochum have declared their solidarity, but cannot take part in the campaign for technical reasons.
"We are happy to participate because we are committed to tolerance and human rights," Christoph Meyer, spokesman for Berliner Olympiastadion GmbH, told the "Berliner Zeitung" on Tuesday. Eintracht Frankfurt's board spokesman Axel Hellmann had called for the action. "If Munich is not allowed to do so on Wednesday, then other stadiums in the country will have to show their colours. Join in, league colleagues," he already tweeted in the night to Tuesday and announced: "Deutsche Bank Park will be lit up in rainbow colours at the time of the Hungary match. The Waldstadion will remain brightly illuminated."
Numerous institutions and companies have also shown their colours on Twitter. The profile picture of the Munich Fire Brigade appeared in rainbow colours on Tuesday evening, as did that of Messe München, which described it as a sign "from a city full of joie de vivre, tolerance and cosmopolitanism." Deutsche Bahn published a picture of an illuminated train with colourful hearts. The Munich police had already posted a rainbow picture on Monday. "For solidarity, tolerance and acceptance, and not only today," was the slogan the officers chose as a caption.