04.02.2019
February 4th: News from Germany
These are the topics: Japan and Germany boost cooperation + Brexit: Vegetable price could collapse + Economy minister wants industrial policy.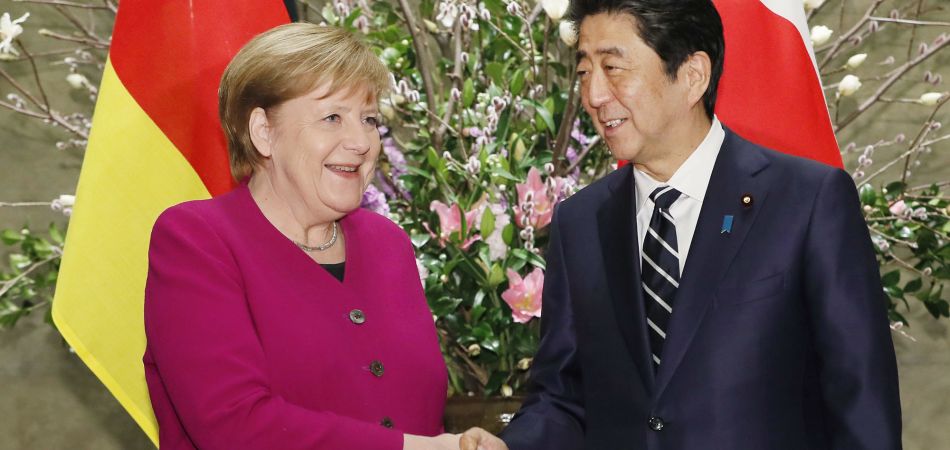 Japan, Germany boost defence, security cooperation
Tokyo (dpa) – Visiting German Chancellor Angela Merkel and Japanese Prime Minister Shinzo Abe agreed on Monday that the two countries would expand bilateral defence and security cooperation, the premier said.
As part of the effort, Merkel and Abe reached a broad agreement on the handling of classified information to facilitate the exchange of tip-offs relating to international crimes, including terrorism.
Merkel, who arrived in Tokyo earlier in the day for a two-day visit, said a free trade pact between Japan and the European Union, which took effect on Friday, will "send an important signal to the world."
Brexit: Vegetable price could collapse
Berlin/The Hague (dpa) - A disorderly Brexit could possibly affect the prices of fresh vegetables in Germany, according to producers. "We fear a fall in prices," the managing director of the Federal Vegetable Gardening Professional Group in the Central Association of the Horticulture Industry, Jochen Winkhoff, told dpa on Monday.
The concern is that other EU countries, such as the Netherlands, would have to redirect the vegetables they produce for Britain, and oversupply might occur in the case of peppers and tomatoes, for example. "Experience shows that even 5-per-cent market over-supply of fresh vegetables can lead to a price drop of up to 50 per cent for the grower," Winkhoff said.
German economy minister wants industrial policy 
Cairo (dpa) - Germany Economy Minister Peter Altmaier wants to give more prominence to industrial policy with a new strategy. "We are seeing an enthusiasm for innovation worldwide that has never been seen in the history of humanity," Altmaier said in Cairo on the sidelines of a three-day visit to Egypt. "The cards are being reshuffled - that's why it's important for Germany's economy to remain strong, to be at the forefront when it comes to innovation," Altmaier said.
"I would like economic and industrial policy to take centre stage again," he said. This Tuesday, Altmaier is due to present a strategy for offering more targeted federal support for German industrial firms. According to German newspaper Die Welt, the "National Industrial Strategy 2030" is meant to strengthen German industry's competitive advantage in world markets.