Scholz meets Zelenskiy in Hiroshima
G7 states want to reduce economic dependence on China.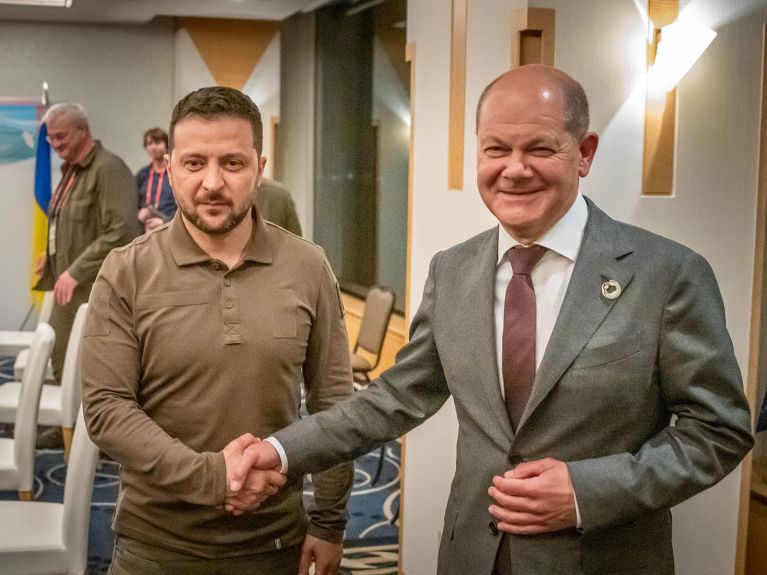 Hiroshima (dpa) - German Chancellor Olaf Scholz has met Ukrainian President Volodymyr Zelenskiy at the G7 summit in Japan. The two leaders met at the summit hotel for 20 minutes on Saturday evening. "Nice to see you. We seem to meet pretty often," Scholz said in greeting. "Always a pleasure," replied Zelenskiy. At the summit, the Ukrainian president had appealed for further support to help his country defend itself against theRussian war of aggression, and received comprehensive promises in response.
Relations with China were a key topic at the summit. Scholz said that the G7 states were united in their opposition to decoupling from China. "No one is using the word decoupling here," Scholz said. "That is not something anyone is pursuing." However, the group does want to consistently reduce its economic dependencies on China and lower the risks in supply chains. In a statement, the G7 also rejected China's power aspirations in the East and South China Seas. Furthermore, the group pledged to make 21 billion US dollars in aid available for humanitarian crises this year, including for famines.
Th G7 group is made up of the USA, Japan, Germany, the UK, France, Italy and Canada, plus the European Union.