Steinmeier visits Georgia
Germany's President Steinmeier is currently in Georgia as part of a three-day trip to push for closer ties between the two countries.
07.10.2019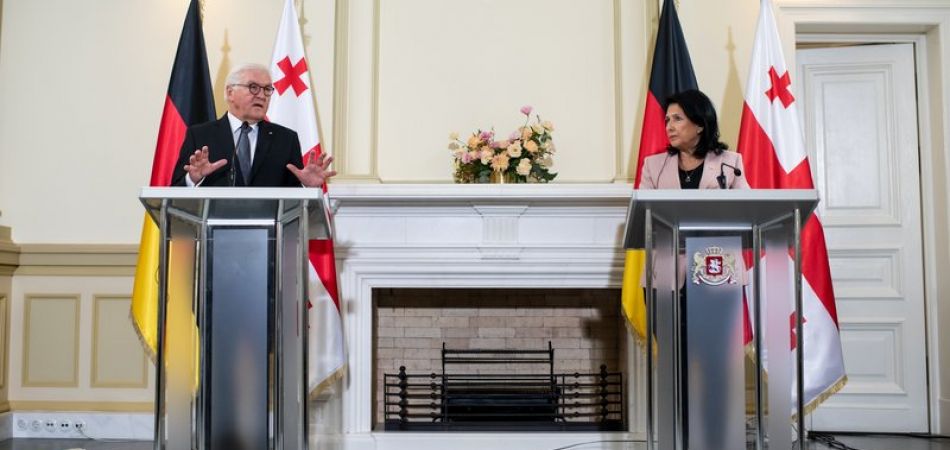 Tbilisi (dpa) - Germany will support Georgia's aims of joining the European Union and NATO over the longer term, President Frank-Walter Steinmeier said on beginning a three-day visit to the country on Monday. He simultaneously dampened hopes of rapid accession by the Caucasus republic to either organization. Speaking in apparent reference to the breakaway regions of South Ossetia and Abkhazia, Steinmeier said Germany was "well aware that Georgia did not live in an easy neighbourhood."
Implementation of the package of measures agreed between Georgia and NATO to take the republic, which shares a border with Russia along its long northern frontier, up to NATO standards was by no means without ambition, Steinmeier said.
He noted that the German and Georgian militaries were already working together, for example in Afghanistan. And with respect to the EU, he noted that the situation following a likely Brexit would not become easier.
After holding talks with Steinmeier, President Salome Zurabishvili said Georgia was relying on support from Germany and the west in de-escalating conflict with Russia over the Russian-supported breakaway regions.
Zurabishvili expressed understanding for the fact that Georgia's wish to join NATO needed to be treated with care, not only with respect to reaction from Russia. But she also noted that Russia had unsuccessfully opposed the 2004 accession of the Baltic states to the western alliance.
Referring to a meeting in New York last month between the Russian and Georgian foreign ministers on the sidelines of the UN General Assembly, Zurabishvili said that no further steps were planned. Steinmeier was also to hold talks with Prime Minister Giorgi Gakharia and parliamentary president Irakli Kobakhidzein in Tbilisi.
Before leaving Berlin, Steinmeier pointed to dual vocational and educational training programmes as a way to give young Georgians the chance to get qualifications that are desperately needed in the economy, in comments to the Georgian newspaper Kwiris Palitra. "This would also include more German investment," said Steinmeier, who is travelling with an economic delegation.
In comments to the Georgian paper, he also talked about Georgia as a tourist destination, Georgia's hopes to join NATO, and the fact that thousands of Georgians apply for asylum in Germany every year, despite the fact that the country enjoys visa-free entry for short stays under an agreement with the EU."I would like to explicitly point to the fact that there are also legal ways to come to Germany, and to study here, learn a trade or work," Steinmeier said.