Steinmeier warns against nationalism worldwide
Largest forum for security policy: German Federal President opens the Munich Security Conference.
14.02.2020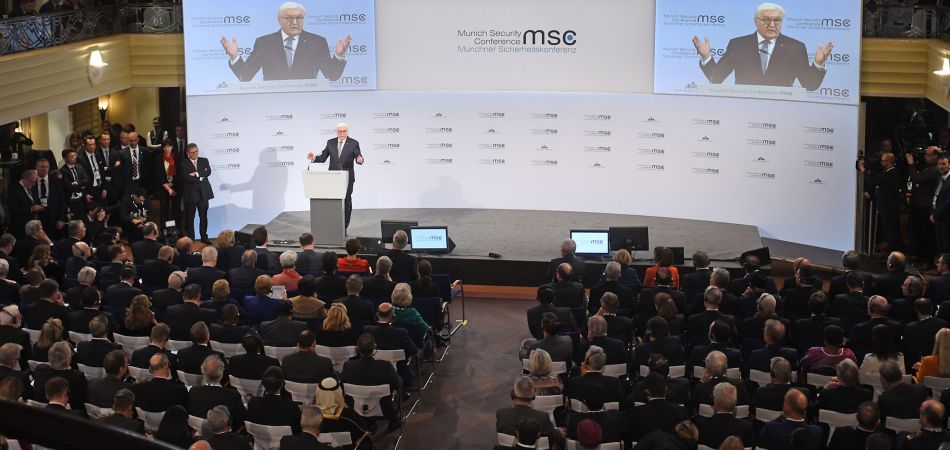 Munich (dpa) – On Friday, German Federal President Frank-Walter Steinmeier gave the opening speech at the 56th Munich Security Conference in what is the capital city of Bavaria. From 14-17 February, some 35 heads of state and government as well as almost 100 foreign and defence ministers will be attending the world's single most important meeting of experts in security policy. In his opening speech, Steinmeier warned against the growth of nationalism worldwide. "We are today witnessing an increasingly destructive dynamic in international world politics. Year by year, we are moving further and further away from the goal – international cooperation in order to create a more peaceful world," the German head of state remarked.
Europe at the core of German foreign policy
"This withdrawal to concentrate on a narrowly-defined national interest prevents us from taking joint action and coming up with convincing answers," Steinmeier insisted. The idea of a global order was, he said, the only way to formulate convincing answers to the challenges. It is "extremely dangerous" if greater international trust is jeopardised by the "relapse into old patterns of thinking". "That is why we must continue our efforts to create a supranational legal order."
In times of growing nationalism worldwide, or so the German Federal President stated, Europe must much more than ever before be at the core of German foreign policy. Europe, he said, "is our strongest, our most fundamental national interest. Today and tomorrow, Europe is the indispensable framework for us to assert ourselves in the world."
A platform for conflict resolution
Over the next few days, the Munich Security Conference will, alongside discussions on the major strategies in international politics offer the traditional great opportunity for behind-the-scenes talks and meetings in order to discuss actual challenges and search for possible solutions to conflicts.
German Federal Foreign Minister Maas will be making use of the weekend to meet his counterparts from the USA, Russia and Turkey, not to mention countless other partners in dialogue. The key topics will primarily be the conflicts in Libya, Syria, Afghanistan and Ukraine.
Facebook CEO also among the guests
This year, French President Emmanuel Macron and Canadian Premier Justin Trudeau will for the first time be amongst the guests. The US will be represented among others by Secretary of State Mike Pompeo, Defence Secretary Mark Esper and the Spokesperson of the House of Representatives, Nancy Pelosi.
The guest list also includes the Russian and Iranian Foreign Ministers, Sergei Lavrov and Mohammed Jawad Zarif. Austria's Federal Chancellor Sebastian Kurz, Dutch Prime Minister Mark Rutte and the presidents of Afghanistan and Lithuania, Mohammad Ashraf Ghani and Gitanas Nauseda, will likewise attend the Munich Security Conference. NATO will be represented by Secretary General Jens Stoltenberg and the international business representatives include Facebook CEO Mark Zuckerberg. He intends to discuss taxation of digital corporations with heads of state and government as well as representatives of the EU Commission both in Munich and afterwards in Brussels.
Source: deutschland.de with dpa - translation: deutschland.de