A skilled worker in Germany
Job-hunting, recognition of qualifications, visa – the Ukrainian engineer Maksym Babenko describes how he came to Germany.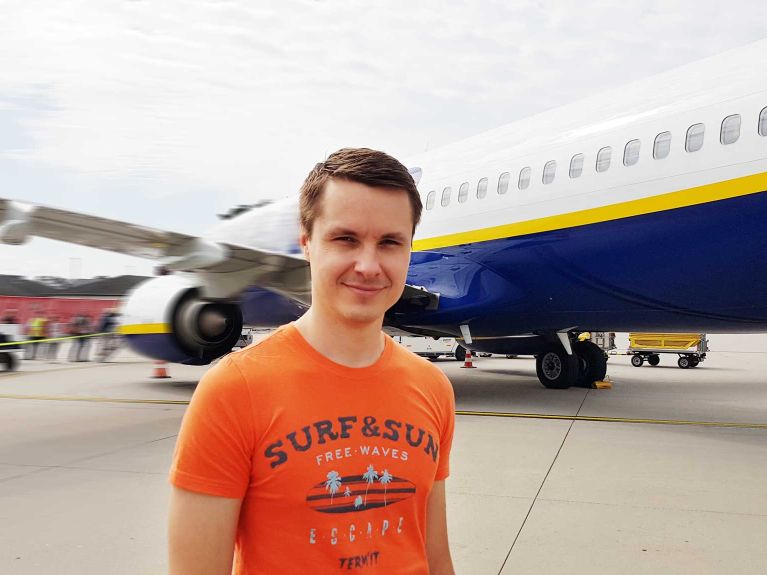 Germany. In April 2017, the 32-year-old engineer Maksym Babenko migrated as a skilled worker from Ukraine to Germany and now works for a company for measurement and control technology in Rhineland Palatinate. He found useful information on job hunting, visas and settling down in Germany on the portal Make it in Germany.
Why did you want to work in Germany?
In Ukraine I was an engineer for automation projects in nuclear power stations. It has always been my dream to work for an international company where I can further develop my ideas and skills. Germany is well known worldwide for having the best engineers and modern, high-tech solutions.
How did you look for a job in Germany and how did you prepare?
I really learned a lot about the country before I moved. Above all, I already started learning German in Ukraine. I looked for a job on big online job exchanges like stepstone.de, monster.de and the portal make-it-in-germany.com, which specializes in international skilled workers and offers a lot of important information on living and working in Germany. I can really recommend this internet portal.
Where did you find support?
The question-and-answer sessions on Make it in Germany's Twitter account helped me a great deal, but I was also helped by a friend who lives in Germany, and I'm really grateful for that.
Were there many formalities to deal with?
If you fulfil certain requirements, you can get an EU Blue Card. To obtain this, my Ukrainian diploma had to be recognized in Germany. I could see on anabin.de, the info-portal on the recognition of foreign educational qualifications, that my university had H+ status, which means that it is recognized in Germany as a tertiary education institution. In addition, the position stated in the employment contract and the qualification have to correspond with each other, and the level of salary has to be appropriate. You can find that out at the Federal Office for Migration and Refugees bamf.de. After that I was given a visa giving me the right to enter Germany.
What is everyday working life in Germany like for you?
I have had a lot of positive experience so far. Working life is intensive and challenging. In the first few months, I had some difficulties with the regional dialect in the Palatinate region. But that's normal for anyone in a new country, and you quickly get used to these things.
Careers for international skilled workers in Germany: Make it in Germany
Interview: Tanja Zech