07.02.2017
Building bridges for sustainable growth
How well German firms and African young professionals can work together is demonstrated by German-African initiatives in industry and higher education.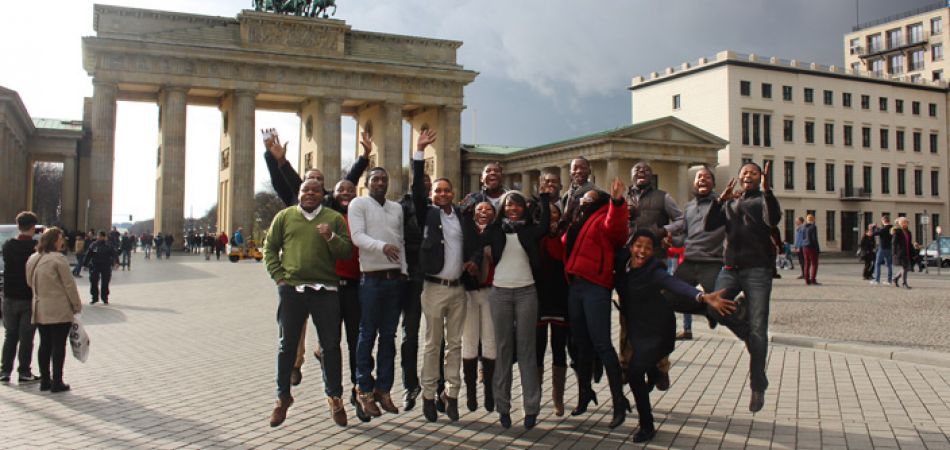 What does Hervé Kubwimana appreciate most about Germany? "The way people talk to one another – I can be very frank and give critical feedback, even in discussions with a manager," says the young man from the Rwandan capital Kigali. Kubwimana has two passions: social entrepreneurship and business start-ups – preferably a combination of both. He is motivated by doing business not for his own benefit, but for the economic development of Africa – with good reason, as he says.
With a total of approximately 200 million people between the ages of 15 and 24, Africa has the world's youngest population. Yet 60% of all the unemployed are young – "despite the fact that training is getting better and better," says Kubwimana. In Rwanda, he explains, small businesses have little chance of hiring employees and creating jobs because they lack networks and funds. They often do not have enough practical expertise or contacts to establish their start-up on the market. Kubwimana's conclusion: "Motivated young business founders must have access to the requisite skills, networks and capital."
Um dazu möglichst viel beitragen zu können, geht der 28-Jährige durch eine harte Schule. Er studierte in Ruanda Agrarwissenschaften, arbeitete fast vier Jahre beim African Entrepreneur Collective (AEC) , das junge lokale Firmen beim Wachsen unterstützt, absolvierte in Großbritannien den Master in Business Strategy and Entrepreneurship – und lebt nun in seiner neuen temporären Heimat: in Darmstadt im Bundesland Hessen.
One year in German companies
This has been made possible by Afrika kommt!. The initiative was launched in 2008 by 19 large German DAX-listed companies and family businesses to build bridges between German firms and sub-Saharan Africa. "The Deutsche Gesellschaft für Internationale Zusammenarbeit (GIZ) became involved in realizing the programme. We developed the application procedure with the companies and also support the alumni network," says Lydia Jebauer-Nirschl, project leader at the GIZ. 
Kubwimana is one of the 30 young professionals of the current year group who are receiving training for one year in a German company. He is working at the Merck Innovation Center in Darmstadt where he helps to support projects by business founders in the field of health care and life science – some of them in Africa.
Kubwimana hopes he will also be able to support the growth of the Merck Innovation Center in Africa when he has completed his period of work experience. He would not be the first programme participant to establish a longer term relationship with a German host company. According to GIZ coordinator Jebauer-Nirschl, 60 to 70% of the young professionals continue working for the companies in their countries of origin when their placements are over. 
1,000 specialists in three years
Fachkräfteentwicklung für Afrika, a professional development initiative of the VDMA, the German mechanical engineering industry association, also aims to strengthen cooperation between German and African companies. "For firms in Africa to be able to increase their efficiency with Germany technology, their employees need precise knowledge of the modern work processes of the machines," says project manager and association representative Dr Norbert Völker. Often, however, standard state training does not provide enough practical preparation. That is why the VDMA wants to develop training centres with firms from Botswana, Kenya and Nigeria. In the next three years, 1,000 specialists are to receive vocational and further training from local educators. 
Knowledge transfer between universities and industry
In contrast, the German Academic Exchange Service (DAAD) concentrates on training specialists before they enter employment. Its University-Business Partnerships programme has been promoting cooperation between African and German universities with the participation of industry since 2011. Knowledge transfer is important here too – in order to support young professionals like Hervé Kubwimana in pursuing their passion: contributing to Africa's growth. For the time being, however, Kubwimana is looking forward to getting to know Berlin better. He is already planning a short excursion "preferably in May or July", but he still has a lot of work to do before then.
You can read an article about the Afrika kommt! initiative here.
You can read an article about dual vocational training in Nigeria here.
You can read an article about Germany's commitment to education and research in Africa here. 
© www.deutschland.de