The first computer came from Germany
75 years ago, Konrad Zuse presented the Z3, the first really functional computer.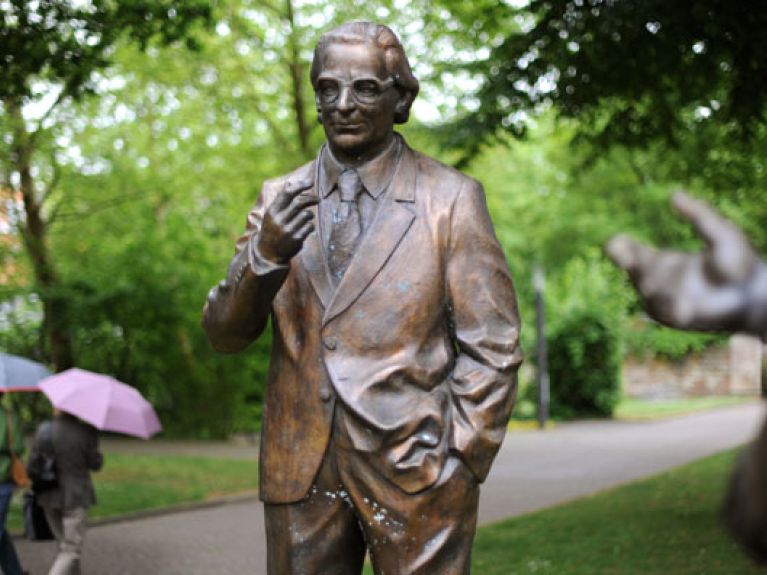 Children play on consoles, micro-computers control washing machines, driving assistants make car driving easier, wearables signal vital functions. Smartphones, tablets and PCs can be found in almost every household. Supercomputers calculate the weather. And a new generation of computers, recently introduced at the Hanover trade fair under the rubric of "cognitive computing", can even already directly interact with people. A life without computers is today almost unimaginable.
Over 75 years ago it was different. On 12 May 1941, the German inventor Konrad Zuse presented the Z3, the first really functional computer. It could only multiply, divide, do square roots and store only 64 words, but it was the first programmable computer in the world, which worked with the binary number system. "The great echo, however, failed to materialize: no press, no world sensation – there was war", says Horst Zuse, the oldest son of the computer visionary. A few years ago he presented his own full-scale replica of the Z3. The original was destroyed by bombing in December 1943.
After the war, Konrad Zuse, tried to earn money with his idea and founded a company of his own in Hesse. It was taken over in the 1960s by Siemens. The competition from the United States, but also that in Germany, had long caught up with his technological lead and overtaken him. To Zuse remained only the historical glory of the invention.
The inventor Konrad Zuse took the name "Kuno See" as an artist
Zuse, who died in 1995, also had other talents. His pseudonym "Kuno See" can be found on numerous oil paintings, drawings and prints, mainly at the Staatliche Graphische Sammlung in Munich. Some works are at the Konrad Zuse Museum in Hünfeld, the city where he lived for a long time, and at the Astronomy and Physics Exhibition in Kassel; pictures by Zuse were also shown at the documenta 13 in Kassel. It is said that he once observed: "I never studied art, but then I also never studied computer science".