Virtual power station
The Federal Government is setting ambitious targets for expanding renewable energy. In our series we present projects that promote the Energiewende (energy-system transformation) in a very practical way. deutschland.de series on the Energiewende, part 1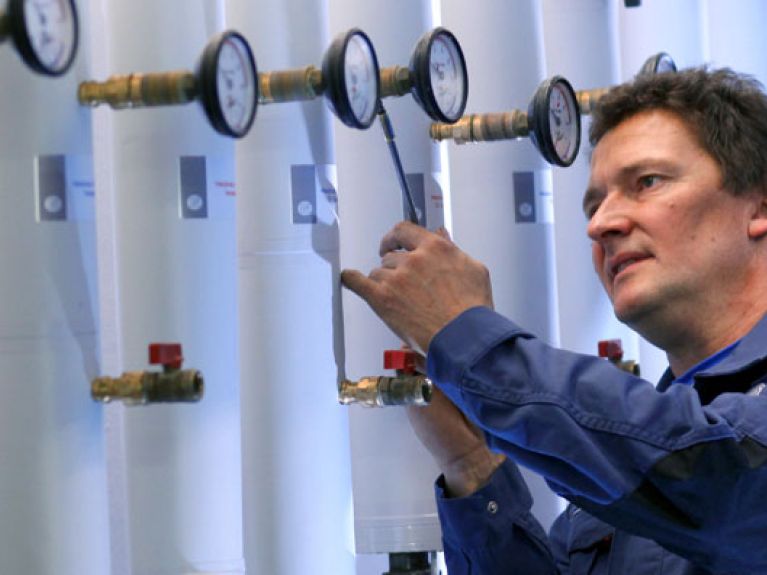 Electricity might come from the socket in the wall, but in future it will often also be coming from "virtual" eco-power stations linked together in a smart grid. Power from wind, solar and biomass energy is contributing more and more to meeting electricity needs in Germany. The figure has already passed 25 percent, and this development is changing the energy system. It's important that other power stations can be flexibly turned on and off depending on how much of the fluctuating "green power" is being generated at any one time. Classic gas-fired power stations can do this, but "virtual power stations" will also increasingly fill the gap in the years to come.
Trianel, a municipal utility network in Aachen, recently launched test operations of a new variation on this theme: 25 small cogeneration plants – which supply both electricity and heat in houses simultaneously – have been connected into a network and centrally controlled as a single power station. The fuel used is hydrogen produced from natural gas on site. The big advantage is that the energy is generated where it is needed. "This relieves the power distribution networks and avoids transmission losses," which, according to Trianel, can be up to ten percent when electricity is generated in big power stations.
Federal Environment Minister Peter Altmaier (CDU) attended the launch of the project, in which 15 urban and regional utilities are taking part. He said: "I am convinced that what you are doing here is the beginning of an entirely new development." Virtual power-station networks "are forward-looking milestones on the road to a successful energy-system transformation."
The energy system of the future will be "smart", intelligent and flexible. Windmills, solar panels and biogas plants, which can be located in different regions, can also be hooked up to form virtual power stations. Green-electricity generation can be made more reliable in this way, because a biogas power station can step into the breach when the wind and/or sun are taking a break. A further component of the "smart grid" is switching large power consumers like cold stores on and off, depending on power availability.
www.bmu.de/allgemein/aktuell/160.php
© www.deutschland.de