From idea to market
The StArfrica initiative supports German and Rwandan start-ups, helping them access the market in each other's countries.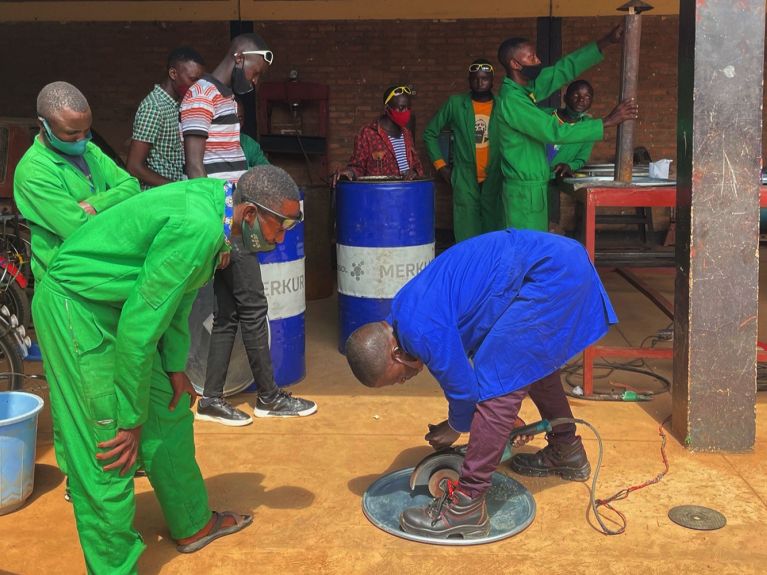 The idea sounds simple enough: take a bin and fill it with harvest residues. Then heat the green cuttings at very high temperatures in the absence of oxygen – thereby generating biocoal. This process is known as pyrolysis. The advantage of this plant-based coal is that it can be used as a fuel instead of wood and conventional coal – and can thus protect rainforests, reduce carbon emissions and improve the living standards of many people.
German students Charlotte Herboth and Linda Lingenauber also recognised the potential of biocoal. Working with a team, they designed a bin for the biocoal, especially for people in Malawi. "Unlike proper pyrolysis, our system functions with minimal addition of oxygen. Being low-tech, it is easy to build and very cost-effective", says Charlotte Herboth, who is doing a bachelor's degree in mechanical engineering at RWTH Aachen University. Many farmers in Malawi are already using the system, which is named RecyCoal, and use the biocoal as a fertiliser. "We asked ourselves how we could also put the idea into practice in Rwanda", explains the chemistry student Linda Lingenauber.
Funding German-Rwandan start-ups
Because they were less familiar with Rwanda as a potential market, they contacted Niklas Richter from "StArfrica – Startup Germany-Africa". This project at the University of Koblenz-Landau supports scientific spin-offs in Germany, helping them to enter markets in Africa – currently with a focus on Rwanda. "We provide information, put people in touch with each other, and foster exchange", says project leader Niklas Richter. And they do so in both directions: not only German teams can contact StArfrica – Rwandan start-ups interested in accessing the market in Germany can, too.
The University of Koblenz-Landau has close ties with Rwanda: the University of Rwanda has been an important partner for many years, and the German university even runs a "Rwanda-Center and Office for Africa-Cooperations" that has helped advance many collaborative ventures, especially in the natural sciences. StArfrica, which is funded by the Federal Ministry for Economic Affairs and Climate Action (BMWi), is open to all disciplines.
Tapping into new markets
"Entrepreneurship is taken very seriously in Rwanda, and start-ups generate impressive dynamism", explains Richter. "We want to help some of them tap into Germany as a growth market." StArfrica also supports people with ideas in Germany – like Charlotte Herboth and Linda Lingenauber – so that they can access the market in Rwanda.
For the RecyCoal team, StArfrica organised a workshop at the project's own incubator at the University of Rwanda: together with the German team, Rwandan participants analysed the market potential of the biocoal bin. Their conclusion was that the idea will not be easy to adapt to local specificities. "The land used for farming in Rwanda has wetter soils than in Malawi, so the conditions for fertilisers are also different." During the workshop, they met three students from the University of Rwanda who are now helping them place RecyCoal on the Rwandan market. "One of them is using the fertiliser on a test field and regularly sends us the results", explains Linda Lingenauber. Following the workshop, it is clear that their idea of putting their organic waste bins in front of houses will likewise not work in Rwanda because more people there live in urban areas than is the case in Malawi, meaning there is simply no room for the bins.
Charlotte Herboth and Linda Lingenauber have therefore adapted their idea: now their plan is to collect organic waste centrally in Rwanda and turn it into biocoal. They have already found a Rwandan partner who is keen to put their idea into practice. As they are students, they operate RecyCoal on an unsalaried basis via the non-profit association Enactus. Their goal is to hand over RecyCoal to partners in Africa so that a start-up can be established.
New solution for pool testing
Niklas Richter from StArfrica is always delighted about success stories like this, and tells us about a Rwandan student who is doing a PhD in mathematics and has a promising idea for the German market. Essentially, it is about algorithms for pool testing. Pool testing is currently helping to meet the high demand for coronavirus mass screening, though it can also be applied in other contexts. "Her solution is highly innovative, and we are supporting her with her application for an EXIST Business Start-Up Grant in Germany", Richter explains. In his view, her idea – much like the RecyCoal concept – not only has great market potential, but would also help to overcome global challenges.