"The city is a museum"
German architect wins competition in Tel Aviv: This could be the architectural future of the White City.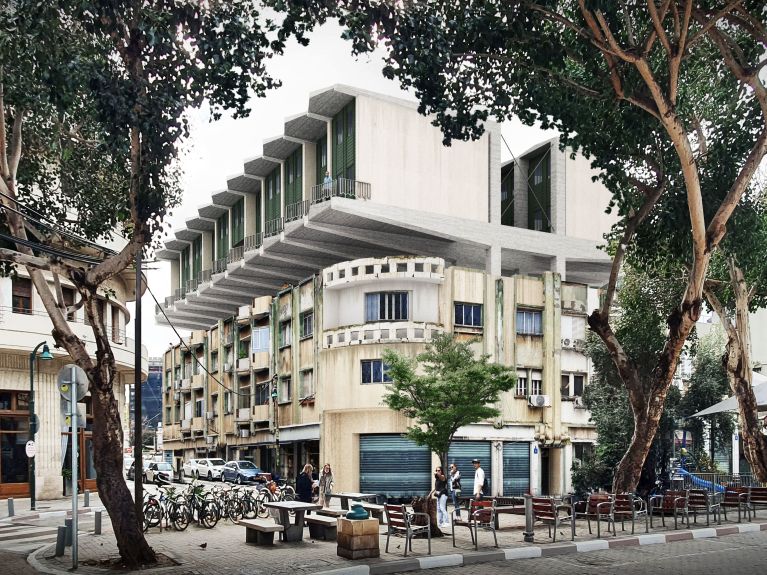 Tel Aviv's "White City": around 2,000 buildings in the city centre, which were designed in the Bauhaus style by German Jews who had fled Germany after the Nazis came to power, have been listed as a UNESCO World Cultural Heritage site since 2003. For years, however, modern tower blocks have also been mushrooming between these "form follows function" edifices. It is precisely this blend of old and new that makes the city's architecture so interesting – and so complicated. This is because more and more people are moving to the city, necessitating innovative solutions. To find them, Tel Aviv staged an international competition entitled "Layer 2.0". Architects from around the world were invited to submit ideas for five listed buildings that were to be extended upwards by two and a half additional floors. Applicants were asked to consider how to preserve the charm of the past while at the same time meeting the challenges of today – climate change and densely populated urban spaces.
While out walking her dog to the sound of constantly blaring car horns – also typical of Tel Aviv – Sharon Golan Yoran, the competition organiser and director of the Liebling Haus listed building and architectural centre in Tel Aviv, explains what makes the city's layout so special: "By creating broad thoroughfares and shopping streets but smaller residential roads, the Scottish planner achieved a certain intimacy that makes Tel Aviv feel almost like a garden city with its many green areas, though in fact we are in the heart of a bustling metropolis," says Yoran. "We value the original buildings but are also looking ahead to the future. Preservation is not only about our historical legacy, but must be done in a way that reflects the living conditions of our time, such as sustainability and gentrification." 
Probably the simplest solution would be to build skyscrapers to create more living space in this country of immigration. This would also be highly lucrative for many homeowners, who repeatedly file lawsuits in protest over the preservation laws. However, Yoran believes that this would damage the heart of the city: "Though many buildings in the White City are in need of renovation, they must afterwards continue to exude the same flair. There is sufficient space between the buildings for a breath of fresh air, and there are plenty of green areas, which generally makes the district very liveable."
Bringing the life of the city into the home
This is a real challenge for the more than one hundred architects from all over the world who have submitted their proposals. One is the Berlin-based architect Lion Schreiber, who spent several weeks working on his design: "What attracted me to the competition above all was the need to engage with pressing questions of our time, such as overcrowding, the need for living space and sustainability, and how to deal with our architectural legacy. What is more, I have a penchant for the Bauhaus architecture that I have already seen during several visits to Israel." 
Lion Schreiber's proposal, which was awarded first prize by an illustrious jury of German and Israeli architects, features a concrete construction that is supported by pillars, giving the sense that the additional stories are "floating" above the existing building. This gives rise to shady courtyard spaces for cafés and shops, bringing as it were the life of the city into the home and encouraging residents to go out and meet one another, thereby facilitating social exchange – which is vital for peaceful coexistence in a multicultural world.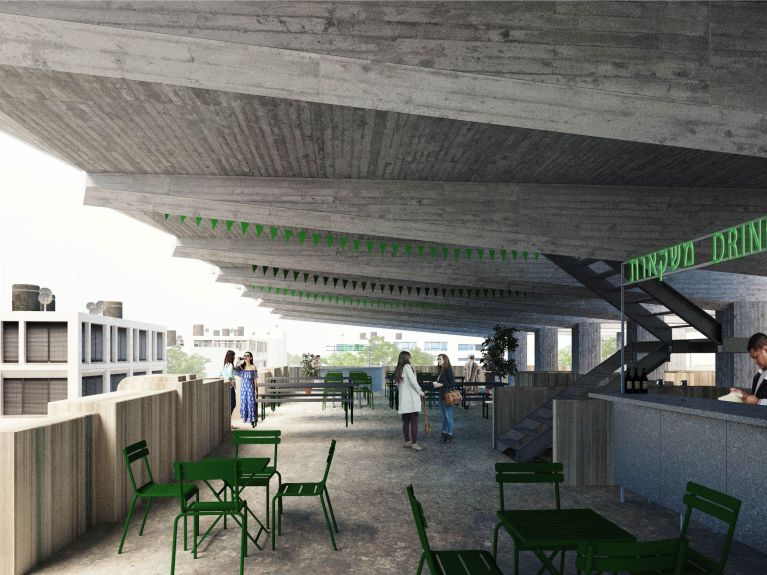 But couldn't additional floors simply be added in the style of the original building? Sharon Golan Yaron doesn't believe this is a good idea: "The city is like an open museum. Extending the buildings in this way would cause the classic Bauhaus proportions to be lost. In our approach the boundary lines between new and old are visible to everyone."
The partnership between Germany and Israel in this area is to be further expanded: "Layer 2.0 doesn't apply only to Israel, it's a global phenomenon. Namely the need to accommodate more people in less space," explains project initiator Yaron, adding that lessons can be learnt from Germany about how better to preserve period buildings: "Houses in Israel tend to get neglected, with everyone focusing only on their own small realm. This is gradually changing, and people are beginning to appreciate the idea of sharing more."
The competition winners from South Korea, Germany and Israel will come to Liebling Haus in Tel Aviv to present their work in September – and to shape the future of the White City in all its many facets.