Language and literature in Germany
You can find out about recent publications, search archives for long-forgotten bestsellers or express yourself in forums.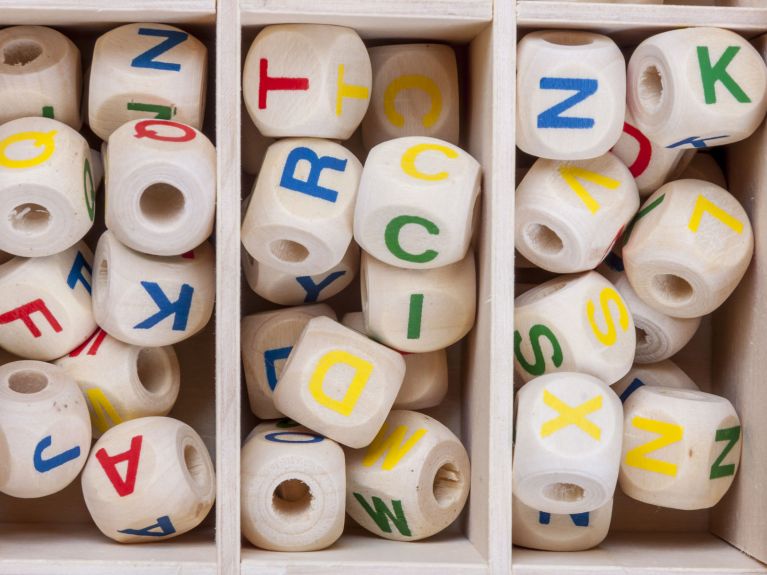 Academy of the Arts
The list of its members and honorary members includes such names as Johann Wolfgang von Goethe, Felix Mendelssohn-Bartholdy and Max Liebermann – famous personalities who have left an indelible mark on the art of their time. As one of the German cultural institutions with the longest tradition, to which artists from all over the world belong, the Berlin Academy of the Arts (AdK) also provides consulting services to the German government.
Association of Literary Societies and Memorials
Here you can explore unfamiliar territory in German literature: the goal of the Association of Literary Societies and Memorials (Die Arbeitsgemeinschaft Literarischer Gesellschaften und Gedenkstätten e.V., ALG) is to introduce the public to literary societies and museums.
German Book Trade Association
The voice of the German book industry: the German Book Trade Association is culturally, economically and politically involved in the printed book and its electronic variations. The umbrella association located in Frankfurt am Main enjoys a long tradition in this industry and is responsible for organization of the Frankfurt Book Fair in the autumn of each year.
Buchhandel.de
Be it mystery, how-to, fiction, reference or any other kind of literature: with reviews from the BuchJournal, reading samples, best-of lists and news from the literary trade, this portal makes you feel like reading.
Association of Young Authors
Poets in lonely garrets – a thing of the past. People writing today seek contacts and lobbies. The Association of Young Authors (Bundesverband junger Autoren und Autorinnen e.V., BvjA) brings together 600 members who live the dream of writing – be it in the form of prose, poetry, drama, radio plays, screenplays or experimental literature.
Casa di Goethe
Germany's only museum abroad: the Casa di Goethe, founded in 1997, is housed in the rooms where Johann Wolfgang von Goethe (1749-1832) lived with the painter Johann Heinrich Wilhelm Tischbein and other German artists during his journey to Italy (1786-1788). A permanent exhibition is full of information on Goethe's journey to Italy and his stay in Rome. The temporary exhibitions are usually devoted to German-Italian subjects.
Comic.de
Under the spell of fascinating stick figures: the website www.comic.de is an information center for comics fans and beginners. Here you'll find reports on the most recent convention of the "Donaldists" or comics salons and fairs from Erlangen to Angoulême, as well as reviews of recent appearances and classics from Tarzan to Manga.
CORINE – International Book Awards
Every year in the fall, a select group of authors have the privilege of meeting a lady named Corine. This lovely statue, crafted by the Nymphenburg porcelain factory, is awarded for outstanding achievement in the book industry by the Association of the German Booktrade under the patronage of the Minister President of Bavaria.
German Academy for Language and Literature
Only language makes culture possible: the German Academy for Language and Literature (Deutsche Akademie für Sprache und Dichtung e.V.) is devoted to German language and literature. German-speaking writers and scholars in Germany and abroad are elected to the Academy on the basis of outstanding literary work.
German-Italian Translation Prize
Literary translators are linguistic bridge builders. They promote understanding between cultures. The German-Italian Translation Prize honours this mediation work. It was created by the Federal Government Commissioner for Culture and Media and the Federal Foreign Office in 2007 and is awarded for outstanding translations from Italian into German and vice versa on an annually rotating basis.
www.deutsch-italienischer-uebersetzerpreis.de
German National Library
The German National Library (DNB) collects cultural assets in Leipzig, Frankfurt am Main and Berlin: every publishing company in Germany is required to submit two copies of all its publications to Germany's central repository. The DNB archives all works that have been published in the German language since 1913.
German Book Prize
Recommended reading for dismal autumn days: To kick off the Frankfurt Book Show, the German Publishers and Booksellers Association now presents an award for the "best novel written in German". The German Book Prize was first awarded in 2005 and includes a purse totaling EUR 37,500. A jury, which is appointed each year, honors one novel in particular and five other titles.
German Comic Guide
A database packed full of childhood memories: the German Comic Guide includes a wide variety of comics and cover illustrations and the list of contents continues to grow. The works that find their way into the database have appeared in print form, in German and after 1945 and meet certain standards.
German Language Council
The German language includes such wonderful words as Sternschnuppe (shooting star), Wundertüte (a surprise in a bag) and Pusteblume (dandelions that have gone to seed and can be blown away). The German Language Council focuses on creating a greater awareness for the use of the German language among native speakers.
Frankfurt Book Fair
Each year in October writers and publishers, agents and film producers meet up in Frankfurt at the Frankfurt Book Fair. But they are not the only ones there. On Saturday and Sunday of one-week event, the world's most important trading centre for books and media opens its doors to private visitors as well. And each year a different country is invited as guest of honour to present its literature at the city on the River Main.
Goethe House in Frankfurt/Freies Deutsches Hochstift
Where did Germany's most famous poet grow up? And how did he live? Goethe's childhood home at Grosser Hirschgraben in Frankfurt-am-Main gives clear answers to all these questions in an exhibition on four floors. The museum, the art collections, a collection of manuscripts and a research library belong to the Freie Deutsche Hochstift, one of Germany's oldest cultural institutions.
Free German Authors' Association
The Free German Authors' Association (Freier Deutsche Autorenverband, FDA) carries on the tradition of the "Schutzverband Deutscher Schriftsteller" (Trade-Protection Society of German Authors). The professional organization represents the interests of German-speaking authors – no matter what their nationality.
German Language Society
Ever hear the words "Fanmeile", "Abwrackprämie" and "Stresstest"? These expressions left their mark on Germany's public discourse in the past, and were chosen as "Words of the Year" by the German Language Society (Gesellschaft für deutsche Sprache, GfdS). Aside from the "best and worst" words, the list of the most popular given names is also fun for browsing.
Heinrich-Heine-Gesellschaft e.V.
Heinrich Heine was much more than just a poet. Very much influenced by what was happening around him, he also penned a number of sharp-tongued political writings and come to be something of a forerunner of modern journalism. The Heinrich-Heine Society manages his intellectual legacy and promotes its international distribution in cooperation with French and North-American Heine Societies.
www.heinrich-heine-gesellschaft.de
international literature festival berlin
The international literature festival berlin (ilb) casts its magical spell over the capital city each year with contemporary prose and verse. Get to know new authors and meet old favorites at film adaptations of famous works, at discussions or in creative writing workshops. The love of reading is infectious: and events all over Berlin are making it spread - even in prisons or cemeteries.
Kleist Museum/Kleist Society
Heinrich von Kleist (1777-1811) is regarded as a poet of radical change, a pioneer of the modern age in literature. He wrote highly influential dramas, stories and comedies. The Kleist Museum, one of the finest literary museums in Europe, is devoted to the poet's life and work. The Kleist Society's aim is to make Kleist's life and work known to a wider audience, primarily by staging literary events.
Leipzig Book Fair
Reading frenzy in Leipzig: Four days and nights are reserved for the annual Book Fair in this busy city in Saxony. The most important meeting of the book industry in the spring also attracts visitors with the huge "Leipzig liest" (Leipzig reads) reading festival, which is staged on the Exhibition Grounds and throughout the city. Literary experts and bookworms can keep their eyes peeled for authors and new publications.
LitCam.de
More than 770 million people the world over are unable to read - in 2006, the Frankfurt Book Fair will launch an international campaign to promote basic education and literacy. LitCam (Frankfurt Book Fair Literacy Campaign) links experts around the globe and encourages the cultural techniques of reading and writing.
Literary Colloquium Berlin
Swiss author and literary expert Peter von Matt once called the Literary Colloquium Berlin (LCB) "the central nerve of all German-speaking literature". And with one look at its address, you'll know why: Carl Zuckmayer once lived in the villa on the "Wannsee" (a lake near Berlin), later, that's where the Gruppe 47 met.
literaturhaeuser.net
Eight "Houses of Literature" invite you to attend readings of unpublished works, best-seller presentations, movie screenings and literary festivals. This is where you will meet world-famous authors, discover young, unknown writers and can enter into discussions with other literary enthusiasts.
Litrix.de
Germany currently imports more literature than it exports. To make contemporary German literature more widely known throughout the world, the Cultural Foundation of the Federal Government joined forces with with the Goethe-Institute and the Frankfurt Book Fair to launch the Litrix.de project.
Lyrikline – Poetry Platform
Have a wonderful poem read to you – by the author in person! This poetry platform, sponsored by the German UNESCO Commission, revives the oldest literary art form, poetry, with the help of the latest communication medium, the Internet.
P.E.N. Center Germany
Poets, Essayists and Novelists – the first letters of these three branches of the writing profession make up the name of the international writers' association P.E.N.
www.pen-deutschland.de/index_en.php
Project Gutenberg
This archive has now become an Internet classic in its own right. The "Project Gutenberg DE" has provided literature fans with free access to classical literature in German since 1994. Novels, stories, novellas, dramas and poems: this is where you'll find everything your literary heart could desire! Please note, however, that only texts written by authors who have been dead for more than 70 years are published here – that's when the copyright expires.
Council for German Orthography
Unsure about the more tricky cases of German spelling? The Rat für deutsche Rechtschreibung, the central authority in this field, has the answer. It presented its latest recommendations for modifying the official set of rules in 2006. One of its long-term tasks is to monitor German spelling in day-to-day usage and to preserve the uniformity of spelling in German speaking countries.
National Schiller Museum / German Literature Archive
The Marbach Institutes of the German Schiller Society (Marbacher Institut der Deutschen Schillergesellschaft e.V.) include the National Schiller Museum and the German Literature Archive (Deutsches Literaturarchiv, DLA). Together they are devoted to collecting texts and documents of recent German literature.
Central Directory of Antiquarian Books
The ideal place for book lovers: the Central Directory of Antiquarian Books (Zentrales Verzeichnis Antiquarischer Bücher, ZVAB) includes catalogues from more than 3,000 antiquarian book stores in 27 countries. More than 25 million items – including music notes, graphics and postcards – can be ordered via the website.