Clothes with stories to tell
The fashion designer Bisrat Negassi fled as a child with her family from Eritrea to Hamburg. In our interview, she talks about her life and her work.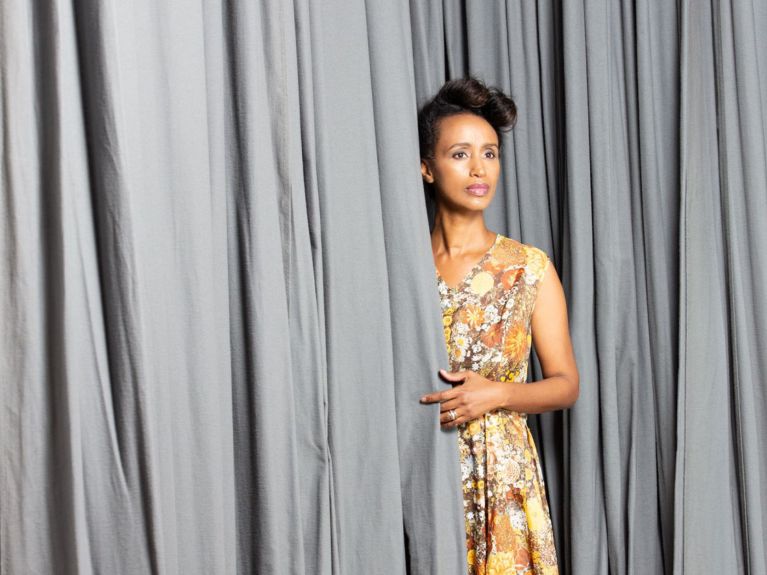 Bisrat Negassi was born in the early 1970s in Asmara, the capital of Eritrea. As a child, she fled with her family to Germany. She studied fashion design and established her Negassi label in Paris in 2004. She is co-founder of the M.Bassy cultural space and head of the Fashion and Textiles collection at the Museum für Kunst und Gewerbe (MK&G) in Hamburg. Her book "Ich bin" (I am) was published by Goldmann in 2022.
Ms Negassi, what fascinates you about fashion?
Fashion says a lot about us and is the first thing we notice when we encounter someone else. It is a languagethat can be heard visually. As soon as an item of clothing passes into a person's hands, it enters a narrative. Fashion is not static; every mark and every crease has a story to tell. We have, if we so wish, infinite freedom to reinvent ourselves time and again, be it through our clothing, make-up or hairstyle. At the same time, fashion is a system of inclusion and exclusion. It divides and can separate societies into different classes.
To what extent does your fashion also tell your personal story?
I'm sure that my designs are influenced by aspects that were preoccupying me while I was creating them or preoccupied me at some point in the past. Like my travels and experiences, which have shaped me and made me the person I am today. As soon as an item passes into the possession of a client, however, she will write her own story with it. Fashion can also be a protective space. For example, a dress with a floral pattern that my mother wore while we were fleeing always had a safe, protective feel for me, despite the circumstances. As did a frilly dress I had as a child. As an adult, it now tends to be the colour - black, for instance - that makes me feel protected.
Since the end of 2022, you have been the head of the Fashion and Textiles collection at the Museum für Kunst und Gewerbe (MK&G) in Hamburg. What are your plans?
From the summer of 2023, I will be teaming up with pupils, students and creative people from Hamburg to launch an accompanying programme on the subject of sustainability and upcycling. Cultural appropriation and cultural appreciation, colonialism and racism are also topics that are important to me and that I wish to interweave with respect to fashion. I am also planning collaborations with designers who have African roots. I believe that these works should be seen, they are part of European design history.
Does the collection contain items from colonial contexts?
The collection is very large and I have not been with the museum long enough to know every item. However, there is a department of provenance research that investigates the origins of objects. Colonialism is an issue that has not been sufficiently dealt with in Europe and that overshadows our present day. And for as long as colonial history is not consistently taught at schools, the connections between colonialism, migration and structural racism will not be understood. I try to include the subject repeatedly in my work, also at M.Bassy.
M.Bassy is a cultural space in Hamburg for creative individuals from Africa and the diaspora that you co-founded in 2016 and of which you are also the curator. How did this come about?
I felt that there was a lack of any space for exchange that was not one-sided and Eurocentric. More than 70 artists from different countries have come to the centre so far. The five-time Grammy award winner Angélique Kidjo from Benin, for instance. And the Nigerian filmmaker Andrew Dosunmu, who lives in New York. Our programme at M.Bassy encompasses art, literature and music, but also fashion. The designer Lamine Kouyaté, who is behind the label Xuly.Bët and was already into upcycling in the 1990s, has also been at the centre. And also the label Marché Noir, which works with second-hand clothing that is sent to West Africa from France and is then brought back to the place where it originated. The idea being: "You send it away as trash. And I'll sell it back to you as treasure!"
What role does the issue of racism play at M.Bassy?
Racism is a painful experience. We must stop asking those affected about their experiences of racism! People who are not affected should think about their own experiences of racism: When they first caught themselves thinking racist thoughts and what they did about it. Those affected cannot change anything, it is only possible by working together. We also have such conversations at M.Bassy, where it is about engaging in an exchange with people who are not affected.