Cultural Exchange in Exile
The Goethe Institute in Damascus is opening temporarily in the German capital – as a forum for artists from Syria and Germany. For two-and-a-half weeks the focus in the project space will be on homeland, fleeing, and identity.
20.10.2016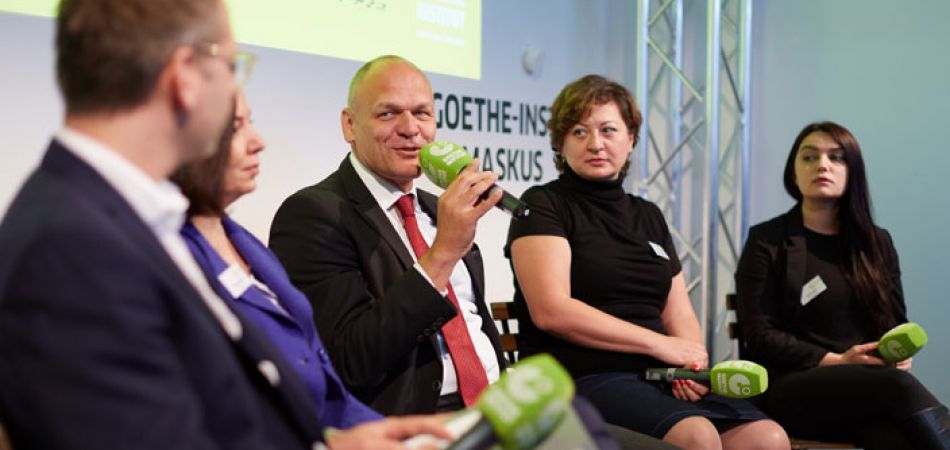 In 2012, the Goethe Institute in the Syrian capital was forced to close its doors on account of the critical security situation. By contrast, the "Goethe Institute Damascus | In Exile" project space is now opening its doors in Berlin. For two-and-a-half weeks around 100 Syrian and German artists will be addressing the issues homeland, fleeing, and identity – in the form of concerts, exhibitions, workshops, readings, a film series and podium discussions. This way, until 5 November the Goethe Institute will be highlighting the opportunities for artistic work in exile, and presenting international works.
As Johannes Ebert, Secretary-General of the Goethe Institute said prior to the opening: "Our aim with the project is to give artists in exile a voice. The project space is located in a store in Berlin's Mitte district and is intended to be a meeting place for artists from Syria who are now living in Germany or other European countries. Furthermore, the events will provide an opportunity to discuss the prospects artists see for Syria. Artist Alina Amer emphasises just how important a forum of this nature is as, given political developments, working conditions for artists in Syria has increasingly deteriorated over the past few years. She comments that "it became quite simply impossible to express yourself artistically the way you wanted."
"A meeting place that is no longer there today"
Up until 2012, cultural creatives, students, and partners from Germany and Syria used to meet up and mingle at the Goethe Institute in Damascus. In addition to film screenings and exhibitions, the programme included symposiums and seminars, with topics ranging from archaeology to equal rights for women. "The Goethe Institute was one of the best cultural centres in Damascus," says Pelican Mourad, who for a long time worked there as a programme assistant. "It was an important meeting place for all artists seeking to present their work. Today the Syrians in exile lack that." The project space could fill the void for a while, she added.
In the coming two-and-a-half-weeks there will be a varied programme on offer there. By way of example, the author Rasha Abbas will be reading from her book of short stories "The Invention of German Grammar". There are also plans for a discussion with Klaus-Dieter Lehmann, the President of the Goethe Institute, about the condition and future of literature and publishing in Syria. Theatre director Anis Hamdoun and art critic Hanno Rauterberg will be discussing the politicisation of contemporary art and the impact of the civil war in Syria. In addition there will also be a series about Syrian cinema staged in collaboration with Berlin's Akademie der Künste.
Project room "Goethe Institute Damascus | In Exile", 20 October until 5 November 2016