Germany. In March 2017, 105,000 visitors entered the fantastical realm of the Manga-Comic Con in Leipzig and queued up to have their comics signed by star illustrators from around the world. Germany now also has some high-profile authors in the graphic novel genre – Reinhard Kleist for instance is regarded as one of Germany's leading comic-strip artists. His thing is biographies, such as of Johnny Cash, Elvis and Fidel Castro – famous men to whom Kleist pays tribute in his illustrated works. By no means all of his readers will be familiar with the sprinter Samia Yusuf Omar, on the other hand. She represented Somalia at the 2008 Olympic Games in Beijing and received threats from Islamic extremists. Hoping to take part in the Olympic Games in London, she attempted to flee to Europe and died in 2012 off the coast of Malta at the age of 21. Kleist's young adult book "An Olympic Dream" won multiple awards.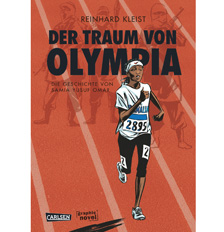 Nils Oskamp's autobiography is not aimed only at young adults, Entitled "Drei Steine" (i.e. Three Stones), it uses black-and-white illustrations to outline his life as a schoolboy caught between violent right-wing extremism and moral courage in 1980s Dortmund. Brigitte Weyhe documents another chapter of German history in her comic reportage "Madgermanes": the author, who grew up in East Africa, illustrates the lives of contract workers from Mozambique who were employed in East Germany from 1979 until 1991. Her book was awarded the Max and Moritz Prize for best German-language comic. 
Old works reinterpreted
Besides the trend towards documentary work, many German comic authors are reinterpreting well-known classics from world literature. One of them is the illustrator Thilo Krapp, who has taken on the job of reworking "The War of the Worlds", the novel by H. G. Wells. With painstaking attention to detail, he uses sepia illustrations to reproduce Victorian London being attacked by three-legged aliens. With considerable satire, he explores how the people of England react to being besieged by extraterrestrials. The popularity of such reinterpretations is also evident on the manga market, where German authors have been enjoying increasing success since the turn of the millennium. Among them are Diana Liesaus and Sabrina Ehnerts, who drew inspiration for "Piratebay", a manga series all about the pirate Henry Morgan, from literary classics like "Treasure Island", "Robinson Crusoe" and "Peter Pan". 
Exhibition "Comics! Mangas! Graphic novels!" from 7 May to 10 September 2017 at the Bundeskunsthalle Bonn