What Germany likes to watch
Many German TV series have become export hits – thanks to international streaming services. Here are four tips.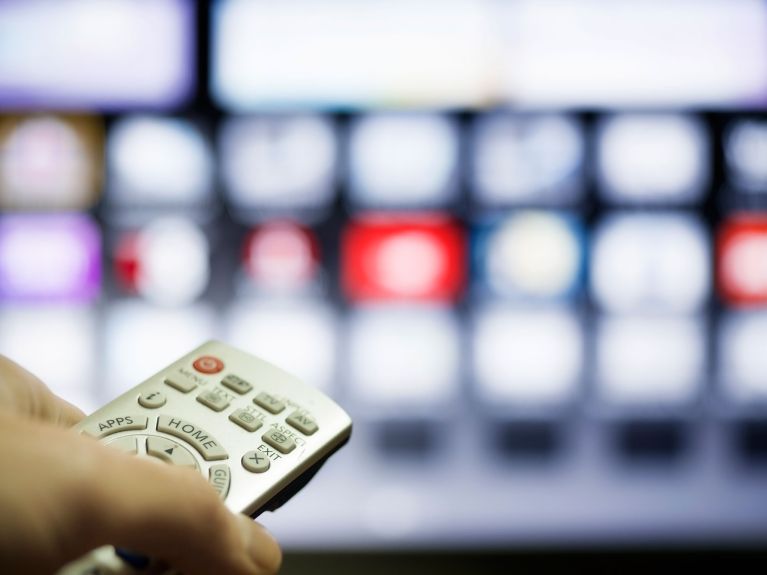 Germany. What are your favourite TV series? This is a common question in small talk. Germany has been hooked on TV series ever since streaming services freed them from rigid transmission times, making the programmes available round the clock. Many US series have cult status, but the number of successful productions from Germany is growing. 
'Germany 83'
An East German border guard who infiltrates the West German armed forces (Bundeswehr) as a spy; the Cold War between East and West; and the imminent threat of a third world war: this is briefly the storyline of the TV series 'Germany 83'. Several film and television companies have teamed up with the Amazon platform to implement the project. And they've been successful. The series has been awarded the Adolf Grimme Prize and the Golden Camera, it was nominated for an International Emmy and screened at the Berlinale film festival. While viewers of RTL, the commercial TV station that broadcast the series in Germany, were quite reserved in their reaction, 'Germany 83' is being very well received abroad. The rights have been sold in 20 countries. A second season is now being prepared in Germany with the name 'Germany 86'. 
'You Are Wanted'
The Amazon series 'You Are Wanted', launched in March 2017, is an enigmatic crime series about hacking. The actor Matthias Schweighöfer, hitherto known mainly for mainstream comedies, not only plays the lead role, but also co-wrote the screenplay and directed the series. It has been rolled out on Amazon in 200 countries – more than any other German series. Amazon Video extended the series with a second season in March 2017.
'Dark'
Mystery series are booming on the Netflix online streaming service. Following the success of 'Stranger Things' and 'The OA', 'Dark' is the first Netflix series to be completely produced and shot in Germany. The creepy material is being directed by Baran bo Odar; the screenplay is by Jantje Friese. The two worked together on the thriller 'Who am I – No System is Secure'. 'Dark' is to be released in 190 countries in winter 2017. 
'Babylon Berlin'
Tom Tykwer's German answer to Netflix & Co is 'Babylon Berlin'. It's a joint production by ARD (Germany's channel-one public TV station), the pay channel Sky, and production firms X Filme Creative Pool and Beta Film. For the series, which is set in 1920s Berlin, a complete street of buildings was recreated at the Babelsberg studios in Potsdam. Some of the scenes feature more than 300 extras. The series focuses on police inspector Gereon Rath, who investigates in a milieu of drugs and politics, murder and art against a backdrop of the global economic crisis, burgeoning extremism and the 'Golden Twenties'. The series' launch is planned for October 2017 on Sky and it is to be broadcast on German public television in 2018.
Babylon Berlin – Tom Tykwer's new major TV project
70th Cannes International Film Festival from 17 to 28 May 2017