Witty and cool
In the USA, German film and TV productions such as "Deutschland 83" and "Toni Erdmann" are winning the day with their coolness, action and astonishing wit.
24.02.2017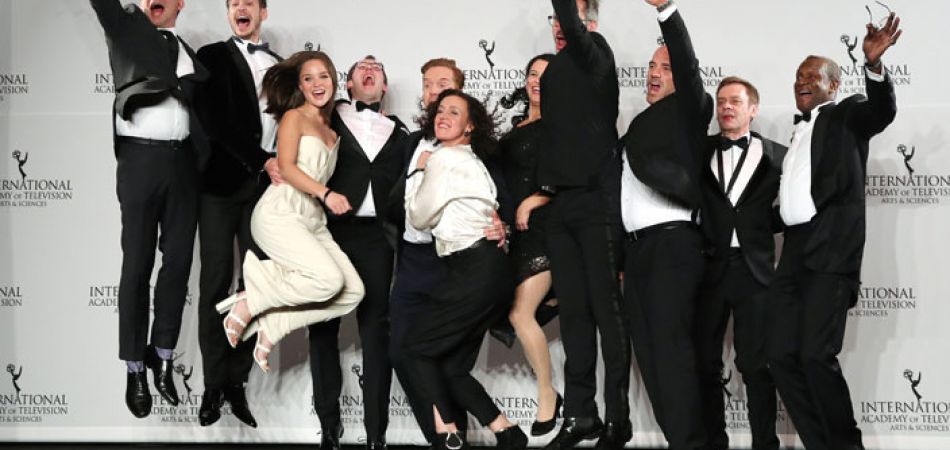 German stories are sometimes better understood from the outside. The series "Deutschland 83", a mixture of 1980s zeitgeist and exciting action is the latest example. Its hero (played by Jonas Nay) is a young soldier in the Nationale Volksarmee, the East German army, who infiltrates the Bundeswehr, the West German army as a spy working for the Stasi, the East German secret service. The UFA production initially aired successfully on SundanceTV in the USA – and in late 2015 on the German channel RTL, with only modest rating. Outside Germany, "Deutschland 83" was a commercial success again in 2016, a performance crowned by an Emmy Award.
"'Deutschland 83'" has something action-packed and cool about it. It's an unusual way of portraying Germany, which definitely has something to do with the fact that it was written by an American, Anna Levine Winger," Nico Hofmann, UFA Co-CEO explains. The series has a certain tongue-in-cheek, exaggerated, lightweight element to it, which perhaps goes down better in the English-speaking world than in Germany.
Other genres work as well. Maren Ades' bittersweet father-daughter comedy "Toni Erdmann" is the closest a German production has been to the Academy Award for Best Foreign Language Film for a long time. Who says the Germans have no sense of humour, Peter Debruge, film critic of the US magazine "Variety" asks enthusiastically. "How then to explain the fact that the year's most innovative comedy, 'Toni Erdmann,' hails from German writer-director Maren Ade?"
Recently there has been a successful mixture of independent, arthouse, and entertainment productions coming from Germany. Nico Hofmann says there is a clear turnaround in the international prospects for German films and series. To this end UFA is working increasingly in its "Writers' Room" with international authors, for example on "Siegfried and Roy" or the film version of Frank Schätzing's bestseller "Breaking News". Internationalization is the name of the game. At the Berlinale, the Berlin International Film Festival, the UFA screenings and subsequent panel discussions were attended by 500 people from all over the world. This is how international co-productions come to be: "Otherwise there is no way we could get projects such as our planned 'Hitler' series off the ground any more," Hofmann says. This series, which to a large extent is based on the historian Thomas Weber's book "Hitler's First War", is also expected to garner enormous interest in the US and British markets.
Success stories at the Emmys
"Deutschland 83" showed how it is done. In November 2016, German TV productions picked up no less than three International Emmy Awards: Alongside "Deutschland 83" and the TV documentary "War of Lies", German actress Christiane Paul won best actress for her role in the TV film "Under the Radar" about controversial counter-terrorism. The film was produced for the German public broadcasting corporation ARD. "We're superseding the Scandinavians a bit," Nico Hofmann says. referring to the Germans' success in the USA. Issues from recent German history in particular were meeting with enormous interest outside the country, he added. "I think Germany has really turned things round," UFA producer Jörg Winger said at the Emmy ceremony, where he also mentioned the exuberance with regard to the German TV sector on both the U.S. East and West Coast.
Regina Ziegler, who has been one of the most successful German producers for years now, talks of a new sense of courage. "We no longer feel embarrassed about offering our best products on the highly competitive US market and about showing what we can do as producers. We are more confident." Moreover, German producers are sometimes also financially dependent on partners, she says. "These are primarily US companies." That broadened both sides' horizons. "It not only makes us known as producers, it also arouses curiosity about our products. Our series 'Weissensee', for example, is very popular outside Germany as well, all three seasons are on Netflix." There are already firm plans for a fourth season about life in eastern and western Germany at the time of the fall of the Wall. And having been written in the UFA "Writers' room", filming of "Deutschland 86", the sequel to "Deutschland 83" is due to begin in summer 2017. 
"Three Emmys to Germany": Article about the 2016 Emmy Awards Ceremony
© www.deutschland.de