Young talent at the Berlinale
The Berlinale offers young film-makers a promising platform with its Berlinale Talents programme.
13.02.2017
Berlinale Talents, an initiative of the Berlin International Film Festival, has a large alumni network: over 5,000 film-makers from more than 100 different countries. Every year since 2003 it has brought 250 up-and-coming talents – writers, directors, producers, camera operators, actors, editors, film distributors, production designers, composers, sound designers and young film journalists – together with established professionals in the international film industry. Berlinale Talents, which receives financial support from the Federal Foreign Office, has become one of the most interesting initiatives at the Berlinale. It offers a stepping stone towards the main programme of the Berlinale and the international film business. The participants of the Berlinale Talents programme are at the beginning of their careers. The initiative offers one-week coaching programmes on all aspects of film-making. This includes not only discussions with experts, but also the opportunity to develop participants' own projects and present them to a selected festival audience.  
In 2017, "Courage: Against All Odds" is the motto of the Berlinale Talents programme, which is being held for the 15th time this year. You don't immediately notice the age of the initiative, because it always focuses on experimental fields in order to continuously renew itself. During the Berlin International Film Festival many established film-makers and artists seek contact with the Berlinale Talents participants – this year, for example, jury president Paul Verhoeven and Christo will talk with up-and-coming film-makers about their work. But not only that. "We create new spaces. Workshops become part of the public programme and, as a result, we combine formats that used to be clearly separated," says programme director Florian Weghorn. 
deutschland.de met with Berlinale Talents participants: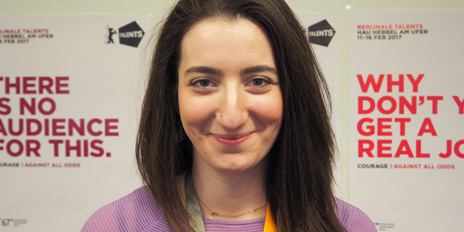 Production designer Ayse Gülsüm Özel was born and grew up in Istanbul and worked at Staatstheater Nürnberg after studying stage and costume design in Berlin-Weissensee. Today she is a free-lance production designer at several theatres in Nuremberg, Dortmund and South Tyrol. She finds it exciting to let herself be surprised by the results of her own work: "What I enjoy is creating a space in preparation for a film, although you never know exactly how the two-dimensional result will look in the end." Ayse Gülsüm Özel has contributed not only to animated films, but also to short and feature films. She is getting to know kindred spirits at Berlinale Talents: "At the workshop for production designers I discovered that wherever we came from we all have the same problems on set. We spent a lot of time discussing communication within the film crew. I found it very enriching." Ayse Gülsüm Özel is happy to be at the Berlinale again. "While I was studying in Berlin, I spent a lot of time at the festival, stood in lines for ages to get tickets. I got to know lots of interesting people in the process!" She believes the film festival offers encouragement: "At premieres you sometimes sit just a few metres away from stars like George Clooney. That makes the fantasy real! When I see a good film at the Berlinale, I think to myself: 'Why not me? I can do that too!'"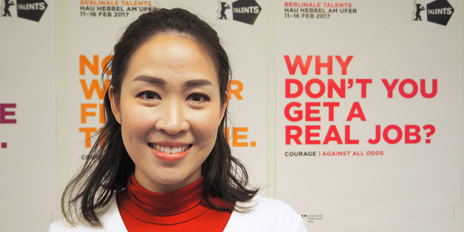 MayJune is a 33-year-old actress who lives in Kuala Lumpur. She works in film and television and produces beauty and music videos for her YouTube channel. Her career began with a win in The Star Idol, a reality programme in Malaysia. She wants to become a producer. "In Malaysia the viewing public isn't really interested in local film productions, but more in international films. I would like to change that and produce films in Malaysia." That is why at Berlinale Talents she hopes to gain insights into how producers from other countries work. "I find it very important to look at different ways of working, in other words, to see how work is currently done at the international level," she explains. At Berlinale Talents she is taking part in workshops for actors: "We have to select an animal to imitate. I find that exciting! I've chosen the iguana, because imitating it demands great flexibility." It is the first time that MayJune has visited Berlin. The history of the German capital inspires her: "With all its historical buildings Berlin looks like a film," says MayJune. "And architecture remains. We must make films that also remain and that audiences then take with them for the rest of their lives."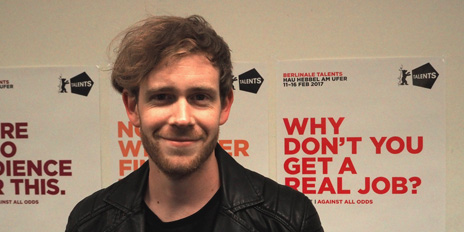 Mark Middlewick is a director and screenwriter who went to university and taught screenwriting in Johannesburg. Following a stay in Los Angeles, where he worked as a script editor for several production firms, he moved back to South Africa. There he took part in Talents Durban in 2004. This Durban International Film Festival initiative is a collaborative project with Berlinale Talents. In addition to the workshops in Berlin, Berlinale Talents also organises other programmes for young film-makers, among others, in South Africa, Lebanon, Argentina and Japan. Mark Middlewick regards Berlinale Talents as an opportunity to gain a broader view: "I'll attend drama workshops, because I think it's interesting to see work on the set from another perspective," he explains. He likes the Berlinale a lot: "You can see films here that you couldn't otherwise see anywhere else. The focus here isn't on the big names, but only on the art of film." It isn't the first time that the South African director has visited Berlin, and he likes the city so much that he is considering moving to the German capital. First of all, however, he would like to make films in and about South Africa. "I want to make films about what it is like to be a white South African, because people do not speak about that very much."
Berlinale Talents from 11 to 16 February 2017