The hype about crypto art
For many years digital art led a shadowy existence. That was also the case in Germany. Now it is attracting worldwide attention. What are the reasons for this?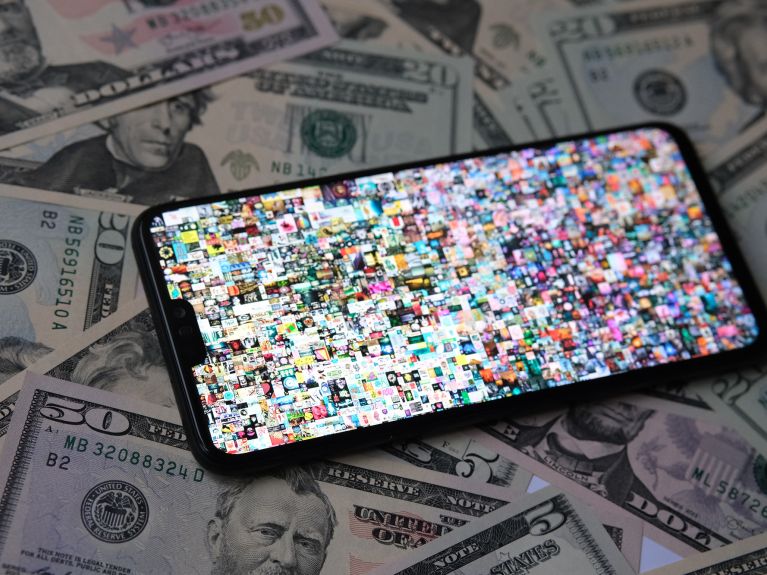 It enriches the art market, but has a catastrophic climate impact. That is how the current hype about so-called crypto art could be generally summed up. The trend is exemplified by Everydays – the First 5000 Days. This digital collage by Mike Winkelmann, also known as Beeple, was auctioned at Christie's for 69.3 million US dollars. At a stroke, the sale made the American designer the creator of the third most expensive work by a living artist. Although the fuss about crypto art is not yet that great in Germany, the prices are rising here too.
Why now?
This raises a question: why or rather why now? After all, art produced with the aid of computers was first displayed in a Stuttgart gallery as early as 1965. After that digital art as media or network art has gone through many changes. It has been shown in museums and at festivals, such as Transmediale, and has been collected at the Center for Art and Media (ZKM) in Karlsruhe since 1989. However, it has largely remained a non-seller on the art market and not attracted much interest among collectors and investors because of its digital reproducibility.
In the case of crypto art, however, the situation is different because it is based on non-fungible tokens – or NFTs for short. They play a role in the blockchain technology that became famous with Bitcoin. These tokens are like digital vouchers that can be used to acquire digital "objects", such as art or music. Unlike other tokens, NFTs are unique and cannot be copied. If you have the appropriate token, you can prove you are the legal owner of the work associated with it.
Popular in Berlin
Until now trading in crypto art has taken place on special exchanges like OpenSea or SuperRare. What is new is the fact that the conventional art market, restricted as a result of the corona pandemic, is now taking an interest. In addition to Christie's, König Galerie in Berlin is a good example here. It is not only the first commercial gallery to accept all available forms of blockchain payment into its portfolio, but is also represented in Decentraland, a blockchain-based virtual world, where it exhibited works by digital artists like Mario Klingemann and Banz & Bowinkel in March 2021.      
The down side of this crypto hype is the fact that a great deal of computing power and therefore a very large amount of electricity is required to produce an NFT. That is why the ZKM has announced on its website that it will no longer buy NFTs based on the especially high-input Ethereum blockchain. Instead it now wants to wait for forms of blockchain that are less harmful to our global climate.
You would like to receive regular information about Germany? Subscribe here: