A controversial figure
Critics still differ on how to view Joseph Beuys, even on his 100th birthday. In any event, he was a major figure of the art world. A contemporary review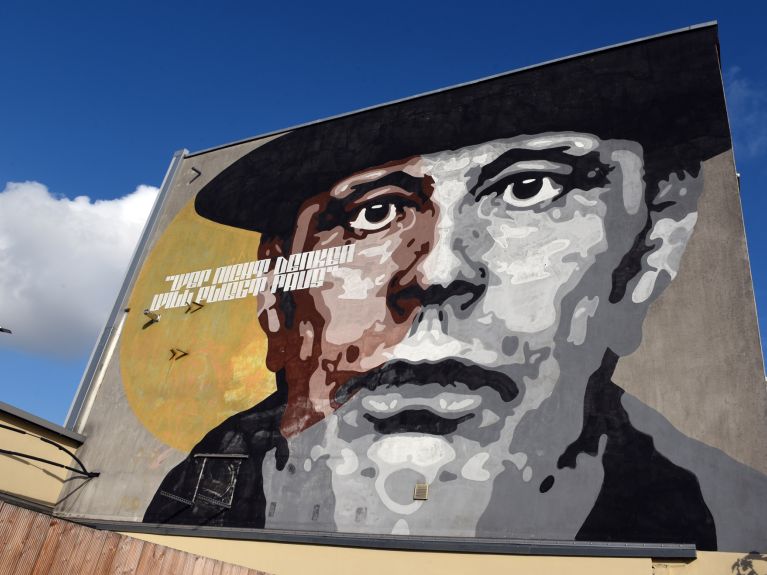 He only took off his felt hat once in public. It was 1972 in Kassel when Joseph Beuys took part in a boxing match against his student David Christian-Moebuss at Documenta 5. The artist had set up an Office for Direct Democracy and Referendum for the exhibition and before the boxing match, which he won in three rounds, he had spent three months discussing art and the abolition of parties with his public. Joseph Beuys was in his early 50s at the time and a star of the German art scene. With his felt hat and angler's waistcoat, he became an iconic figure, someone who was also recognised in the street following his appearances in TV talk shows. In the United States he became known during the mid-1970s as the result of an art event in which he spent several days in a gallery with a coyote. He met the Dalai Lama and planted 7,000 oak trees in Kassel. He stood as a candidate for the Greens soon after the party was founded and performed a political pop song on television.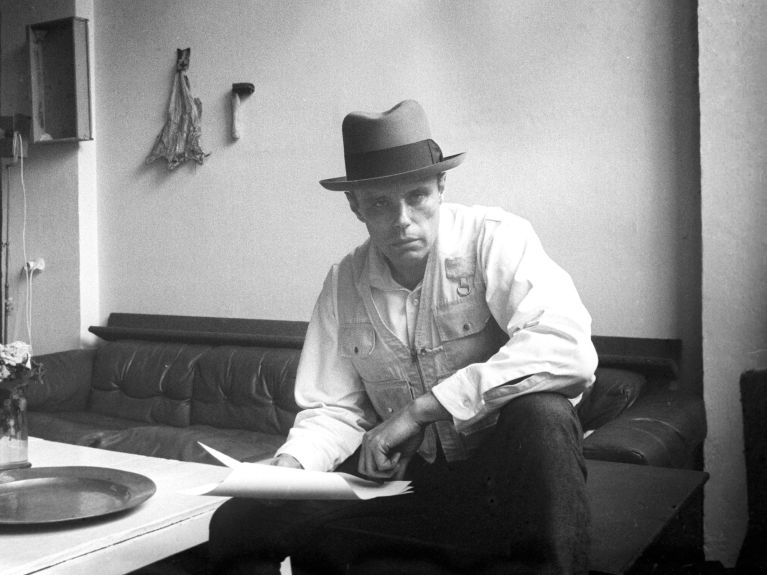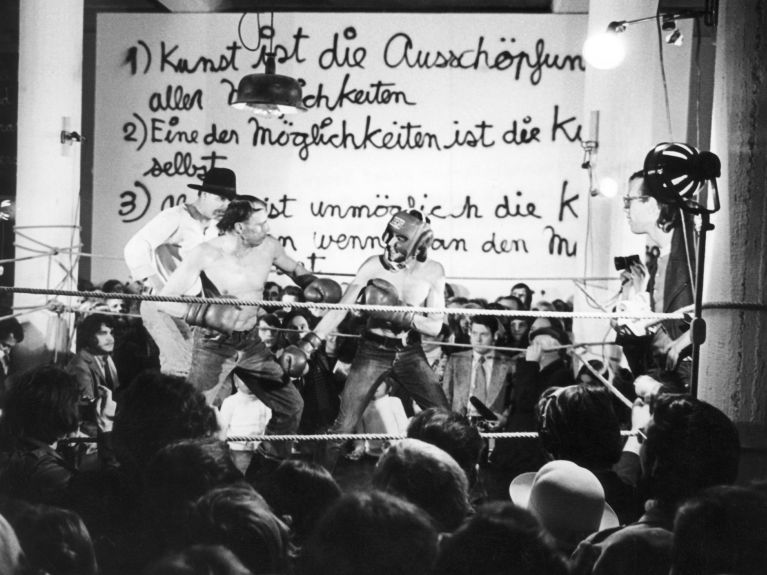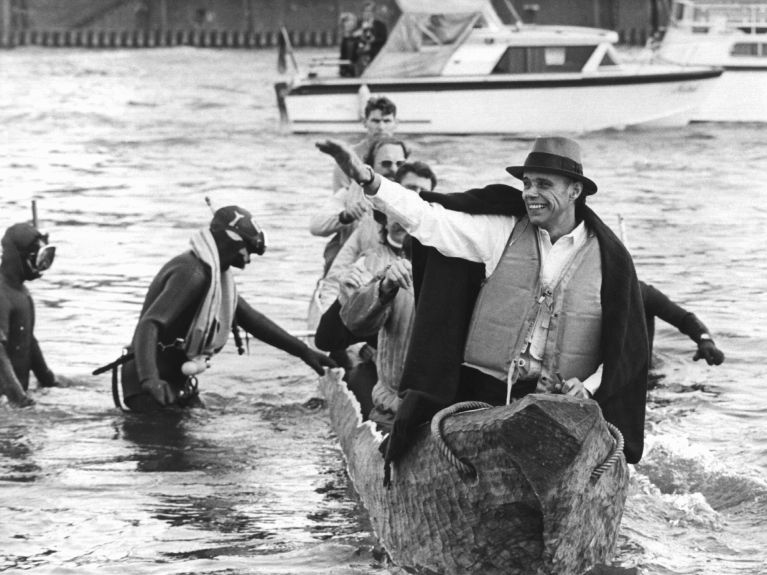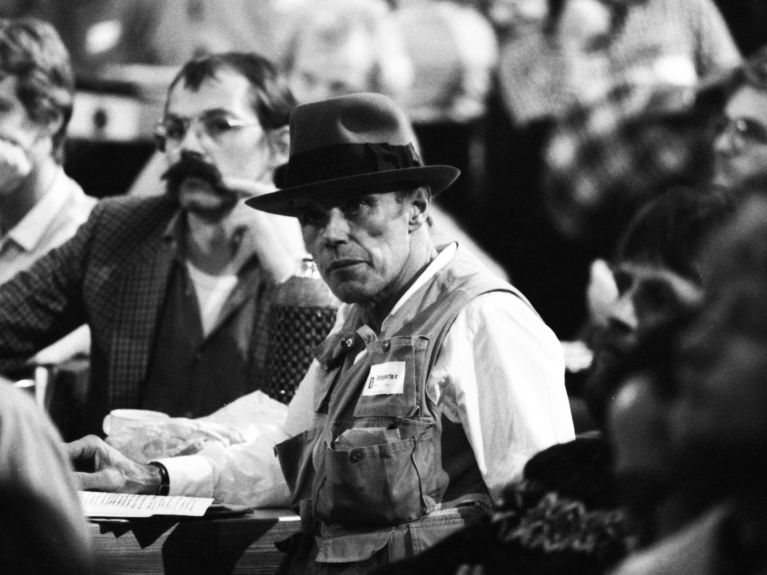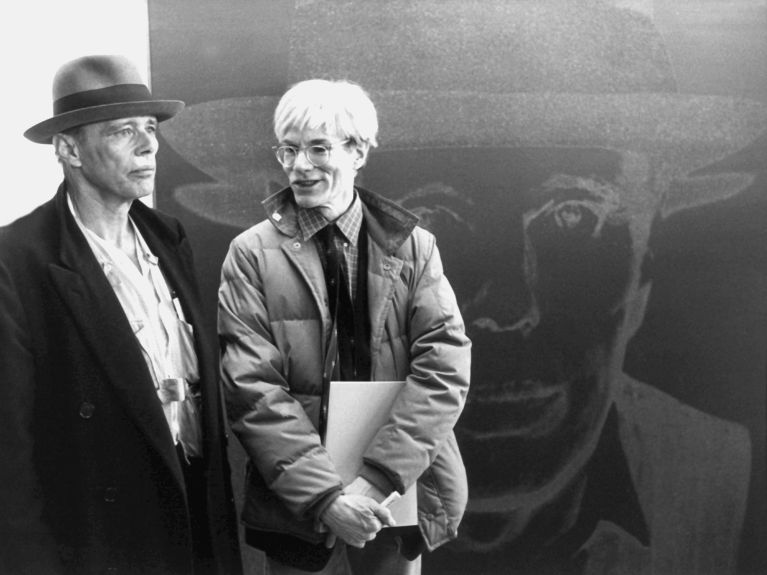 Joseph Beuys, who would have been 100 years old on 12 May, did all this in the name of art. He did it to rescue humanity from the impositions of modernity and to heal it of its injuries and anxieties with an unshakeable belief in art. He considered almost any means justifiable to achieve that end. And perhaps today the illustrator, sculptor, activist, teacher and art shaman who coined the phrase "Everyone is an artist" would be a YouTube star. Even without that, however, he became the most influential post-war German artist and, like Andy Warhol, a major figure in 20th-century art. Beuys, who died in 1986, was loved and admired by his devotees and students, but ridiculed and hated by his opponents. He was a man who divided opinions, a controversial figure. And that will also be the case during this anniversary year, which is being celebrated in a big way, especially in North Rhine-Westphalia. 
The myth of the Tatars
It was there, in Krefeld, that Joseph Heinrich Beuys was born on 12 May 1921. He grew up as the son of a merchant in Kleve and later studied monumental sculpture at Kunstakademie Düsseldorf, where he also worked as a teacher from the early 1960s. The intervening years were marked by the Second World War, which plays an important, but also idealised role in his biography. Joseph Beuys was a member of the Hitler Youth and took part in the book burning event in Kleve on the grounds of his high school. He pledged to serve in the Luftwaffe for twelve years and must have shot at large numbers of people as the rear gunner of a dive bomber. Today the story that he was looked after by Tartars following an aircraft crash on the Crimea in March 1944 and was rubbed with animal fat and wrapped in felt to keep warm is regarded as a fiction. According to Beuys it was a "second birth", which he later used to explain his fondness for fat and felt as artistic materials.
The story about the bathtub
Fat and felt can store energy and heat, and Beuys considered heat a catalyst for creativity. He believed it was only through creativity that humans could find freedom and themselves and then have a formative impact on society. In addition to felt and fat, like he used in famous works such as the Bathtub, which was accidentally scrubbed clean by a cleaning lady, and wax, honey and animal bones, Beuys also regarded events, ideas and thoughts as artistic material. That is also what he meant with his "extended definition of art", and he understood the artist shaping society as "social sculpture". These two concepts were very important to Beuys.
Association with anthroposophy
The idea that art can heal mental wounds goes back to his experiences during the 1950s. At that time Beuys suffered severe bouts of depression because of a broken-off engagement and probably also because he had not come to terms with the time of the Third Reich. He found support with the van der Grinten family, where he helped out on their farm in Kleve, and in books, theoretical writings. Nietzsche, Goethe, Hamsun and religious and ecological ideas showed him the way forward, but Rudolf Steiner and anthroposophy were most influential. When Beuys spoke of "soul", "healing", "resurrection" or "German genius", it reflected Steiner's thinking. He then became esoteric and mystifying. And because Steiner's ideas also include ethnic, racist tendencies, Beuys' closeness to anthroposophy is one of the things that people criticise today.
Contemporary reception of his work
Then, however, there is also Joseph Beuys the passionate speaker and teacher, who influenced an entire generation of artists including Katharina Sieverding, Jörg Immendorff and Blinky Palermo. There is Beuys the activist, who changed our concept of art, who showed that art is not a question of material, but of attitude. As a result, in a current exhibition in Düsseldorf he is positioned close to Edward Snowden and Greta Thunberg, while others want to place him in the Querdenker camp, among the "unconventional thinkers" who reject anti-COVID measures, as a disciple of Steiner and opponent of parliamentary democracy. Incidentally, Beuys also had a sense of humour and was an outstanding illustrator. And that is why it is important to bring all these different facets and contradictions together "under one hat". That is certainly not easy in Beuys' case because it is impossible to separate art and artist. That is also part of his legacy. What is more, the man who could discuss his work, art and society with anyone for hours on end is no longer able to stand up and answer back. Now we have to discuss him, and his 100th birthday offers a good occasion for that.
You would like to receive regular information about Germany? Subscribe here: