Fragile beauty
How a German-Cambodian team is preserving the Angkor World Heritage site with the support of Germany's Federal Foreign Office.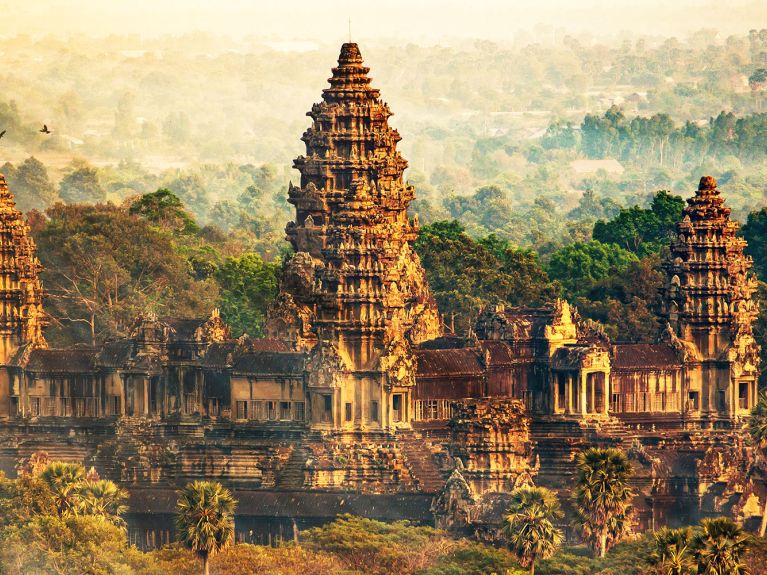 Intricately carved in stone, celestial dancers known as apsaras adorn the Angkor Wat temple in the heart of the Cambodian forests. They are among the world's most beautiful and impressive cultural artefacts. Germany's Federal Foreign Office is supporting the restoration and maintenance of this unique complex with its Cultural Preservation Programme.
 The temple city of Angkor was already listed as a UNESCO World Cultural Heritage site in 1992. In 2022, the 30-year anniversary of the listing coincides with another anniversary: since 1997, a team from the TH Köln University of Applied Sciences has been restoring, with the financial support of the Federal Foreign Office, the sandstone bas-reliefs, decorated surfaces and wall paintings of the Khmer Dynasty that date from the twelfth century, employing complicated techniques to preserve them from the steady process of decay caused by humidity and failed former restoration attempts.
Preservation and documentation
Professor Hans Leisen and his wife Dr Esther von Plehwe-Leisen, both geoscientists, run the German Apsara Conservation Project (GACP), cooperating with Cambodia's Apsara authority for the protection of historical monuments. This multidisciplinary project encompasses not only the examination and preservation of the sandstone bas-reliefs; each step is also prepared by extensive photographic and written documentation, mapping and detailed material studies. This is because time is running out: the sandstone at Angkor Wat is flaking due to the effects of the weather. The surfaces of the bas-reliefs form a hard crust that gradually becomes detached from the stone underneath and eventually falls off. When this happens, the carvings are lost forever.
The work is now being conducted almost solely by Cambodian conservators. Training them is one of the focal points and special features of the project. Since 1997, more than 150 Cambodians have taken part in the project. The project is also an exciting assignment for German and international students who spend a practical semester or conduct research work there.
A glance at the country's national flag reveals how important the temple city is for Cambodia's cultural identity – the Angkor Wat temple is right in the middle. Teams of experts from 16 nations have been working to preserve and study the temple complex since 1993. To coordinate their activities, an International Coordinating Committee for the Safeguarding and Development of the Historic Site of Angkor (ICC Angkor) was established.
The German Apsara Conservation Project is the most extensive and longstanding project being conducted within the framework of the Cultural Preservation Programme of the Federal Foreign Office. The team's working methods and techniques are internationally regarded and valued.