Sentences become bits and bytes
Digitization is changing the German book market. Five trends you should know about.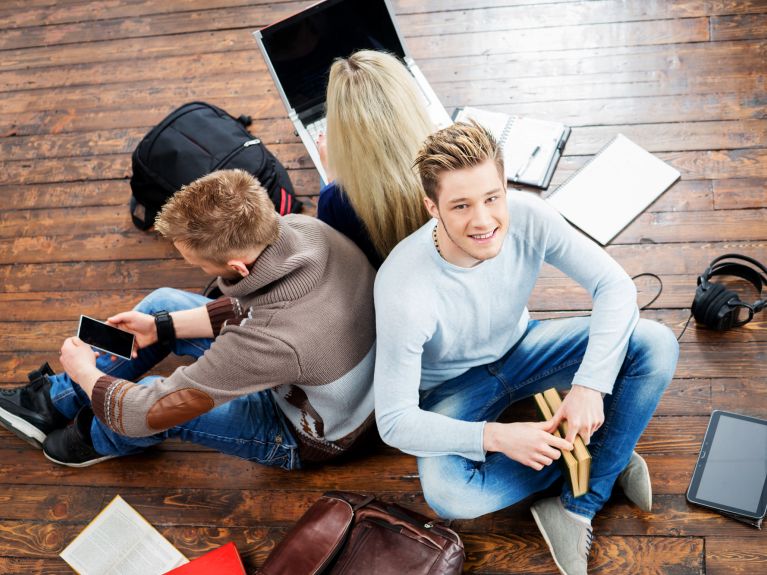 Fewer buyers spend more money
Between 2013 and 2017 the number of buyers on the German consumer book market (excluding textbooks and reference works) fell by about 6.4 million. But still, in 2017, 29.6 million readers had bought at least one book per year over a period of ten years. Good news: those who buy books are willing to spend more money – an average of 137.40 euros in 2017. In 2013, it was only 116.70 euros per consumer and year.
The trade has gone online
The retail book trade, that is, the shops, continued to lose turnover in the past year. With 4.3 billion euros in sales, retail booksellers accounted for only 47.1 percent of the total market. In 2014 it was 4.5 billion euros. Internet book trade increased in the same period from 1.51 to 1.72 billion euros in sales, 18.8 percent of the total market.
More and more is being read online
In 2017, the length of time spent on the Internet rose to more than three hours for people in Germany between the ages of 30 and 49. The sharpest decline in book buying can be observed in just this age group: minus 37 percent between 2013 and 2017 among 40 to 49-year-olds.
E-book competition
29.1 million e-books were sold in 2017 - one million more than in the previous year. But e-book sales in the consumer market fell slightly by 1.4 percent. This was mainly due to the fact that publishers, and also the self-publishers, are competing with each other and prices are falling rapidly as a result: the average price paid in 2017 fell to 6.38 euros.
Two bestsellers dominate the market
Maja Lunde's The History of the Bees was the best-selling work of fiction in 2017. It sold 350,000 copies over the counter. With 500,000 copies sold (since October 2016) Eckart von Hirschhausen's Wunder wirken Wunder (Miracles Making Miracles) was the number one non-fiction book of 2017.
© www.deutschland.de