In search of 'home'
What does 'home' mean? This question is explored by female artists from Germany and Israel in an exhibition called 'home.frankfurt.telaviv'. 
There are lots of answers to the question of what home is. Everyone has their own ideas – as do twelve artists from Germany and Israel who have been searching for their 'home'. In May 2022, they showed their answers in Frankfurt am Main in the exhibition 'home.frankfurt.telaviv' – in pictures, videos and dance performances. These works originated in a project organized by the twin cities of Frankfurt and Tel Aviv, and this was the first time the artists were able to present them to a live audience. Previously, this had only been possible online because of the Covid-19 pandemic. The exhibition will also be shown in Tel Aviv at the end of 2022.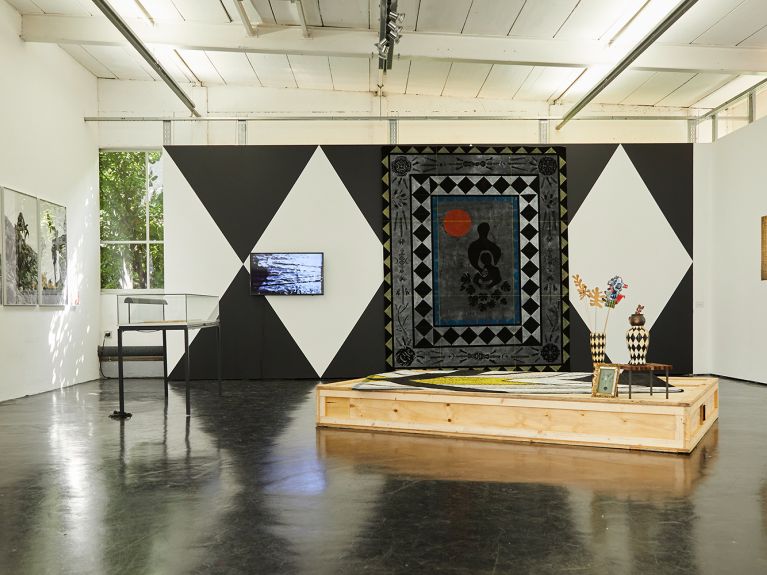 The organizers in Frankfurt drew a positive balance of the exhibition week. "We have created a shared space through art," says Linda Kagerbauer from the Department of Women's Affairs of the City of Frankfurt, which organized the exhibition. In order to share the diversity of perspectives and art forms with a broad audience, there were no less than five exhibition venues in the city, including the Jewish Museum and the performing arts theatre Schauspiel Frankfurt. The female artists were as diverse as the artworks were varied. In addition to interdisciplinarity, it was important for the organizers to consciously show diversity. "We wanted as many different perspectives as possible to be visible – including marginalized ones," Kagerbauer says. The works of Xinan Pandan from Frankfurt and Vered Nissim from Tel Aviv, for example, show how differently the artists approached the question of how they see home.
Friendships as home                                                                                                                                                               
Xinan Pandan uses art to process her family's lack of acceptance of her gender identity. She describes herself as non-binary, i.e. as neither female nor male. Her project in the exhibition is entitled 'Home is where your chosen family is'. It includes digital drawings, but also texts and poems on such topics as belonging and community. Like other artists in their 'home' works, Xinan Pandan incorporated her experience during the pandemic into her project: "That was a very difficult time for me, during which I lost my job and had a difficult housing situation. In fact, I stayed with friends for a while because of it," she says, and adds: "Home is not a physical place for me." The concept of the 'chosen family' is used by many queer people who cannot be themselves in their birth families and therefore create a home of their own.
Space of freedom
"In order to talk about home, I have to talk about Israel, a country founded on immigration," says Vered Nissim from Tel Aviv. Her parents are Mizrahi, Jews from predominantly Arab countries. They came from Iraq to Israel in the 1950s, where they had a hard time. "In my work, I try to address the fact that my parents wanted things to be better for us." One of her works is a video of her mother singing in a traditional garment, an act of rebellion in her ultra-Orthodox faith. In this way she gives a voice to women for whom 'home' means forced withdrawal: "My mother has spent her entire life cleaning for other people. Now you are writing about this woman because she's the star of my work."
Being heard, finding your own role, breaking down boundaries between public and private space: these are themes that run through the exhibition. "We were able to look at the question 'What actually is home?' from very different angles," says Linda Kagerbauer. Whether the home was in Tel Aviv or Frankfurt did not matter: "We found more similarities than differences, and really had a common 'home' at that moment – connected by a common search for answers – which we found."
The website of the exhibition http://home-ffm-tlv.com/