Many small hotspots
The international cultural scene looks not only to Berlin but also to Kassel, Bayreuth and Recklinghausen.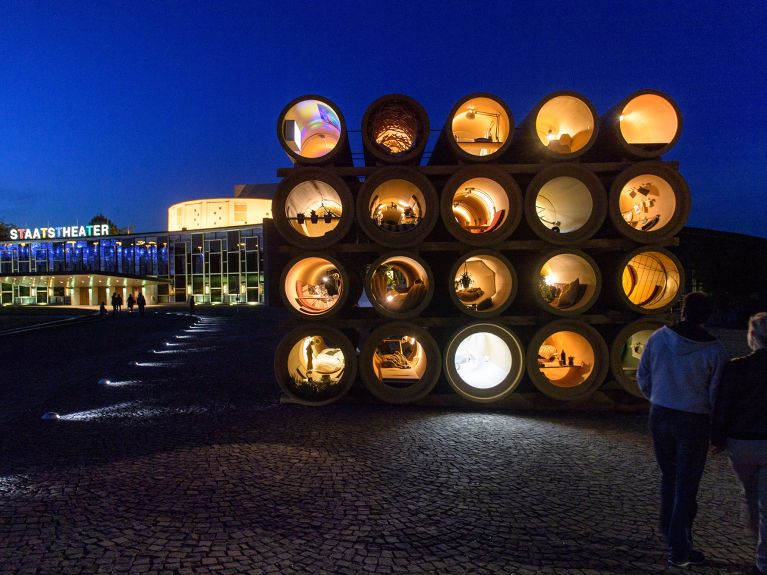 When an Upper Franconian town of 74,000 inhabitants is visited by 58,000 international opera fans, this can only mean one thing: the Bayreuth Festival is on again. The festival has presented the operas of Richard Wagner since 1876.
High culture away from the metropolises - that's not uncommon in Germany. Nowhere in the world are there so many theatres, museums and concert halls compared to the number of inhabitants. 130 public symphony and chamber orchestras, around 6,800 museums, 40 festival halls and around 7,000 festivals: culture also takes place away from the big cities.
One of the most diverse theatre scenes in the world
The decentralized organization of the cultural scene can be traced back to German federalism. Cultural funding is primarily the task of the federal states. This leads to the existence of many cultural hotspots instead of a single overpowering centre. It becomes particularly clear in the theatre landscape, which can boast around 140 publicly sponsored theatres.
There are numerous other examples: the international art scene visits Kassel every five years at the documenta, the world's most important exhibition of contemporary art. Well-known film festivals are held in little known cities, such as the International Short Film Festival Oberhausen or the Hof Film Festival. The renowned Mülheim Drama Prize is awarded every year to a contemporary German-language dramatist, while the Ruhr Festival, the oldest theatre festival in Europe, takes place in nearby Recklinghausen.
Christo in Goslar
There are also well-known museums outside the big cities: according to the Centre for International Light Art in Unna, it is the only museum of its kind in the world. The Mönchehaus Museum in Goslar has a Christo installation and Germany's largest open air museum is located in Detmold.
In music, it is not just Wagner who lures people out of the city: the Wacken Open Air, one of the largest heavy metal festivals in the world, is a symbol of pop culture away from the big cities. Around 75,000 music fans come every year to the village of Wacken. It has only 2,000 inhabitants.
You would like to receive regular information about Germany?
Subscribe here: