Family is the country we come from
Young Israeli artists are exploring their families, and this includes the past that lives in the present.
Ruth Kinet / 17.10.2019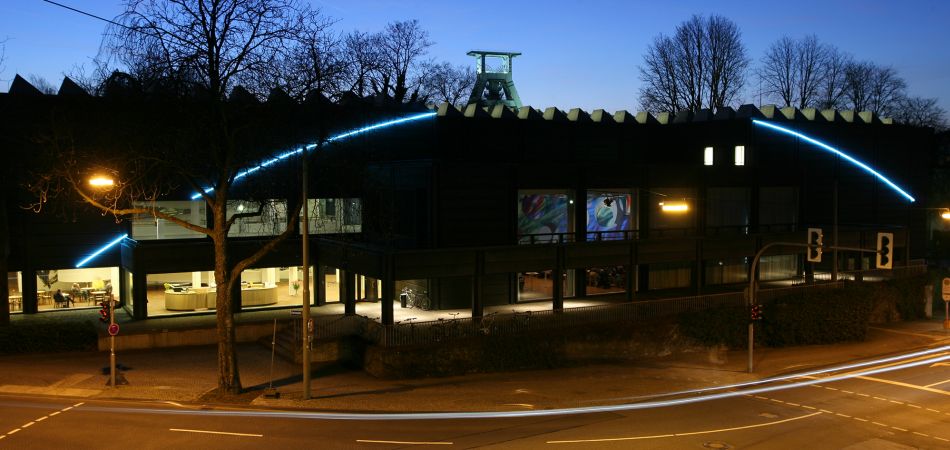 A dense forest, a stooped man covered in fallen leaves slowly moves from right to left in the image. Behind the stooped man, a woman veiled in white walks upright. She is carrying leaves in her arms, like a mother with her newborn baby. A cuckoo clock ticks on the wall opposite the forest.  Above a third wall that links the forest and the clock, insignia of urban life flicker like a small excerpt from a parallel reality. The Israeli artist Eden Auerbach Ofrat named her video installation Der Erlkönig. She is one of eight contemporary Israeli artists whose works are now on show at the Kunstmuseum Bochum until 20 January 2020 in an exhibition titled Family Stories – Young Art from Israel. The artists observe and describe the influence of the past and present, of religion and culture on their families, and translate their insights into a diversity of independent creative projects.
Farewell to mother
For Eden Auerbach Ofrat her Erlkönig installation is bound up in many ways with the world into which she was born in 1979 in Jerusalem. Her mother's family managed to escape the National Socialist regime by fleeing from Cologne to Haifa in 1938. When they arrived in Palestine, the family continued speaking German among themselves.  Their songs, sayings and ideas about aesthetics lived on in the new place. Eden Auerbach Ofrat recalls the Hanukkah festival in her family as a hybrid celebration that combined Jewish traditions and Christmas elements.
When Eden Auerbach Ofrat came to Leipzig with an international artists' programme for four months in 2016, it was shortly after her mother had died. This prompted the 37-year-old artist to start exploring her cultural roots: "I wanted to complete the circle. It was important for me to be myself at this point in my life," she recalls. The video artist needed a fast Internet connection, so she moved to Berlin. In contrast to Israel, within the large circle of her extended family, she was able to withdraw into herself in Germany. "It was a kind of rehabilitation for me," says Eden Auerbach Ofrat.
The poet-father as a symbol of resistance
Michael Kovner was more than 20 years older than Eden Auerbach Ofrat, when he began exploring the story of his father's life and his own origins through art. He too was prompted to set out on this journey by the death of his father. When Abba Kovner died in 1987, it was an event of national significance. The whole of Israel bid farewell to the famous poet and writer. As one of the leaders of the armed Jewish resistance against the National Socialists in Wilma Ghetto he had embodied the ideal type of the unyielding Israeli. Amidst all of the public voices paying tribute to his father, there was little space for Michael Kovner to focus on his own, personal memories.
It was not until 20 years later that Michael Kovner started researching his father's story. This journey lasted for six years. His graphic novel Ezekiel's World bears witness to this. In the 400 pages Michael Kovner works through his father's life using neuralgic episodes, such as the Gulf War (1991), the Arab-Israeli War (1948), and in nightmarish flashbacks the armed resistance struggle against the National Socialists. The protagonist, Ezekiel, bears real and imaginary resemblances to his father, whose poems are interwoven in the novel's text and drawings.
Conversation with the dead father
On the one hand, Ezekiel's World is a multi-layered dialogue between son and father. The graphic novel reaches beyond the borders of the generations. At the same time it is "a conversation between me and myself about life, guilt and responsibility," says Michael Kovner. Time and again the story focuses on whether Ezekiel's son and grandson want to, and can, live in Israel. It's a question that has driven Michael Kovner, who was born in 1948 in Hadera, and grew up in Ein Hachoresh kibbutz. In the early 1970s he went to New York to study, returned to Israel during the Yom Kippur War, went back to New York and returned again.
A man without fear
In Ezekiel's World Michael Kovner depicts his father not as a 'great hero', as most Israeli's see him, but as a 'broken hero'. He portrays a complex character: "Many of his dreams were shattered by brutal reality. But he trod the narrow bridge of life without fear." This story is universally valid. The artist is convinced of this. "Everyone can find access to this," says Kovner.
You would like to receive regular information about Germany?
Subscribe here: